Cancer and art: One artist's journey through treatment and rebuilding
Artist Bernard
Palchick
refers to his cancer as a "
fragmenter
."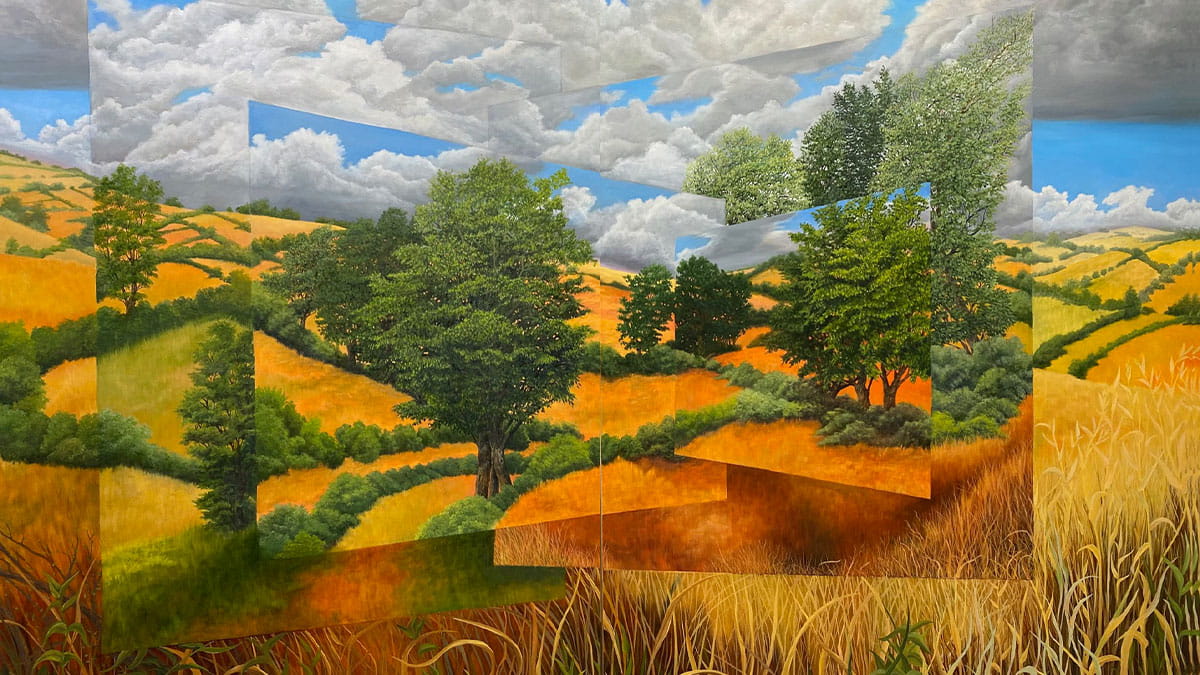 "It has pulled things apart," he says. "And now I must reassemble the parts into something new."

During his third bout with cancer, he turned to art to help him move toward hope and recovery. On the days he received radiation therapy at The Ohio State University Comprehensive Cancer Center – Arthur G. James Cancer Hospital and Richard J. Solove Research Institute, he painted.

"'Boundless' is my therapy piece," Palchick says. "I am a painter and this is my way to make sense of this journey."

The piece, which took months to create, is currently one of the works on display at the Ohio State Comprehensive Cancer Center's James Art Gallery. Palchick defines cancer as a journey into the unknown.
He says creating the piece allowed him the chance to try to reconcile with the fact that the result of this round of cancer and treatment is unknown. The landscape comes from his imagination and his deep appreciation of the beauty found in nature. He says the landscape is created as abstracted and disrupted planes, which exemplify geometric divisions that hint at a sky and fields that were once productive and are waiting to once again be put to good use.

"The landscape fragments are woven together by a common horizon line and the interaction of hedges, trees and bushes," he says. "'Boundless' is a painting of hope."
For Palchick, the act of painting is where meditation and prayer reside. He says he's extremely grateful for the guidance and care he received from the receptionists, technicians, nurses and physicians at the OSUCCC – James, who worked together to help him overcome the fragmentation and move toward healing. He says they're in part creators of this painting, and he's listed their names on the back of the piece.
Sheryl Pfeil, MD, FACP, professor of Internal Medicine and director of the Linda C. Stone, MD, Humanism in Medicine and the Arts at The Ohio State University College of Medicine, says the initiative creates arts-based programs and events, creating space for human expression and connection with others. She says Bernard's work of artistic expression is inspiring.
"Bernard's work shows how personally meaningful it can be to create art as a form of expression during a healthcare journey," Dr. Pfeil says.
"I am beginning to see clearing skies and greening fields," Palchick says. "I am delighted to share my journey of hope with you."
An artist reception will be held on Friday, Nov. 17, from 11 a.m. to 1 p.m. at the James Art Gallery. The exhibit runs through Jan. 9.