Castle Connolly names more than 230 Ohio State faculty physicians 2021 Top Doctors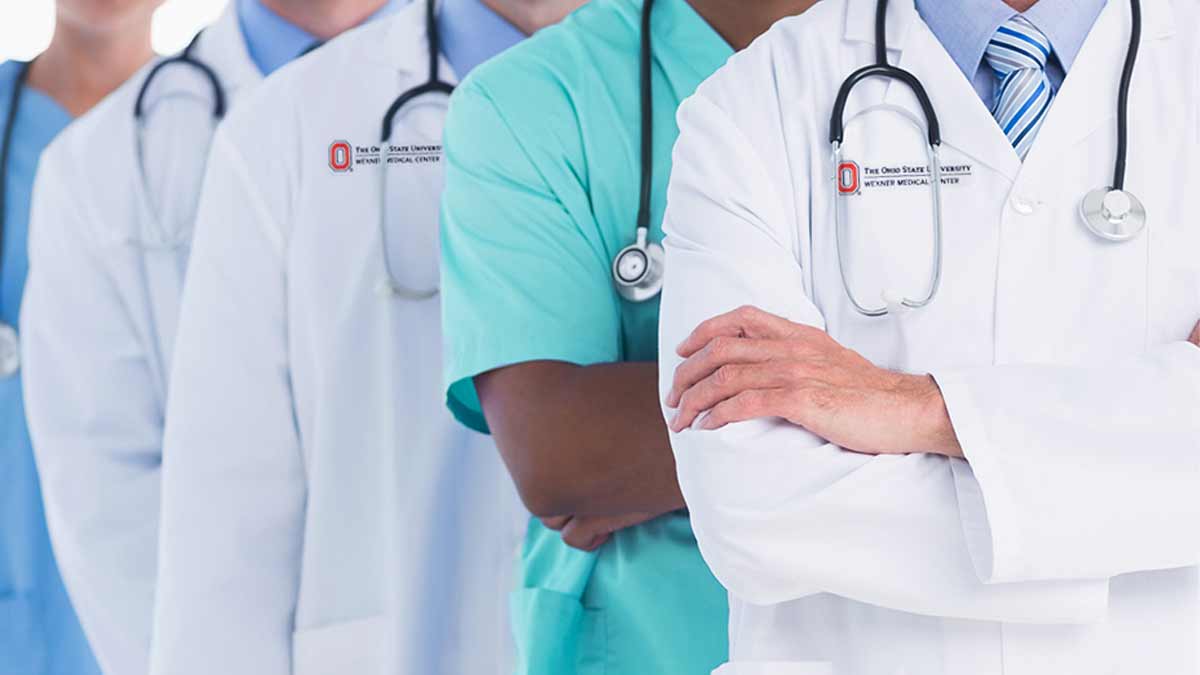 The Ohio State University Wexner Medical Center has proven to be a top-notch hospital for decades, with annual recognition and rankings from big-name companies such as Forbes and U.S. News & World Report. Of course, top rankings are powered by an organization's talented employees, and Castle Connolly, a research company, knows that The Ohio State University College of Medicine has many of the nation's top doctors.
For over 25 years, Castle Connolly has featured a Top Doctors list, a resource directory to guide patients to the most trusted, skilled physicians in the United States. The list includes doctors who exhibit quality outcomes through high procedure volume, advanced diagnostic and treatment options and cutting-edge research. Castle Connolly evaluates physicians based on their education, research leadership, interpersonal skills, professional success and disciplinary history. Their rigorous screening process employs a physician-led research team that carries the company's initiative to ensure the utmost standards behind their recommendations: "Our premise is simple. As a doctor, where would you go if you needed care?"
The Ohio State College of Medicine regularly has more "Top Doctors" than any other hospital facility in central Ohio. This year, Castle Connolly's list includes more than 230 Ohio State faculty doctors. View the list of Top Doctors in central Ohio in the August 2021 issue of Columbus Monthly Health magazine.
"Seeing so many of our Ohio State physicians listed on Castle Connolly's roster is absolutely inspiring," says Andrew Thomas, MD, MBA, interim co-leader and chief clinical officer of The Ohio State University Wexner Medical Center. "It is further evidence that Ohio State Wexner Medical Center and College of Medicine is a national leader in academic health care."
Carol R. Bradford, MD, MS, FACS, dean of the Ohio State College of Medicine, is very proud of the college's faculty physicians.
"Ohio State's faculty physicians offer world-class primary and specialty medical care," says Dr. Bradford. "Their inclusion on Castle Connolly's list is a well-deserved endorsement of the fact that they are some of nation's top physicians."
Congratulations to the Ohio State College of Medicine Castle Connolly Top Doctors!
Family Medicine
Dr. Mimi Ghosh (community affiliation)
Dr. Rebecca Grant
Dr. Samuel D. Weller (community provider)
Family Medicine: Sports Medicine
Dr. Bryant James Walrod
Dr. James R. Borchers
Dr. Kendra McCamey
Internal Medicine
Internal Medicine: General Internal Medicine
Dr. Cynthia G. Kreger
Dr. Geoffrey Vaughan
Dr. Patricia A. Ryan
Internal Medicine: Cardiac Electrophysiology
Dr. John D. Hummel
Dr. Steven J. Kalbfleisch
Internal Medicine: Cardiovascular Disease
Dr. Ayesha Hasan
Dr. Cindy M. Baker
Dr. Laxmi S. Mehta
Dr. Michael R. Donnally
Dr. Raymond L. Benza
Dr. William T. Abraham
Internal Medicine: Dermatology
Dr. Alisha Plotner
Dr. David R. Lambert
Dr. Jessica Kaffenberger
Dr. Susan Massick
Internal Medicine: Endocrinology, Diabetes & Metabolism
Dr. Fadi Nabhan
Dr. Jennifer Sipos
Dr. Kathleen M. Dungan
Dr. Laura Ryan
Dr. Lawrence Kirschner
Dr. Luma Ghalib
Dr. Rebecca Jackson
Dr. Steven W. Ing
Dr. Willa A. Hsueh
Internal Medicine: Gastroenterology
Dr. Darwin L. Conwell
Dr. Lanla Conteh
Dr. Luis F. Lara
Dr. Peter P. Stanich
Dr. Peter Stanich
Dr. Philip Hart
Dr. Sean G. Kelly
Dr. Somashekar G. Krishna
Internal Medicine: Geriatric Medicine
Dr. Robert Murden
Dr. Tanya R. Gure
Internal Medicine: Hematology
Dr. Alice Mims
Dr. Ashley Rosko
Dr. Eric H. Kraut
Dr. Jennifer Woyach
Dr. Michael Grever
Dr. Robert Baiocchi
Dr. Spero R. Cataland
Internal Medicine: Infectious Disease
Dr. David A. Wininger
Dr. Julie E. Mangino
Dr. Susan L. Koletar
Internal Medicine: Interventional Cardiology
Dr. Ernest L. Mazzaferri
Dr. Konstantinos D. Boudoulas
Internal Medicine: Medical Oncology
Dr. David Carbone
Dr. Gregory A. Otterson
Dr. J. Paul Monk
Dr. Jeffrey VanDeusen
Dr. Marcelo Raul Bonomi
Dr. Nicole Williams
Dr. Peter G. Shields
Dr. Sagar Sardesai
Dr. Steven K. Clinton
Internal Medicine: Nephrology
Dr. Aijaz Gundroo
Dr. Brad H. Rovin
Dr. Dan N. Spetie
Dr. Nabil Haddad
Dr. Todd E. Pesavento
Dr. Uday Nori
Dr. Udayan Bhatt
Internal Medicine: Pain Medicine
Internal Medicine: Pulmonary Disease
Dr. Aneesa M. Das
Dr. Jonathan Parsons
Dr. Philip T. Diaz
Dr. Ulysses J. Magalang
Internal Medicine: Rheumatology
Dr. Ali Ajam
Dr. Wael N. Jarjour
Dr. Zhanna Mikulik
Internal Medicine: Sports Medicine
Neurological Surgery
Dr. Daniel M. Prevedello
Dr. Douglas A. Hardesty
Dr. James B. Elder
Dr. Jeffrey R. Leonard
Dr. Russell R. Lonser
Dr. Shahid M. Nimjee
Neurology
Dr. Andrew P. Slivka
Dr. Douglas Scharre
Dr. J. Chad Hoyle
Dr. Miriam Freimer
Dr. Pierre Giglio
Dr. Robert J. Fallis
Dr. Sandra K. Kostyk
Dr. Stephen J. Kolb
Dr. Yasushi Kisanuki
Obstetrics and Gynecology
Dr. Brett Worly
Dr. Deborah A. Bartholomew
Dr. Geri D. Hewitt
Dr. Jacqueline Rohl
Dr. Katherine Strafford
Dr. Melissa Goist
Dr. Michael L. Blumenfeld
Dr. Wayne C. Trout
Obstetrics and Gynecology: Gynecologic Oncology
Dr. David E. Cohn
Dr. David M. O'Malley
Dr. Floortje J. Backes
Dr. Jeffrey M. Fowler
Dr. Larry J. Copeland
Obstetrics and Gynecology: Maternal & Fetal Medicine
Dr. Cynthia S. Shellhaas
Dr. Mark B. Landon
Dr. Michael Cackovic
Dr. Philip Samuels
Dr. Stephen F. Thung
Obstetrics and Gynecology: Urogynecology/Female Pelvic Medicine & Reconstructive Surgery
Ophthalmology
Dr. Alice Epitropoulos (community provider)
Dr. Amit Tandon
Dr. Andrea Sawchyn
Dr. Andrew Hendershot
Dr. Colleen M. Cebulla
Dr. Curtin Kelley (community provider)
Dr. Cybil B. Cassady
Dr. Daniel Straka (community provider)
Dr. David Castellano
Dr. Don Bremer
Dr. Fatoumata Yanoga
Dr. Gloria P. Fleming
Dr. Jill Foster (community provider)
Dr. Julie Lange
Dr. Karl Pappa (community provider)
Dr. Kenneth A. Boyle (community provider)
Dr. Kenneth Cahill (community provider)
Dr. Mark Slabaugh
Dr. Mary Lou McGregor
Dr. Matthew Ohr
Dr. Megan Chambers (community provider)
Dr. Michael B. Wells
Dr. N Douglas Baker (community provider)
Dr. Raymond Cho
Dr. Rebecca Kuennen
Dr. Shelly Gupta Jain
Orthopaedic Surgery
Dr. Adam T. Groth
Dr. Andrew S. Neviaser
Dr. Christopher A. Iobst
Dr. Christopher C. Kaeding
Dr. Elizabeth M. Yu
Dr. Grant Jones
Dr. Joel M

ayerson

Dr. Julie Y. Bishop
Dr. Laura Phieffer
Dr. Timothy Lee Miller
Orthopaedic Surgery: Sports Medicine
Otolaryngology
Dr. Amit Agrawal
Dr. Brad W. deSilva
Dr. Bradley A. Otto
Dr. Charles Elmaraghy
Dr. Edward E. Dodson
Dr. Enver Ozer
Dr. James William Rocco
Dr. L. Arick Forrest
Dr. Laura Matrka
Dr. Matthew Old
Dr. Oliver F. Adunka
Dr. Ricardo L. Carrau
Pathology
Dr. Anil V. Parwani
Dr. Wei Chen
Dr. Wendy L. Frankel
Pediatrics
Pediatric Cardiology
Neonatal-Perinatal Medicine
Pediatric Hematology-Oncology
Pediatric Infectious Disease
Pediatric Otolaryngology
Dr. Meredith N. Merz Lind
Pediatric Otolaryngology
Dr. Gregory James Wiet
Dr. Jonathan M. Grischkan
Pediatric Rheumatology
Dr. Stacy P. Ardoin
Dr. Nazhat Taj-Schaal
Physical Medicine & Rehabilitation
Dr. Albert C. Clairmont
Dr. Samuel C. Colachis
Dr. Sheital Bavishi
Dr. Walter J. Mysiw
Dr. William S. Pease
Plastic Surgery
Dr. Albert Chao
Dr. Amy M. Moore
Dr. Jeffrey E. Janis
Dr. Rajiv Y. Chandawarkar
Psychiatry
Radiation Oncology
Dr. Arnab Chakravarti
Dr. Douglas D. Martin
Dr. Julia R. White
Radiology
Radiology: Diagnostic Radiology
Dr. Brent Adler
Dr. Chadwick L. Wright
Dr. David Bates
Dr. Jerome Rusin
Dr. Mark Hogan
Radiology: Neuroradiology
Surgery
Dr. Allan Tsung
Dr. Benjamin K. Poulose
Dr. Bradley J. Needleman
Dr. Daniel Eiferman
Dr. Doreen Agnese
Dr. Raphael E. Pollock
Dr. Stephen P. Povoski
Dr. Sylvester M. Black
Dr. Timothy M. Pawlik
Dr. Valerie P. Grignol
Dr. William B. Farrar
Dr. William E. Carson
Surgery: Colon & Rectal Surgery
Dr. Alan E. Harzman
Dr. Mark W. Arnold
Surgery: Hand Surgery
Surgery: Thoracic & Cardiac Surgery
Dr. Mark Galantowicz
Dr. Nahush Mokadam
Dr. Robert E. Merritt
Surgery: Vascular Surgery
Dr. Bryan W. Tillman
Dr. Jean E. Starr
Dr. Michael Go
Dr. Patrick S. Vaccaro
Urology
Dr. Ahmad Shabsigh
Dr. Bodo E. Knudsen
Dr. Cheryl T. Lee
Dr. Geoffrey N. Box
Dr. Kamal S. Pohar
Dr. Michael Gong
Nationwide Children's Hospital (on College of Medicine faculty)
Child & Adolescent Psychiatry
Dr. David A. Axelson
Dr. Richard Gilchrist
Child Neurology
Dr. Laurel Slaughter
Dr. Warren D. Lo
Pediatric Hematology-Oncology
Dr. Amy L. Dunn
Dr. Bryce A. Kerlin
Dr. Jeffery J. Auletta
Dr. Mark A. Ranalli
Dr. Randal S. Olshefski
Dr. Rolla F. Abu-Arja
Dr. Timothy P. Cripe
Pediatric Otolaryngology
Pediatrics
Plastic Surgery
Dr. Richard Eugene Kirschner