Ohio State hosts prominent head and neck course for first time in new anatomy lab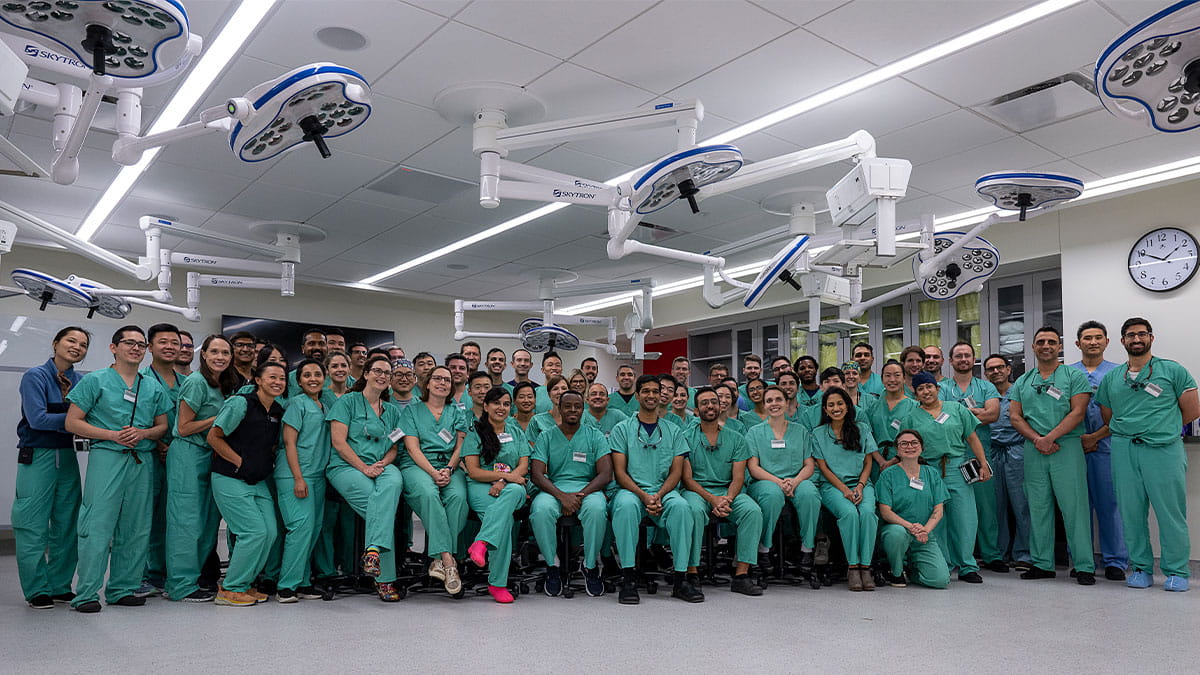 The anatomy lab at The Ohio State University College of Medicine bustled with learners and faculty in scrubs and surgical gowns earlier this month as the university welcomed the annual Head and Neck Microvascular Fellow Boot Camp to its campus for the very first time.
The boot camp, now in its seventh year, brings fellows and faculty from all over the United States and Canada for specialized, hands-on training for those in the head and neck field. Widely regarded as the preeminent course for microvascular head and neck surgery fellows, the two-day course teaches techniques to address functional and cosmetic impairments caused by head and neck cancer treatments.
Using a defect-oriented approach on cadaveric donors, fellows work to reconstruct defects through osteotomies, plating, soft tissue inset and other methods. This year's course brought 40 fellows to Ohio State's anatomy lab, working in pairs at 20 stations, with expert faculty instructors overseeing each one. The event also featured a training portion for 25 residents interested in head and neck surgeries.
"This type of experience is as close to real surgery as fellows can possibly get," says Stephen Kang, MD, associate professor of Otolaryngology at the Ohio State College of Medicine and course director for the fellow portion of the boot camp. "We really try to create a unique and valuable training opportunity for these participants."
Ohio State faculty in the Division of Anatomy and Department of Otolaryngology were excited to welcome the course to the new anatomy wing of the Interdisciplinary Health Sciences Center at Hamilton Hall. The space, which opened last year, features six new, cutting-edge anatomy labs.
"This course trained fellows from around the country in our state-of-the-art facility," says Derek Harmon, PhD, associate professor in the Department of Biomedical Education and Anatomy at the Ohio State College of Medicine. "We are only beginning to scratch the surface regarding the type of continuing education courses that could be offered in our lab. I hope this course provides an example for other clinical departments at Ohio State as to what is possible in our facility."
The course, held this year from Oct. 13 to 15, also helps build mentoring relationships and fellowship within the head and neck microvascular field, says Matthew Old, MD, professor of Otolaryngology at the Ohio State College of Medicine.
"This course provides an opportunity not only for learners to connect with faculty, but also for faculty to learn from each other," says Dr. Old, who co-developed the course in 2016. "It has advanced education across faculty and across institutions."
Organizers of the boot camp work to secure educational grants to underwrite the event, allowing participants to attend at no cost.
The collaboration between the Department of Otolaryngology and the Division of Anatomy to host this distinguished training program underscores Ohio State's dedication to innovative education, Dr. Kang says.
"This course would not have been possible without the tireless work of staff and the unwavering support of faculty and department leadership," he says. "Together with our medical education partners across Ohio, we're proud to offer this premier learning opportunity."