Alexa Simon Meara, MD, specializes in vasculitis, systemic lupus and arthritis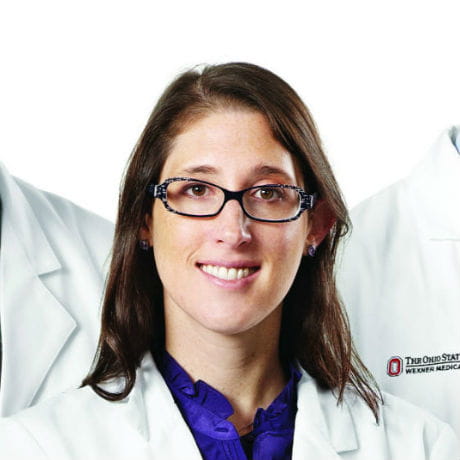 Alexa Simon Meara, MD, specializes in vasculitis, systemic lupus and arthritis.
Dr. Meara is what some in medicine refer to as a "triple threat." This clinician, educator and researcher joined The Ohio State University College of Medicine as a rheumatology fellow in 2013 and subsequently joined the faculty in 2017. She's since broken her time down to 30% research, 30% teaching and 40% clinical. She's also a big believer in mentoring women in medicine and science.

Dr. Meara grew up in Boston, often accompanying her father, a Harvard Medical School rheumatologist, on his hospital rounds. She earned an undergraduate degree at Washington University in St. Louis before pursuing her medical degree at Georgetown Medical School in Washington, D.C. She then moved to East Carolina University for internal medicine training. She stayed on as chief resident and subsequently as associate program manager for the internal medicine residency program. Dr. Meara came to Ohio State for her rheumatology fellowship and now specializes in treating patients with vasculitis, systemic lupus and various forms of arthritis.

"My clinical practice consists of referrals that deal with complicated and rare diseases," she says. "Often other doctors call when they need help figuring out an unusual problem." She has recently become involved in oncology and its interaction with immunology and subsequently rheumatology. It's an emerging topic with limited data. The new cancer treatments, called immune-oncologic therapies, are revolutionary in the treatment of melanoma and lung cancer, and people are surviving better and longer. Some of these patients develop autoimmune disease as a side effect. Dr. Meara works with oncologists to better understand this complicated new disease manifestation and how to best treat it.

A Passionate Teacher
Dr. Meara loves teaching medical students. She refers to them as bright-eyed, enthusiastic and hungry to learn. She often invites students to dinner to discuss medical and life issues in a more relaxed setting. She is also a portfolio coach and mentor who teaches her students how to be reflective and thoughtful. She hopes to empower them to be ready for the challenges they will face in their residencies.

Her research interests include improving clinical outcomes for patients with vasculitis and lupus. She believes it is important to engage patients in their care and further develop our understanding of how numeracy (how patients use numbers) and literacy affect patient care and interactions.

Striking a balance
As a physician and mother, Dr. Meara has had to learn how to manage a work and life balance. Although it can be difficult, Dr. Meara has been a role model as a woman in the medical field. "I am a physician and a mother of three boys and have learned to forgive myself for not always being there for my family or for my patients," she says. "I have worked to create a schedule allowing for flexibility in my day so that I can be home if the boys are sick, for teacher conferences or for pediatrician appointments. Because my boys are young, I have an au pair to help with childcare. I also believe supporting each other is important and I do a lot of mentoring of other women."

Throughout her medical career, Dr. Meara has learned to stay true to her core values, and accept that failure is a part of the process. "I have learned to understand and appreciate myself for who I am and that includes the joy, successes, imperfections and disappointments. Being a physician is hard work and the demands of having a family are significant, but having both the family and the career are well worth it. I have learned from mistakes and have only grown stronger."

As a woman in the medical field, Dr. Meara is a trailblazer. As a positive influence on current and aspiring female doctors, she sets the standard that it is okay to make mistakes and not be perfect. Finding a balance between work and life can be extremely difficult; however, with support and encouragement from leaders such as Dr. Meara it is something that is possible and sustainable.

Creating a better clinical experience
Dr. Meara works in a multidisciplinary vasculitis clinic with pulmonologist Lynn Fussner, MD, and nephrologist Salem Almaani, MBBS. She and her colleagues combine their unique skills, and together, their combined vision and collaboration make it an exciting journey in creating a better clinical experience for their patients. She has thoroughly enjoyed starting this journey to develop a clinic with her team.

Dr. Meara also enjoys learning about her patients and working with them in terms of their "whole" being. She sees patients two days a week and regularly communicates with them throughout the week. She says she is a better doctor because she sees fewer patients and can spend more time with each patient. Dr. Meara asks her patients two things: Are they as functional as they want to be? And how can she help them get there? She firmly believes patients must be involved and engaged in their medical care.
Dr. Meara believes thoughtfulness is a critical skill in medicine. She surrounds herself with colleagues in the vasculitis clinic who have similar ways of practicing. She finds that it's really exciting to work with people who share the same perspective and approach to patient care.