First Responders: Orthopedic surgeon and front desk employees team up to save a life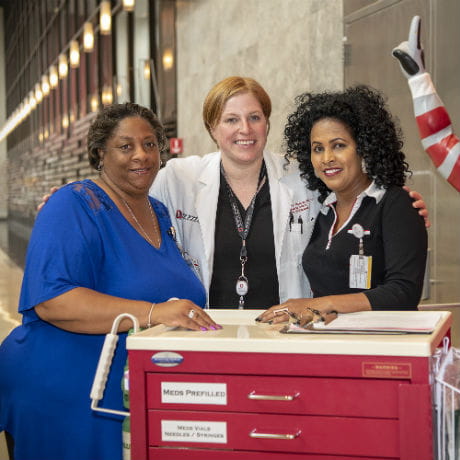 Carmen Quatman, MD, PhD, was in overdrive the morning of Monday, July 22. The Ohio State orthopedic trauma surgeon had a plane to catch to Chicago and a big test to take once she got there—her decennial board-certification exam to maintain her medical credentials.
But, as it goes, life had another test for Dr. Quatman to take first. As she hustled down the glass hallway between The James and University Hospital toward the front entrance, her briefcase full of important papers slung over her shoulder, she heard a voice call out.
"Help, help! I need help!"
Dr. Quatman's ears perked up, and she picked up her pace.
Down the hall, Annette Parks and Freweini Haile heard the cry, too, as the two information associates prepared for a busy Monday morning at the front desk.
The panicked voice got closer, louder.
"Help! My dad's dying out here!" said a man, now in the glass hallway.
Parks and Haile exchanged glances.
"Uh, oh. Call the code," Parks said to Haile.
Haile dialed the hospital emergency number, 6-3133.
Parks, who's certified in CPR and has worked at Ohio State for nearly three decades, grabbed a nearby crash cart, a supply cabinet on wheels that contains medications and supplies needed to revive a patient. She wheeled it toward the front entrance where she met Dr. Quatman.
"Where is he, where is he?" Dr. Quatman asked the man.
Dr. Quatman was led to an unconscious man outside in a parked truck. His skin was turning yellow, his eyes rolled back into his head. His family members stood nearby, hugging and crying.
Dr. Quatman dropped her briefcase to attend to the man. She checked his vitals—he wasn't breathing and didn't have a pulse. She carefully pulled him from the vehicle and gently laid him on the ground.
Meanwhile, Parks and Haile comforted the family. "Everything's going to be OK," said Haile, who's worked at Ohio State for 17 years. "You're in the right place."
Dr. Quatman performed chest compressions on the man until further help arrived. A Code Blue team came and transferred the patient to a gurney and took him to the ED, while our valet services team stepped in to park his car.
"I don't know how long it lasted, but it felt like things came together quickly," Dr. Quatman says.
She credits her medical trauma training and the fast action of information associates Parks and Haile for helping save the patient's life.
Parks and Haile say their daily tasks have prepared them to deal with emergencies. The crash cart is stored at the front desk.
"We see unexpected things all of the time," says Parks.
"We're the first people who all patients see. We have to be presentable and make patients and visitors feel comfortable and at ease," Haile said. "It was a good thing there were two of us at the front desk that day!"
After a short hospital stay, the patient made a full recovery and was discharged. "It was a big win for the patient and the Ohio State team. Less than 5% of people who go into cardiac arrest survive to leave the hospital," says Dr. Quatman.
As for Dr. Quatman, she caught her flight. And, not surprisingly, she passed her other critical test that day to become recertified.