Hamilton Hall Reimagined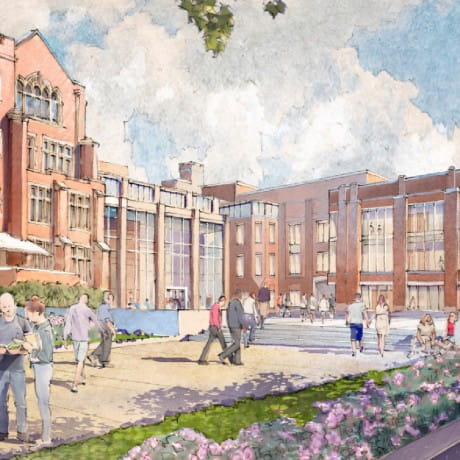 Generations of physicians were shaped and inspired in the classrooms and halls that make up The Ohio State University College of Medicine. Over time, the tools employed to educate medical students have evolved: The curriculum has adapted to an ever-changing healthcare landscape. Pedagogy has changed. Technology is essential and pervasive. Learning environments have become more intimate and interactive. Interprofessional learning has become a major focus. Learning spaces need to be bright, colorful, warm and engaging.
The classrooms and hallways at Ohio State, however, have remained largely the same over the last 50 years. The time for our physical environment to evolve to what is needed for the next 50 years is here.
With input from faculty, clinicians, students and alumni, the college is planning the creation of a new health sciences education quadrangle, the centerpiece of which will be a 225,000 square-foot interprofessional learning facility.
Through an extensive renovation and expansion, Hamilton Hall will become the new, modern home of the College of Medicine. The new center will build upon the tradition of the existing Hamilton Hall, which was built in 1925 but with a new emphasis on modern learning. Gone will be the lecture halls that can fit an entire 200-student class, replaced by smaller classrooms that emphasize interactive discussions and transdisciplinary collaboration.
This is a transformational project for the College of Medicine. Why is it so important?
The element that is most important in any person's care may be their doctor. We have 210 physicians who graduate each year, and it's our responsibility to assure that every one of those physicians comes out extraordinarily well-trained. These physicians then practice throughout the state of Ohio, across the nation and even around the world, and each of these individuals will provide great care to thousands of patients over their career. Some of these physicians will even become educators and influence future doctors.
So think about the exponential impact. Every single graduate has a cascading influence on so many people's lives. In some ways, this could be the most important facility within our medical center complex that we ever build.
How will this project improve the learning environment for students?
The way that people learn has changed tremendously over the last 50 years. It's technology-driven, it's visual. We don't ask today's students to memorize facts. We ask them to learn how to think. We ask them to learn how to find knowledge.
We have the unique distinction at Ohio State of boasting seven health sciences colleges, all on one campus. This new space will provide a home away from home for students, where all of the health sciences can mingle together. Classrooms will be designed to be interprofessional learning environments. I think that's a feature of this project that's maybe best embraced here at Ohio State, versus other places that don't have the diversity of health sciences colleges.
Achieving admission to medical school takes a tremendous effort, and only a group of individuals who are very dedicated and will ultimately become great doctors are selected. The gift from us to them, for everything they've sacrificed up to the point of entering medical school, should be a wonderful learning environment where they have the potential to be the best they can possibly be.
What will this new facility help us achieve?
We have this incredible aspiration here. We want to grow as a medical school; we want to be vibrant.
This year, we were ranked 30th in the country among all medical schools, and we have an aspiration to be in the top 20. One of the ways the rankings work is they look at the quality and talent of your students. The more attractive we can be to very talented students, the more successful we'll be as an institution.
The College of Medicine really represents the entire academic medical center, and our facilities should reflect what we aspire to be. Our ambition is to be a top 20 academic medical center, and we need a college that is befitting an organization of that stature.
How have alumni reacted to this project, and what can they do to help?
Our alumni are incredibly generous. Every year, thousands of our alumni choose to pay forward to the College of Medicine by providing philanthropic support to student scholarships and programming. They do this because they love Ohio State and they are grateful for the foundation it gave them to enjoy meaningful careers in medicine, and they want to make that possible for today's students.
We hope our alumni see this new home for the College of Medicine as an opportunity to leave a legacy here. We hope through their support we can build something that's a powerful reminder to our students every day of what is means to be a Buckeye.
What do you hope the legacy of this project will be?
The legacy is great doctors. The legacy is that Ohio and the nation will be the beneficiary of incredibly talented, wonderful physicians who have been trained at Ohio State.
And so our commitment to the millions of patients that these doctors will care for is that the quality of care will be the best it possibly can. That we've enhanced creative minds that love to learn and will provide superb, up-to-date care for their patients.
So the legacy is we take very bright people who are curious and dedicated, and we give to the world talented physicians who will provide great care and help save millions of lives in the future.