Interprofessional Practice and Education Frequently Asked Questions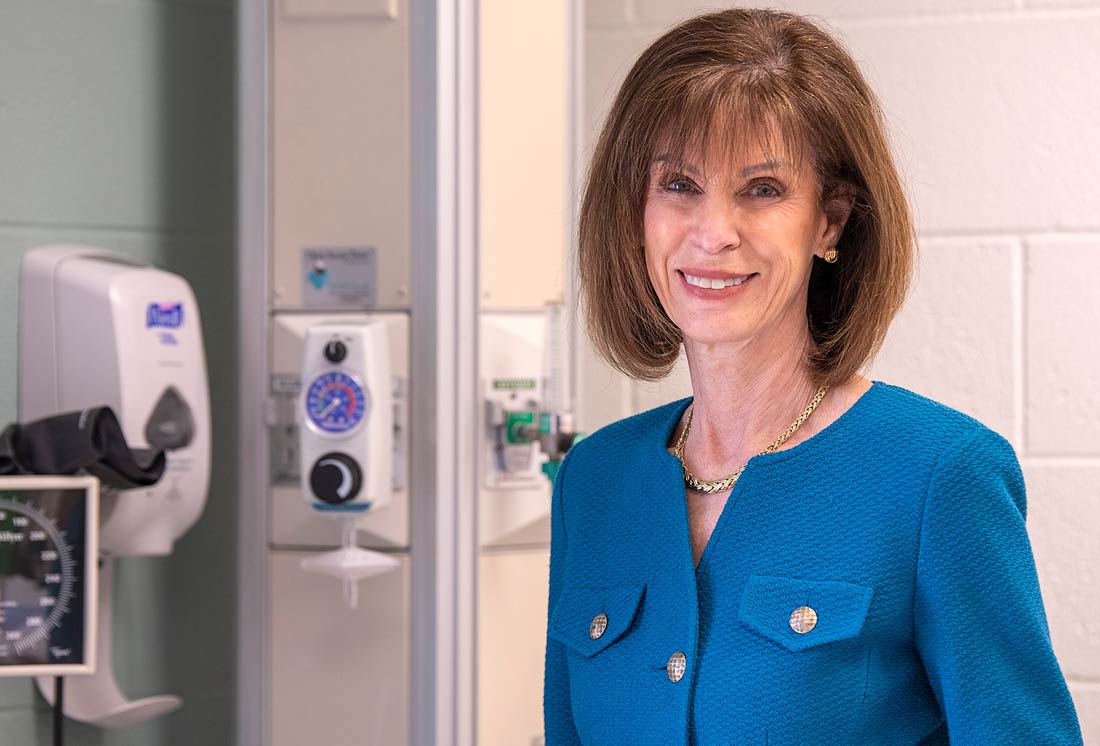 Andrea Pfeifle, EdD, PT, FNAP, Associate Vice Chancellor for Interprofessional Practice and Education, answers questions about connecting interprofessional team-based patient care and education at Ohio State.
What is meant by interprofessional practice and education, or IPE, as a health care model?
At its core, IPE challenges the way we teach and provide health care. It brings students from two or more professions together during their training to learn about, from and with one another to improve health outcomes, cultivate collaboration and provide patient-centered care. Doing this involves specific knowledge, skills and experiences that are best learned while working with other professions or disciplines to enhance collaboration and improve health outcomes while reducing costs. Most often, this kind of learning occurs in practice, outside the lecture hall.
Why is IPE important to the advancement of medicine and clinical care?
IPE connects care with people where they spend most of their time—in the community. It's about finding solutions to real challenges, such as those imposed by social and other determinants of health, and advancing the social and humanistic missions shared across the health professions.
What do experts outside the field of medicine have to offer patients as members of an interprofessional team?
As a physical therapist, I learned early on that to best serve my patients I had to listen to what was important to them and then reach out to other professions, disciplines, community members and caregivers to provide good care. Without the rest of the team, even the most elaborate program to address pain or function was never going to be enough.
If I didn't fully understand what a day in the life of my patient was like and if I didn't work closely with them to integrate treatment with their other caregivers, then no matter how good the physical therapy treatment program was, it wasn't going to make a difference. The perspectives, knowledge and skills brought together across the team were necessary to complete the plan of care.

Beyond medical training, how can IPE training be applied to the curricula of such various and diverse disciplines like dentistry, engineering and social services, for example?
Interprofessional collaboration is grounded in the premise that when people come together with a shared vision, mutual respect and an innate curiosity about each other, they'll learn about, from and with each other—and in the process, form innovative and effective solutions to ill-defined and complex problems. And so, naturally, this kind of work requires a diverse team with multiple perspectives.
At Ohio State, our goal is for all of our students, those within and outside of health care, to work in interprofessional teams to address real needs and fill real gaps in care and services in the community. This kind of applied, real world, engaged learning has to involve everyone to be effective—including engineers, dentists, social workers and veterinarians.
How is the Ohio State College of Medicine incorporating IPE into its programming and curriculum?
Beginning this fall, each student entering our College of Medicine will become part of an interprofessional team with other students from the colleges of Arts and Sciences, Dentistry, Optometry, Nursing, Pharmacy, Public Health, Social Work and Veterinary Medicine. These learners will work together throughout their time here to learn about what Ohio State has determined are our community's greatest areas of need: mental health and addiction, income/poverty and maternal and infant health.
Where will Ohio State IPE trainees practice?
Our learners will work in a variety of settings in health care and in the community to improve the experience, reach and quality of health and health care in Columbus. One of the new student experiences is the Interprofessional Community Scholars Program, which brings students from multiple professions and disciplines together with people living in Columbus' Near East Side to improve digital literacy and to assess and address gaps in their care.
Additionally, the Ohio State Interdisciplinary Health Sciences Center is set to open in 2023. It will provide the space and technology needed for our IPE teams to collaborate and learn from one another in real time as they develop strategies to improve individual and population health using their unique blend of knowledge, talents and skills.
Where can I find more information?
To learn more about Interprofessional Education at Ohio State, please visit the the Office of Interprofessional Practice and Education.