Lee shapes women's lives at Ohio State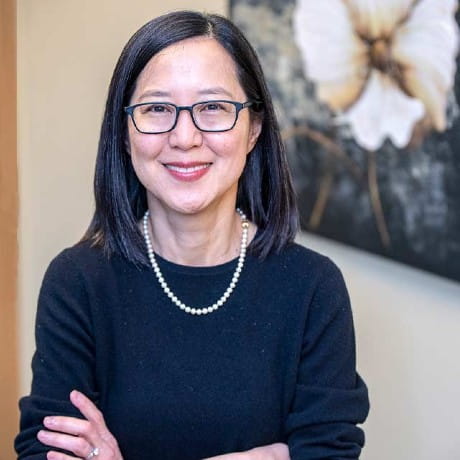 Before she became a reconstructive surgeon, Clara Lee, MD, MPP, made wedding cakes.
The parallels of the two crafts are compelling: binding parts, smoothing surfaces and adding finishing touches, so that the whole is a perfect sum of its parts.
In her role at The Ohio State University Wexner Medical Center, Dr. Lee brings her creativity and compassion to her patients.
"I really like that surgery is a physical job and a craft," Dr. Lee says. "Plastic surgery requires some artistry and strategizing of how things fit together. All of these things appeal to the way my brain works."
Dr. Lee's contributions to the medical center are many and varied. In addition to being associate professor of Plastic and Reconstructive Surgery, she has an appointment in the Ohio State College of Public Health's Division of Health Services Management and Policy. She is a federally funded health services researcher, studying how patients and clinicians make decisions about cancer treatments.
She's also the director of women's academic advancement in the Ohio State College of Medicine and leads the Women in Medicine and Science committee, working to reduce barriers to the professional success of women in medicine and science. "There are a lot of great women here doing fantastic work," she says.
Dr. Lee studied public policy at the John F. Kennedy School of Government at Harvard University before earning her medical degree at Yale University. She completed her general surgery residency at New York Hospital and her plastic surgery residency at the University of California, San Francisco.
She joined Ohio State in 2016 after being on the faculty of the University of North Carolina at Chapel Hill for 12 years. We recently had the pleasure of interviewing her.
What kind of reconstruction do you do?
I specialize in microsurgery and cancer reconstruction, including breast, sarcoma and melanoma reconstruction. A lot of those surgeries are in collaboration with surgical oncologists or other types of cancer surgeons. They do the resection and I do the reconstruction.
What brings you the most joy in your job?
My patients. I initially thought I'd be a primary care physician. I fit a little bit of primary care into being a surgeon. I love my patients. I sometimes cry when I have to say goodbye.
What are your research interests?
Through my research, I try to understand and improve how patients and their providers make decisions about cancer surgery, with a specific focus on breast cancer. When a woman is diagnosed with breast cancer, she has many options. It can be difficult for patients to make those decisions. I develop ways to support those decisions.
Tell us about compassion in medicine.
Breast reconstruction exists at the intersection of medical issues and really personal issues. Many of my patients have lived perfectly healthy lives and suddenly are dealing with issues of illness combined with appearance. My role is to help them navigate these issues, figuring out what is possible clinically and what fits with their personal preferences.
If you care about a patient and they know it, I think it helps their journey. I think it helps their healing too. I believe that compassion is the most important part of patient care. I try to develop my compassion a little more each day.
How do you do that?
I meditate every day to cultivate compassion. I also sometimes do what I call micro-meditations, such as thinking of three things I'm grateful for. I might say, "I'm grateful that I have eyes to see. I'm grateful that I have colleagues to talk to. I'm grateful I have a comfortable office."
Are there unique challenges or opportunities of being a female faculty member at Ohio State?
There are a lot of great things happening at Ohio State. Overall in the College of Medicine, women represent nearly 50% of the faculty, which is higher than the national average. The challenge is that when you look at the higher ranks, representation of women drops off. But we're making progress. For instance, four women were recently named department chairs, which exceeds the national norm.
What do you like best about working at Ohio State?
I love how much pride people have for Ohio State and the state of Ohio. It's unifying.