Ohio State 2020 Rhodes Scholar combines interests in research and public service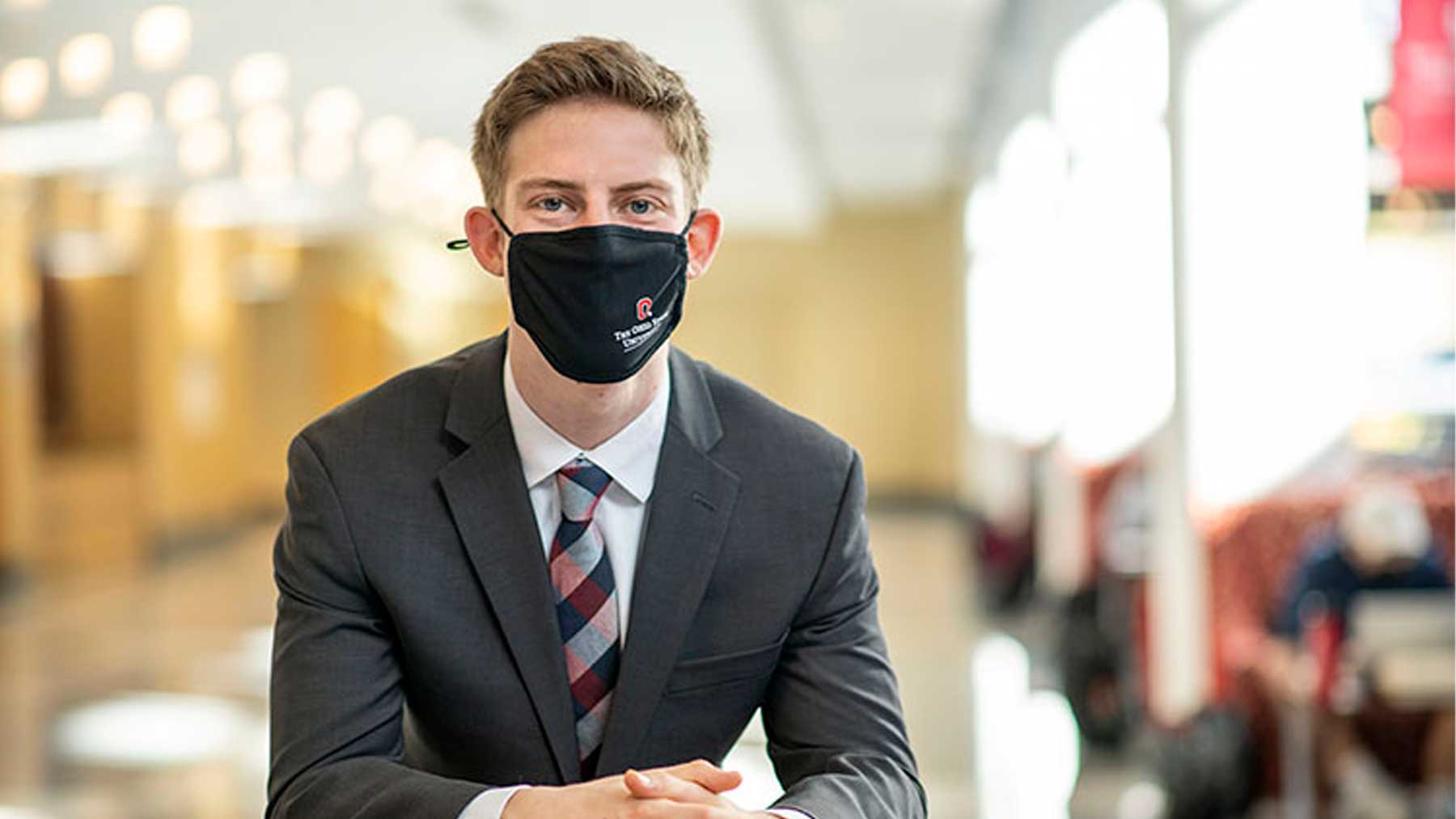 The Ohio State University College of Medicine senior and biomedical sciences major Daniel Lesman will have a rare opportunity to develop his commitment to service and research as a recently named 2021 Rhodes Scholar. One of only 32 selected from across the United States to receive this distinct honor, Daniel will spend the next two years at Oxford University in England working on several multidisciplinary master of science degree programs that will combine his interest in evidence-based social intervention and policy evaluation with physiology, anatomy and genetics.
The Rhodes Trust selected Daniel not only for his outstanding academic achievements, which in themselves are impressive—he is a Goldwater Scholar, an Astronaut Scholar, a Maximus Scholar and a university honors student—but also for his work as founder of a nonprofit organization that provides educational resources to homeless and at-risk students. His biomedical research in Duchenne muscular dystrophy (DMD), Huntington's disease and COVID-19 were factors that tipped the selection scales in his favor.
"I am proud to be able to congratulate Daniel Lesman in being named a 2021 Rhodes Scholar in recognition of his outstanding work and academic achievement as an Ohio State student and future leader in the field of medicine," says Carol Bradford, MD, MS, FACS, dean of Ohio State College of Medicine and vice president for Health Sciences at The Ohio State University Wexner Medical Center. "Every day, students are shaping their unique interests and abilities to assist in groundbreaking research and remedies that contribute to improving people's lives here in Ohio and around the world, and Daniel is a prime example of how much they have been able to contribute."
Daniel's interest in research developed while he was a high school senior working in the genetic therapy lab of Nicolas Wein, PhD, at Nationwide Children's Hospital in Columbus, Ohio, where he took part in research to find a cure for DMD. There, he designed and tested small modified RNA molecules to correct the mutations that cause DMD, a research interest he has continued throughout his undergraduate career. He is currently leading a project that hopes to restore the missing protein dystrophin, which is responsible for the disorder.
DMD is a severe neuromuscular degenerative disease affecting approximately one in 5,000 men. It ultimately results in death in the third decade of life due to failure of the heart or diaphragm. It's caused by a variety of mutations in the DMD gene in which one or more exons are missing, causing errors in the instructions for making the protein dystrophin. Previous efforts to restore or repair the defective gene have proven challenging, in part due to the lack of mouse models to represent the wide variety of mutations found in DMD patients. To address the problem, Daniel's DMD study, which is funded by the American Society for Gene and Cell Therapy, aims to create a human DMD (hDMD) mice lineage that harbors disease-causing mutations intended to enable the development of treatments for new subsets of DMD patients. This strategy uses a process called "exon skipping" to modulate pre-mRNA splicing by excluding target exons from mRNA.
So far, the team has developed a mouse containing hDMD on an mdx (no murine dystrophin expression) background modified by CRISPR/Cas9 to introduce a nonsense mutation. This mouse has been established and is currently being characterized. The team has found that these mice exhibit no protein expression as well as a decrease in muscle function that is in line with other hDMD mutated mouse models. They've also tested exon skipping constructs in vitro in myotubes and identified several constructs that enable efficient skipping of the exons modified in the new mouse model. The team is hopeful that this new exon-skipping approach could improve the outcomes for between 3% and 4% of DMD patients.
In 2020, Daniel received the Astronaut Scholar award for his work in DMD and for research into another rare neuromuscular disorder, Huntington's disease.
Huntington's disease (HD) is a late-onset disorder caused by a trinucleotide repeat expansion of CAGs (cytosine, adenine and guanine, three of the DNA building blocks) in exon, one of the genes that encodes for HD. HD symptoms first appear between the ages of 30 and 50, and progressive neurodegeneration ultimately leads to death about 15 years after the appearance of the first symptoms. Although the mechanism of HD pathogenesis is not fully understood, it is known that toxic mini proteins are responsible for many of the neuronal and mitochondrial impairments that cause disease. To address this need, Daniel and his team are introducing therapeutic vectors that destabilize this highly toxic mini protein. By reducing these toxic, aggregating proteins, this project may be a promising new method for delaying the age of onset and progression of HD. They are currently in the process of testing this therapy in HD patient fibroblasts with both adult- and juvenile-onsets of the disease.
During the summer of 2019, Daniel conducted biomedical and genomics research in the lab of Fei Chen, PhD, a core member of the Broad Institute of MIT and Harvard, and an assistant professor in the Department of Stem Cell and Regenerative Biology at Harvard University, studying how engineering principles could be used to combat disease. When Daniel rejoined Dr. Chen's lab remotely during the summer of 2020, he led a project assisting the global battle against COVID-19 in which he developed a better understanding of the evolution of SARS-CoV-2 by discovering mutations in the virus and determining their functional outcomes. Using phylogenetics to analyze all of the SARS-CoV-2 genomes around the world, Daniel and his team have been able to identify a mutation in a domain that may be important to SARS-CoV-2's function. The team is working to design a set of experiments to determine how the observed mutation may be influencing the behavior of SARS-CoV-2.
In another study, Efficient, continuous mutagenesis in human cells using a pseudo-random DNA editor, published in December 2019, Daniel again teamed up with Dr. Chen and colleagues from Harvard and MIT to describe TRACE (T7 polymerase-driven continuous editing). TRACE is a method that enables researchers to introduce mutations to a selected gene of interest in human cells at a rate significantly higher than would naturally occur. This new technology led to the identification of new mutations which confer resistance to MEK1 inhibitors, a class of anti-cancer drugs.
Daniel's tendency to fight social injustices that cross his path has been developing steadily alongside his burgeoning interest in genetics research. After serving as a volunteer during his freshman year at Ohio State at Star House, a center for youth experiencing homelessness, Daniel realized that there was an unmet need for academic tutoring among Star House residents. To address the problem, Daniel and his friend, first-year medical student Andrew Hu, founded Pass the Class, a nonprofit organization serving homeless and at-risk youth in Columbus, Ohio. Pass the Class has served over 100 students at sites around Columbus, in addition to the Star House and Franklin Manor, a local affordable housing community. Tutors participating in Pass the Class service have helped students complete FAFSA, enroll in college, succeed in class and improve their math and reading skills. Recently, the organization won a $25,000 grant from State Farm to support its mission. The organization is currently expanding to other universities across the country, including Virginia Commonwealth University and Johns Hopkins University.
Daniel serves as the treasurer for Recipe-4-Good, an Ohio State University student organization that prepares meals for soup kitchens and Ronald McDonald House. He's also an active volunteer at Helping Hands Free Clinic, a community, faith-based, free medical clinic that serves uninsured and underinsured adults in the Columbus area.
As a 2021 Rhodes Scholar, Daniel plans to use his experience at Oxford to gain new perspectives on research, health care and educational policies. He intends to dedicate his career as a physician-scientist to improving health outcomes in his patients through the combined power of research and practice.