Loccoh Leverages Sarnoff Fellowship to Study Health Disparities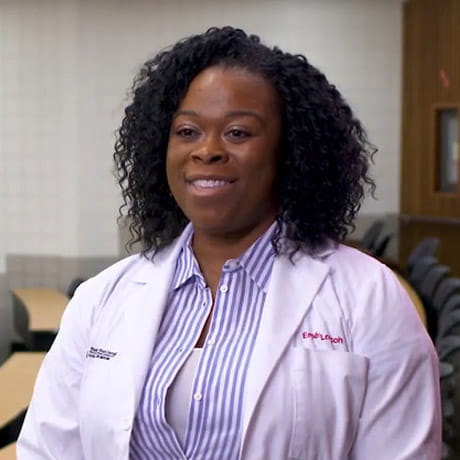 When she chose to enroll at The Ohio State University College of Medicine, Emefah Loccoh was excited by the innovative curriculum and boundless opportunities for research. But she never dreamed that she'd have the chance to conduct research with physician-scientists at the Harvard-affiliated Beth Israel Deaconess Medical Center in Boston.
Through a prestigious Sarnoff Fellowship, Emefah gained exposure to the life of a physician-scientist through a fully funded, year-long research program. The Sarnoff Fellowship offers promising candidates the chance to pursue their research interests in the cardiovascular sciences. Fellows conduct research anywhere in the U.S. (except their home institutions) in any field that relates to cardiovascular disease. Candidates are paired with a Sarnoff advisor, who aids them in selecting a research mentor and navigating the overall experience. In addition to a year-long stipend, fellows are provided funds to visit potential research labs, where they can meet the lab's principal investigator and determine if it's a good fit.
Going into the fellowship, Emefah's research interests were in improving cardiovascular health disparities and health policy. After several lab visits, Eméfah worked alongside her sponsors, Drs. Sakima Smith, Elisa Bradley and Peter Mohler as well as her Sarnoff advisor, Dr. Daniel Levy to decide the research center that best aligned with her interests. She chose the Smith Center for Outcomes Research in Cardiology under the direction of Robert Yeh, MD, MSc, MBA, and Dhruv Kazi, MD, MSc, MS, at Beth Israel Deaconess Medical Center where she worked closely with Rishi Wadhera, MD, MPP, Mphil, on several projects aimed at highlighting cardiovascular health disparities among vulnerable populations. Additionally, she successfully completed the Harvard T. H. Chan School of Public Health Program in Clinical Effectiveness, where she acquired a range of analytical skills to utilize in her studies.
Emefah's first study evaluated the change in health outcomes of older, low-income adults in the U.S. over the last 15 years and assessed whether rural-urban health inequities have improved or worsened over time. Emefah's study alarmingly revealed that disparities in all-cause death rates in rural areas among low-income adults have stalled and worsened over the last couple years. Furthermore, racial disparities were much more prominent in rural areas when compared to urban areas. These findings have important public health and policy implications, as federal policymakers are urgently exploring ways to improve the health of Americans living in rural areas.
Her study's abstract has been selected as a finalist for the Lipkin Award at the Society of General Internal Medicine's 2020 conference, a recognition given to the highest-judged abstract among medical trainees. Emefah plans to submit the findings from her follow-up study, which examines why cardiovascular outcomes in rural areas are worse than urban areas, to a high-impact journal in the coming months.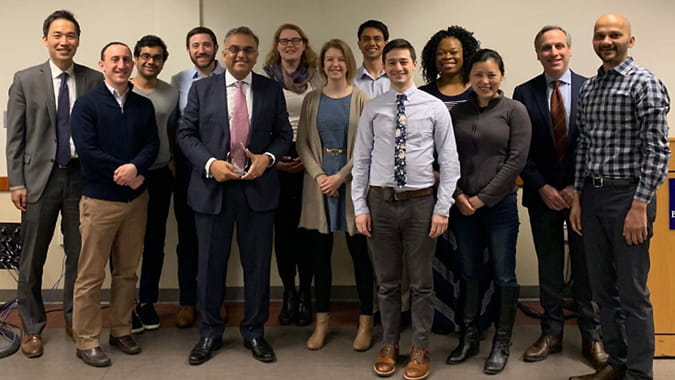 Ultimately, the mentorship from the cardiologists at the Smith Center and the incredible lifelong support from the Sarnoff community has allowed Emefah to learn from some of the most accomplished figures in the cardiovascular sciences.
"I am so grateful for all of the opportunities and experiences that have been afforded to me during my time here at Ohio State and as a Sarnoff fellow. I have had the opportunity to be involved in writing editorials, giving oral presentations and engaging in impactful research studies from start to finish, which have all improved my research skills and given me a taste of what it means to be a physician-scientist," says Emefah.
As a future physician-researcher, she hopes that her patients' experiences will drive her research questions as she continues to advocate for vulnerable populations. Regarding Ohio State and the Sarnoff community, Emefah says, "They have provided me with the foundation through which I can carry out my vision."