MD Camp introduces high school students to social determinants of health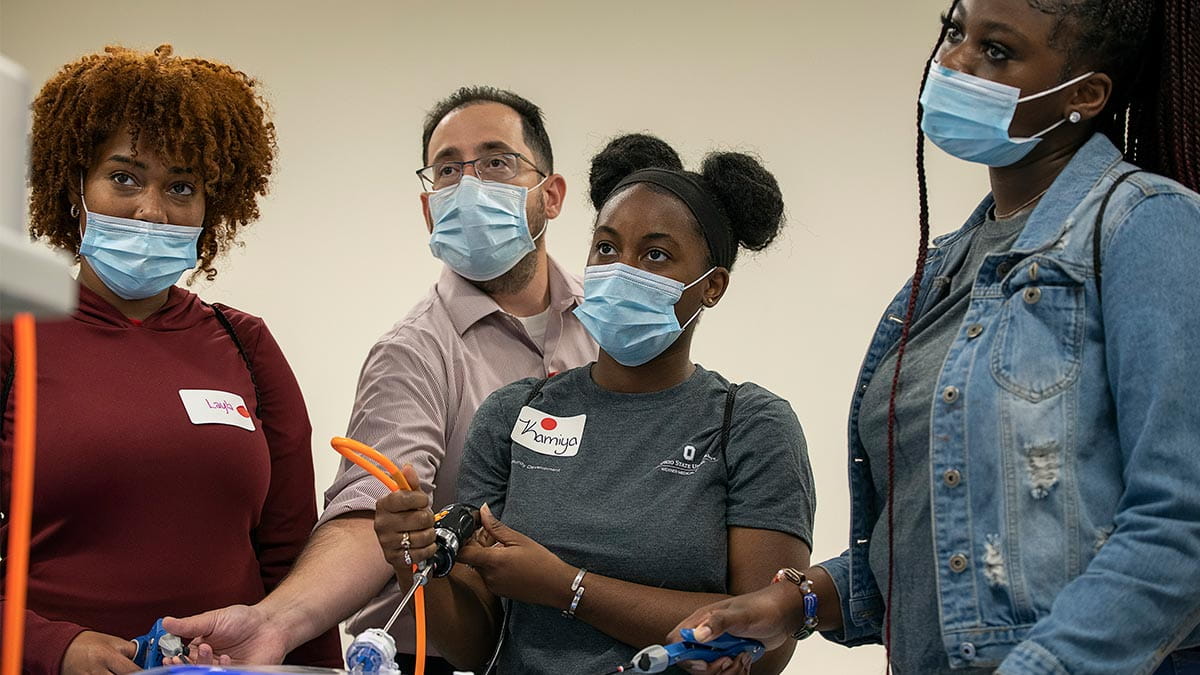 As the U.S. population expands and diversity, physicians are recognizing the need to create a broader, more inclusive space for patients. To meet this goal of improved care, many health care professionals believe the key is addressing social determinants of health (SDH).

SDH can have a major impact on an individual's health and wellbeing. Examples of common SDH include economic stability, food access, education and social environment. If a patient doesn't have consistent access to healthy foods, for example, this increases the risk of health issues such as obesity, Type 2 diabetes and heart disease. When these characteristics aren't considered during patient care, SDH can exacerbate health disparities and reduce the quality of life for vulnerable populations.

Many medical schools like The Ohio State University College of Medicine are taking the next step to reduce inequalities in health care by including SDH topics in their curriculum. This year, the college even introduced SDH to high school students participating in MD Camp.

MD Camp is an intensive summer program that prepares high school students for futures in medicine and biomedical research. This three-week camp gives students an insider perspective on what a future in medical school might look like.

During this program, campers participate in lectures, research experience, community projects, clinical workshops and shadowing led by the Ohio State College of Medicine's faculty and medical students. The curriculum of MD Camp mirrors the experience students will have if they eventually decide to attend medical school, which includes learning about SDH.

This summer at MD Camp, Bhagee Ganesan, a second-year medical student at the college, gave a lecture to high school students about SDH. Her talk focused on important but often overlooked factors in patient care and why they should be considered.

"For far too long, health and disease have been framed as a product of either exclusively genetics or exclusively individual choices, when in reality, a variety of factors intersect," Ganesan says. "As future physicians/health care professionals seeing patients from diverse backgrounds, understanding this will allow us to better collaborate with patients to create health plans that are customized to their needs and will allow them to attain the best health possible."

Ganesan's interest in health policy stemmed from her previous role as a scribe for a free clinic as well as her experience studying patient access to primary care during her senior year of college.

"I saw how SDH impact trust in physicians and patients' ability to access the care they need, and how accounting for this in the patient encounter can change lives for the better," Ganesan says.

She hopes that presenting this issue to the next generation of physicians could help shape future health policies and create a more tolerant, accepting health care system that treats every patient equally.

MD Camp leaders like Ganesan have commented on how rewarding it was to instruct students in this program, and they hope the campers had a memorable experience as well. Ganesan believes the students learned a great deal from her lecture.

"They were very engaged and asked thoughtful questions about health care access, reducing stigma associated with accessing these resources, racism in medicine, and how they could get involved in high school and college with public health/health policy initiatives," Ganesan says.

Thank you to the team of College of Medicine students who volunteered numerous hours to plan and administer the 2022 MD Camp, including co-directors Brielle Davidson and Sahana Holla, along with Bryan An, Drew Atoa, Suzy Bangudi, Abby Buckley, Kara Klinkebiel, Morgan Perryman, Liz Rotenberg, Anamika Shah and Zachary Wykoff. Thank you to advisors Tammy Tucker, M.Ed., director of the Office of Diversity and Inclusion and Aaron Thomas, program manager at the Ohio State College of Medicine.
Read more about MD Camp and its mission to support high school students here.