Medical Student Appointed to Ohio State Board of Trustees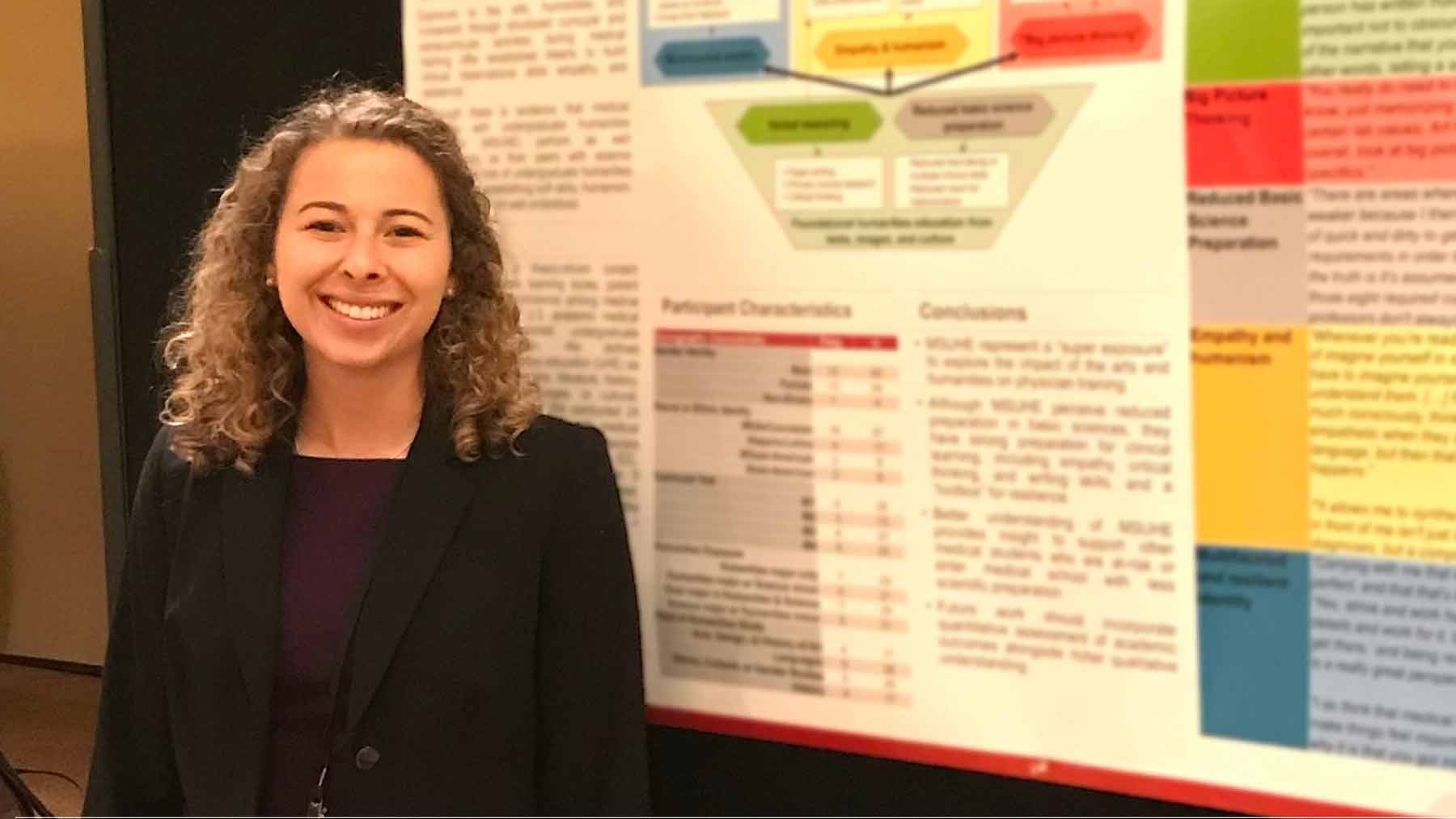 It's easy to see why third-year Ohio State University medical student Carly Sobol has been appointed by Ohio Gov. Mike DeWine to serve as the graduate student representative to The Ohio State University Board of Trustees. A distinguished young scholar, budding scientist, proven leader, dedicated humanitarian and public servant, Carly has made it her mission to improve lives by providing humanistic, personalized, evidence-based and equitable patient care.
A 2018 graduate in neuroscience from Ohio State, Carly has a long list of academic accomplishments that includes membership in the Mortar Board National College Senior Honor Society, appearance on the dean's list all four years, and graduating magna cum laude with a research distinction in neuroscience and honors in the arts and sciences.
Carly's interest in brain, behavior and mental health led to an early interest in research that culminated in four research studies published in academic journals, including Biological Psychiatry, while she was an undergraduate student. Three of the studies focused on stress-induced ailments and another looked at patient survival and readmission rates after discharge from the surgical intensive care unit directly to a long-term, acute-care hospital.
As a senior minoring in Jewish studies, Carly completed an international studies program at Tel Aviv University in Israel, an experience she says strengthened her connection to her Jewish heritage and continues to "fuel" her progress in medical school today.
"My heritage is very important to me and is central to my identity," she says. "My Judaism is at the core of my morals and values, which drive my desire to leave a positive impact on the world."
That moral and religious foundation has formed the basis for her commitment to humanistic medicine, which guides her patient interactions as well as her research. A member of the American Osler Society, she received the William B. Bean Student Research Award in 2019 recognizing her research in medical humanities. The study, "Outcomes and Abilities of Medical Students with Undergraduate Humanities Education: Qualitative Study," examines the impact of undergraduate humanities education on medical student resiliency, unique skill set and perceived academic performance involved, and is based on interviews with medical students who matriculated into medical school with undergraduate humanities majors or minors.
"To me, humanism is a direct connection to this scientific work, just from a different angle of impact," she says. "Servant leadership is a model I strive to follow and that I have studied, thanks to Dr. Linda Stone," who is founder of the Ohio State College of Medicine's Humanism in Medicine program. Carly supports the program by serving on the college's Medicine and the Arts Board as the student representative.
Using her platform as one of 26 undergraduate students to be named a Distinction Scholar through Ohio State's Morrill Scholarship Program, Carly advocated for multicultural mental health awareness, a cause she continues to support today.
"My goal, regardless of profession, is to positively impact the mental well-being of all individuals I come across, patients and colleagues alike," she says.
Her medical school colleagues were among those whose health and well-being were well served when Carly became a trained facilitator in the medical center's Mindfulness in Motion program, a stress reduction and resiliency training program that has been shown to reduce burnout in physicians and nurses. She worked with the program's founder and director, Maryanna Klatt, PhD, professor in the Department of Family and Community Medicine, who specializes in integrative medicine, to adapt the program specifically for medical students.
Carly credits her growing interest in surgery as a career path to the strong connections she has made with outstanding mentors in Ohio State's Department of Surgery, along with participation in the Ohio State Wexner Medical Center's General Surgery Summer Scholars Program, which allowed her to participate in surgical patient care, rotations in peripheral vascular surgery and East Hospital General Surgery services, and weekly conferences with attending surgeons. She will graduate in May 2022.