Ohio State Virtual Tour Is Almost as Good as Being There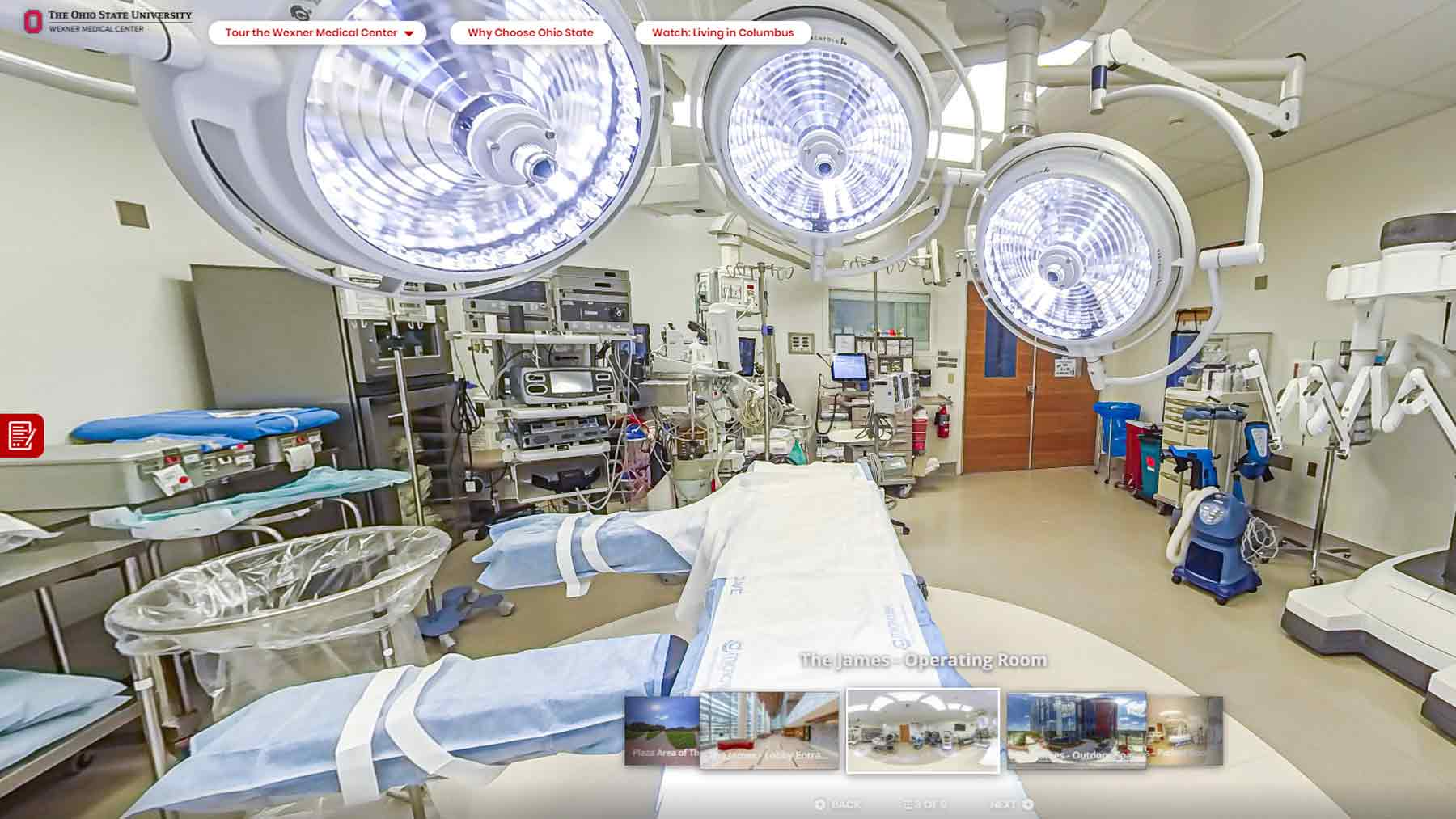 Deciding if The Ohio State University College of Medicine and Wexner Medical Center is the right place to continue their medical education just got a bit easier for prospective students and trainees, now that they can take a 360˚ virtual tour of the campus and get a pretty realistic sense of what it's like to actually be there.
The web-based tour provides an easy-to-navigate reality mode that allows visitors to explore the campus while learning about the medical center's features and educational advantages through the voices of trainees who already call Ohio State "home."
The tour includes 360˚interactive views of spaces in which students, residents, fellows and other trainees in Ohio State's medical and health sciences fields live and learn throughout the medical center's vast system of hospitals, clinics and research facilities, including University Hospital, the Comprehensive Cancer Center – Arthur G. James Cancer Hospital and Richard J. Solove Research Center, the Richard M. Ross Heart Hospital, East Hospital, the Brain and Spine Hospital, the OSU Biomedical Research Tower, the Dorothy M. Davis Heart and Lung Research Institute, the Eye and Ear Institute, the Jameson Crane Sports Medicine Institute, Meiling Hall and the Health Sciences Library.
"They are so comprehensive that interested students might see more than they would if they were actually in Columbus," says Scott Holliday, MD, associate dean for Graduate Medical Education, who led the project team that created the tours so prospective residents, fellows and students could experience Ohio State despite COVID-19 travel restrictions.
"We wanted to highlight the things that help us stand out and emphasize our educational mission . . . whether it was simulation areas or areas for didactic and other educational opportunities, but to also create a sense of how our space lends itself to quality care and to paying attention to the patients and the patients' needs," says Holliday.
The project team also wanted the tour to demonstrate how individual trainees within the individual residency programs integrate into the various spaces using recordings of current residents to describe their individual experiences and interactions within the space.
"How surgeons interact in the ORs is very different from how anesthesiologists interact in the ORs," he says. "Being able to give both of those perspectives on how that space is utilized and how it meets their needs and how it promotes good supervision, good education, good learning and good patient care experiences was really what we wanted to accomplish."
Learn more by taking The Ohio State University Wexner Medical Center and College of Medicine 360˚ Virtual Tour.