MEDPATH: Preparing the way to medical school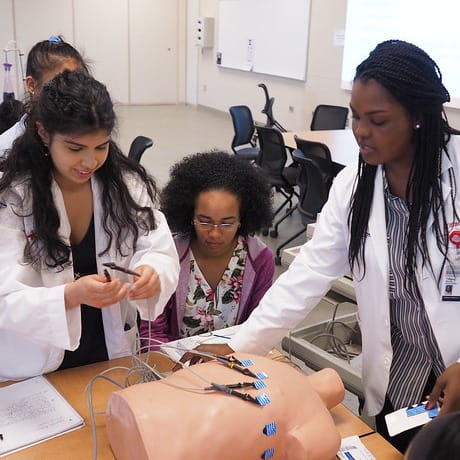 Many students dream of going to medical school; however, some students, such as first-generation college students and others who lack the financial and educational resources, face unique challenges as compared with their peers.
The Ohio State University College of Medicine MEDPATH program was created in 1991 to bridge this gap, with the goal to increase enrollment of underrepresented minority students in the College of Medicine as well as assist economically disadvantaged students.
"Prior to its present iteration, MEDPATH consisted of three tracks that accommodated students from groups underrepresented in medicine who desired to pursue a career in medicine but were at different stages in their preparation for medical school," says Nikki Radcliffe Goldsberry, associate director of the MEDPATH program.
MEDPATH is a yearlong post-baccalaureate program designed to enrich the academic knowledge base for students prior to their entrance into medical school that admits up to 15 students annually. Applicants must be referred to the program by the Ohio State College of Medicine Admissions Committee and complete an application. Students who successfully complete all of the program requirements matriculate into the Ohio State College of Medicine the following year.
Since the program's inception, nearly 250 students have gone on to attain the MD degree.
Unlocking Potential
"MEDPATH was the key that unlocked my academic potential," says Dwayne Whitfield, MD '17, and a 2013 MEDPATH alumnus. He credits "the rigors of MEDPATH and the resources and support" for his new pathway as a physician. Dr. Whitfield will do his residency in family medicine at East Jefferson General Hospital in Metairie, Louisiana.
Demicha Rankin, MD '06, and a 2002 MEDPATH alumna, is an anesthesiologist at the Ohio State Wexner Medical Center. She says MEDPATH helped her think about her personal and professional goals in preparation for medical school. "The program allowed me to tap into my potential as a future physician and gave me the confidence to handle the medical school curriculum," she says.
Students in the MEDPATH program begin in August with a weeklong orientation that includes an assessment and instruction in learning strategies, test taking and problem solving. During the academic year, students take a variety of foundational courses that include, but are not limited to, biochemistry, genetics, medical terminology and physiology. Tutoring is provided in addition to other key components such as service projects, professional development sessions and mentoring program. The final six weeks entails coursework in human gross anatomy, biochemistry and immunology.
The program continues to have success. Students who participated in the program in 2015 displayed the highest increase in Medical College Admission Test scores, surpassing previously tested MEDPATH students by 10 points. Program officials credit the incorporation of concept mapping into the curriculum.
Concept mapping is a learning technique developed by Dr. John Pelley, professor of medical education at the Texas Tech University School of Medicine. "This tool offers a way to organize and verify what a student is learning," says Goldsberry, "in that it assists students in effective note review and contributes to effective reading." Since 2013, the program also continues to provide ongoing support to MEDPATH students who have entered the Ohio State College of Medicine, she says.
2006 MEDPATH alumna Mary Ackenbom, '10 MD, says the program has had a significant impact on her career now as a fellow in female pelvic medicine and reconstructive surgery at the University of Pittsburgh Department of Obstetrics, Gynecology and Reproductive Sciences.
"I attribute my professional success today to the foundation that was created during my participation in MEDPATH," she says. "I'm so grateful to have been part of the program."