Research area of concentration: Dr. Peter Mohler shares update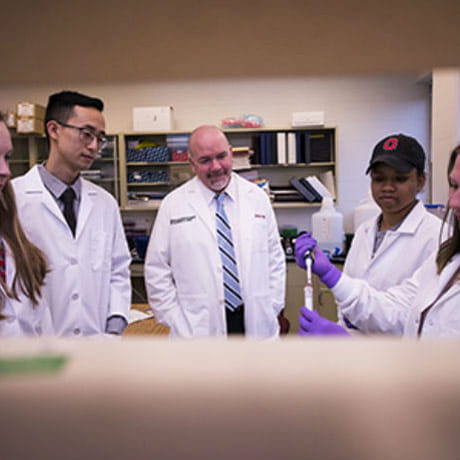 As part of our strategic plan, one of the six goals centers on research — pioneering life-altering biomedical discoveries and their translation into breakthrough health care solutions. Peter Mohler, PhD, vice dean for Research at the Ohio State College of Medicine, provides an overview of the organization's progress for this area of concentration.
Research Funding Exceeds A Quarter Billion
During fiscal year 2019, research funding to the Ohio State College of Medicine grew greater than $50 million, climbing to $268.5 million, an exciting milestone.
• Ohio State received $163.6 million in grants, contracts and subcontracts from the National Institutes of Health (NIH).
• Extramural funding was also significantly increased from non-NIH sources including government agencies, non-profit foundations and industry contracts.
The increase in medical research funding is partly attributed to a focus on expanding key and strong scientific programs. "We are viewed as an international leader in cancer research. Our goals are to continue to push our leadership in other areas including cardiovascular and pulmonary disease, transplant, addiction, neurological disorders, immunology, and diabetes.
"An emphasis of our strategic plan is to diversify our funding portfolio to address the complexity of research questions," says Dr. Mohler. "While it's critical that we focus on very fundamental scientific questions at the molecular and cellular level, it's just as critical that we translate these findings into health care solutions at the patient and population level. Today, our research teams are creating solutions that impact patients all around the world. It is an exciting time to be a scientist at Ohio State."
Real-time Research to Combat the Opioid Epidemic in Ohio
While research largely represents one strategic goal area, it intersects with and overlaps with many of the organization's other five strategic priorities, including the healthy communities and health care delivery models. Among the many growing areas within research, one recent example of this is related to population health and the opioid epidemic. In April 2019, the university was awarded a research grant of $65.9 million from the National Institute on Drug Abuse, as part of the new federal HEALing Communities Study.
"The Ohio State University will lead a consortium of academic, state and community partners in an effort to reduce overdose deaths by 40% over the next three years," Dr. Mohler says. "This initiative will span from prevention to treatment and recovery programs throughout the state, and will focus on 19 of the hardest-hit counties in Ohio. We're extremely fortunate to have leaders like Dr. Rebecca Jackson, who leads the Ohio award and not only thinks outside of the box, but also pushes forward new national research agendas that can change patient care. It also shows the strength of Ohio State where multiple colleges can come together to create solutions for very complex societal issues."
Expansion of Research in Neurological disorders
Research is also expanding its clinical focus within neuroscience. After a national search, Ohio State named Benjamin Segal, MD chair of the Department of Neurology at Ohio State's College of Medicine and co-director of Ohio State Wexner Medical Center's Neurological Institute. In this role, Dr. Segal is responsible for advancing Ohio State's reputation as a referral center for patients with complex neurological diseases, and for helping to grow the medical center's neurology and neuroscience program. The College of Medicine also recently named K. Luan Phan, MD, as the new chair of the Department of Psychiatry and Behavioral Health.
"In addition to building on our strengths on the research side, these talented individuals will allow Ohio State to continue to differentiate our clinical lines, especially in the areas of multiple sclerosis (MS), Alzheimer's disease, psychiatric disorders, and stroke," Dr. Mohler says. "Their contributions will support our statewide and national reputation in these areas."
Beyond chairs, the College of Medicine has seen the recruitment of exceptional new leaders including:
• Krystof Bankiewicz, MD, PhD, professor of Neurological Surgery, an expert in gene therapy for neurological disorders.
• Zihai Li, MD, PhD, recently joined Ohio State as the founding director of the new Institute for Immuno-Oncology at Ohio State's Comprehensive Cancer Center – James Cancer Hospital and Solove Research Institute.
Research that Impacts Ohio and Beyond
The Center for the Advancement of Team Science, Analytics, and Systems Thinking in Health Services and Implementation Science Research (CATALYST) is a center within the College of Medicine focused on advancing research and discovery in the delivery of health services across the continuum of care using a team science approach. An innovative and independent center, CATALYST is focused on providing a well-recognized hub for health services and implementing our science research efforts, and is a massive effort to position Ohio State as a leader in the research arena.
"It's not only about the incredible work our researchers are doing in conventional laboratory setting, but also how we're able to leverage the health system to better understand the interdependencies of population health issues and the economics of health care, so that we can continuously get better at improving outcomes," Dr. Mohler says.
Talent, Culture and Resource Stewardship Come Together to Build Healthy Communities
Today, Ohio State teams are leading approximately 3,000 trials. One of the more recent clinical trials to come to Ohio State is intended to reduce stroke risk in patients with atrial fibrillation not caused by a heart valve problem. The trial involves a new device, called the WATCHMAN, which allows heart function to be monitored remotely.
"While 3,000 trials is not a totally insignificant number, it's not the number of trials that is impressive," says Dr. Mohler. "Rather, it's the impact on the lives of the countless number of patients that wouldn't have been possible without these breakthrough discoveries — and the amazing faculty and clinical research staff who have helped grow this research and have applied it in new, innovative ways. It's the people who make this happen, who work together so selflessly in terms of their time and energy to make all of this possible. Our clinical research staff in the Cancer Clinical Trials Office and College of Medicine Clinical Trials Management Organization are among the best in the country.
Dr. Mohler also recognizes that, although much of the support for research at Ohio State comes from the federal government, there are also many community supporters who play a critical role in advancing these discoveries. Whether these supporters were patients, or are community benefactors, this group continues to have an enormous impact and truly makes a difference in the prominent role that research plays.
"This is an exciting time as we use research and education to synergize our teams and to elevate Ohio State as a whole," Dr. Mohler says. "I'm excited about the future."
Follow Dr. Mohler on Twitter @PeterMohler for updates on all of the great research happenings at the Ohio State College of Medicine.