Rose Backs named a 2019 Ohio State Glass Breaker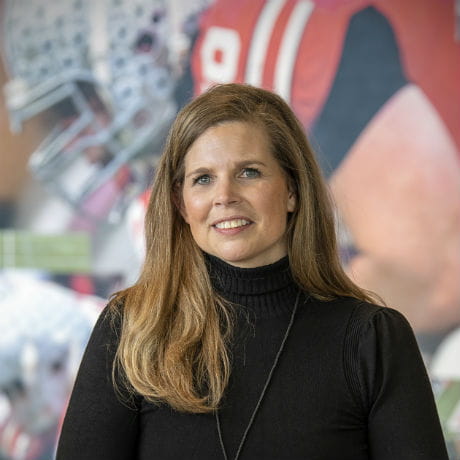 If you watch college sports, you'll notice that many times a female trainer is helping the athletes, whether it's to exit the field after an injury or just to work out some temporary cramping.
It wasn't always that way.
As recently as the 1980s, there were not many women in the athletic training profession. But that didn't deter Rose Backs. Intrigued by the profession of training after taking physiology classes in high school, she successfully applied to be an Ohio State student athletic trainer in 1988 while attending college here.
She later became an athletic trainer with the Ohio State Sports Medicine team, then went on to attain her physician assistant degree and was the first physician assistant (PA) hired by Ohio State Sports Medicine when the program was in its infancy in 2002. A PA has an advanced education and extensive training in a medical setting and can diagnose illness, develop and manage treatment plans and prescribe medications.
"Back then, we weren't sure how PAs would fit into our system or even how best to utilize their talents," shares Christopher Kaeding, MD, executive director of Ohio State Sports Medicine. "Rose was the perfect trailblazer. She helped create and smooth the path for all those who followed and continues her journey of excellence."
According to the National Athletic Trainers' Association, 72 percent of physician assistants are women. In honor of her leadership, The Ohio State University and The Women's Place have named Backs a 2019 Glass Breaker. The annual award recognizes women who open doors of opportunity for other women.
"I love what I do," says Backs. "It's humbling, and an affirmation of those who've come before me. It's a real tribute to the trails that they started to blaze and I just picked up and kept blazing."
Backs has dedicated her 25-year career to Ohio State. She has mentored physician assistant students and orthopedic residents, and has helped define the role of physician assistants in orthopedic surgery, working with nearly all of the surgeons in some capacity, serving as first assist in surgery and carrying her own patient load in clinics, all while raising a family.
"Being the first female physician assistant ever hired for the Ohio State Sports Medicine program, she opened the door of opportunity for every female who followed," explains Rae Bunyak, a fellow Sports Medicine physician assistant who nominated Backs for the Glass Breaker Award.
Ohio State Sports Medicine now has nine physician assistants. Across musculoskeletal health care at Ohio State, which spans sports medicine, orthopedics, hand, trauma and foot and ankle, there are 30 physician assistants and nurse practitioners.
Backs' patient satisfaction ratings have continuously ranked in the top 10% nationwide, and she's been awarded the Certificate of Excellence multiple years for Outstanding Achievement in Patient Service by Press Ganey.
"We're seeing patients, sometimes in their most vulnerable state," Backs says. "Patients have to have trust in you. Gaining trust in patients also gains trust for the profession."
*****
We recently spoke with Backs about her love of sports medicine and how she's blazing a trail for others. Following are highlights from that interview.
What drew you to this field?
I always knew that I wanted to go into the medical field. In high school I took an applied physiology class from an athletic trainer teacher. That got me hooked. I liked sports, and I also liked science and anatomy.
Was it an easy path?
Not at all. When I graduated college there weren't a lot of opportunities for female athletic trainers to get the big positions with the professional sports. You either worked in a clinic or a high school. I just had that constant hunger for knowledge, and I wanted to do more.
I was fortunate to have supportive physicians who encouraged me and helped me along the way. My peers were supportive, too. Going back to school to become a PA was one of the hardest things I did. You leave that security of a daily job. It was a big risk, but everybody was so supportive. I haven't looked back.
Who are those trailblazers who came before you?
While I was pursuing my undergraduate degree, I met Linda Daniel, Ohio State's head athletic trainer, who passed away at age 48. She was instrumental in progressing women's roles in the athletic department and in the roles of athletic training. These roles had been heavily male-dominated.
I also met Phyllis Bailey, associate director of Athletics at Ohio State, who was key in getting Title IX implemented and expanding the number of women sports.
My own peers have all been trailblazers. Rae (Bunyak) was one of the first athletic trainers to go back to PA school from our program. She also blazed trails in her previous work in the military and has proven over and over that you can have a family and you can have a career.
How do you think the programs here impact patients?
Young female patients will come in and are relieved to see a woman as part of their treatment team. They're curious and inspired, and might say, "That's something I would like to do." Some have pursued it, but I would caution that PA school is not a picnic. It's a tough, rigorous curriculum.
There have been patients who've been inspired to go back to school and are now working as PAs out in the communities. That makes me proud.
What's next for you?
I'd like to keep moving forward and advancing the physician assistant's program. I'll also continue to be an example and leader for women and young men coming through the program. It's important for all to see women in these roles. If you advance women, you advance everyone.
Congratulations, Rose, on being named a 2019 Glass Breaker!