Sergey Brodsky: making strides in kidney disease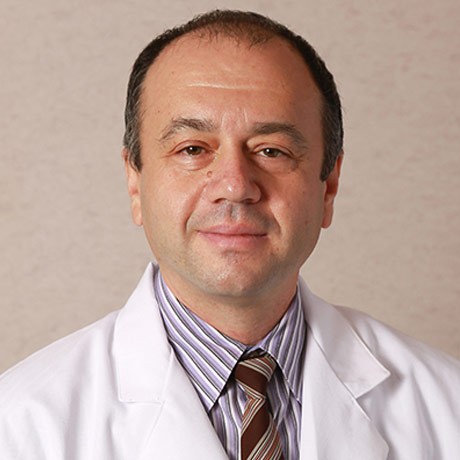 Great teachers inspire students, and sometimes influence the course of their lives. Great books can do the same. Both of those inspirations led Sergey Brodsky, MD, PhD, an associate clinical professor at The Ohio State University College of Medicine and a pathologist at The Ohio State University Wexner Medical Center, to become a renowned kidney disease researcher. While still in medical school in northern Russia, Dr. Brodsky had an excellent professor whose lectures inspired him to study diseases of the kidney. After receiving his PhD and teaching in the physiology department, Dr. Brodsky began his career as a researcher in 1999 in Israel.
About that same time, he read "The Final Diagnosis," a novel by Arthur Hailey, that led him to specialize in pathology, which is often referred to as "the bedrock of medicine." Dr. Brodsky's next move was to New York for teaching and research positions.
A fellowship in renal pathology brought him to Ohio State in 2008. "Ohio State is one of the biggest medical schools in the country, and everything I need is here," Dr. Brodsky says. "There's the opportunity for a lot of collaboration, including collaboration with scientists at Nationwide Children's Hospital through the university's affiliation with them." He currently serves as associate professor of pathology.
During his fellowship year, Dr. Brodsky discovered kidney injury in humans related to anticoagulant drugs, or blood thinners, which are taken by patients to prevent blood clots and unclog arteries. Damaged kidneys can't do their job, so waste builds up in the body, resulting in other health problems such as stroke or heart attack. With his National Institutes of Health (NIH) R01 grant, he and his team will use the animal model of this disease, which was developed in Dr. Brodsky's lab, to learn what the mechanisms of this unique kidney injury are and what can be done to avoid or mitigate them.
An R01 is valuable to any researcher, Dr. Brodsky says, because besides funding new studies, it is the most prestigious award given by the NIH and indicates a certain quality of research. He said it took him eight years to get the current award, so his advice to those seeking an R01 is simply "try, try and try again."
Dr. Brodsky serves on the editorial boards of several medical journals. He is the author or co-author of several book chapters and more than 95 peer-reviewed publications. In his off time, his favorite activities are reading history and fiction, and fishing with his son at Madison Lake in London, Ohio. A soccer fan, he also closely follows the Columbus Crew.