What starts at Ohio State saves lives: 2023 State of the College address
It has been a tremendous year at The Ohio State University College of Medicine. Efforts to transform the health of our communities continue to evolve to meet ever-changing demands in medicine. So does staying true to the mission of educating the next generation of clinicians, scientists and leaders, explains Carol R. Bradford, MD, MS, FACS, dean of the Ohio State College of Medicine.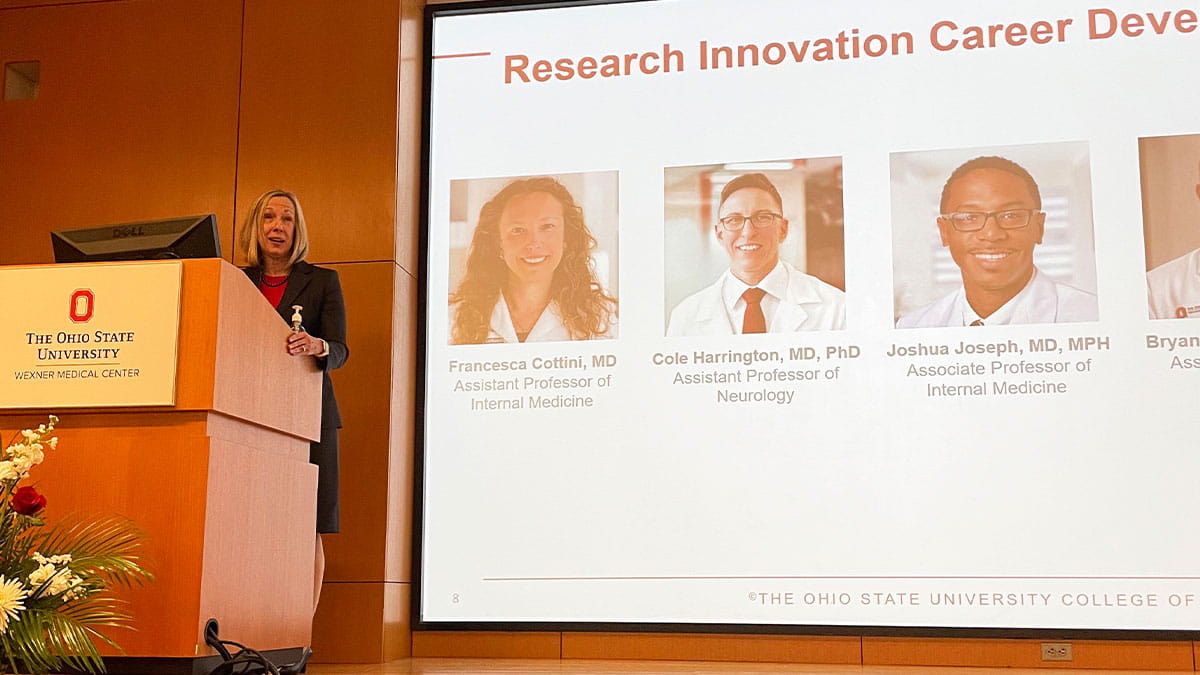 Dr. Bradford delivered the 2023 State of the College Address on Wednesday, Oct. 11 at an event filled with faculty, staff, learners and leaders gathered to celebrate significant accomplishments from the past fiscal year and gain momentum for the excellent work that lies ahead.
"I have spent my entire career at public, fully integrated academic medical centers, and Ohio State is truly one of the best in the nation," Dr. Bradford says. "We have so much to be proud of in the College of Medicine. I am grateful for the commitment our faculty, staff and learners have to our tripartite mission of education, discovery and patient care. Their passion is fueling the advancements that will benefit our patients and their families for generations to come."
Dr. Bradford shared some fiscal year 2023 points of pride, including highlights of the innovative work that is part of the college's research portfolio, which includes more than 3,000 active awards. Three leaders also took the stage to provide exciting updates on innovative projects in their areas of specialty. Kartik Venkatesh, MD, PhD, assistant professor of Obstetrics and Gynecology at the Ohio State College of Medicine, spoke about his team's leading research to determine the best medication to treat gestational diabetes. K. Luan Phan, MD, chair and professor of Psychiatry and Behavioral Health, spoke on the establishment of the State of Ohio Adversity and Resilience study, also called SOAR, to develop actionable efforts around the prevention of mental illness. Arianna Galligher, LISW, program director of the Gabbe Health and Well-Being program, detailed the innovative efforts to create a culture of wellness by reducing stress and burnout, increasing resilience and optimizing systems across the college and medical center.
Dr. Bradford also shared that the college's receipt of the prestigious 2022 AAMC Spencer Foreman Award for Outstanding Community Service Engagement is a testament to the depth and breadth of our commitment to our ambition of transforming the health of our communities through inclusive and innovative education, discovery and care.
"What we do here matters," Dr. Bradford says. "Our size is one of our greatest strengths, providing an unparalleled wealth of opportunities and support. The sky is the limit for The Ohio State University College of Medicine, and I cannot wait to see where we will go next."