Student-run free clinics provide holistic care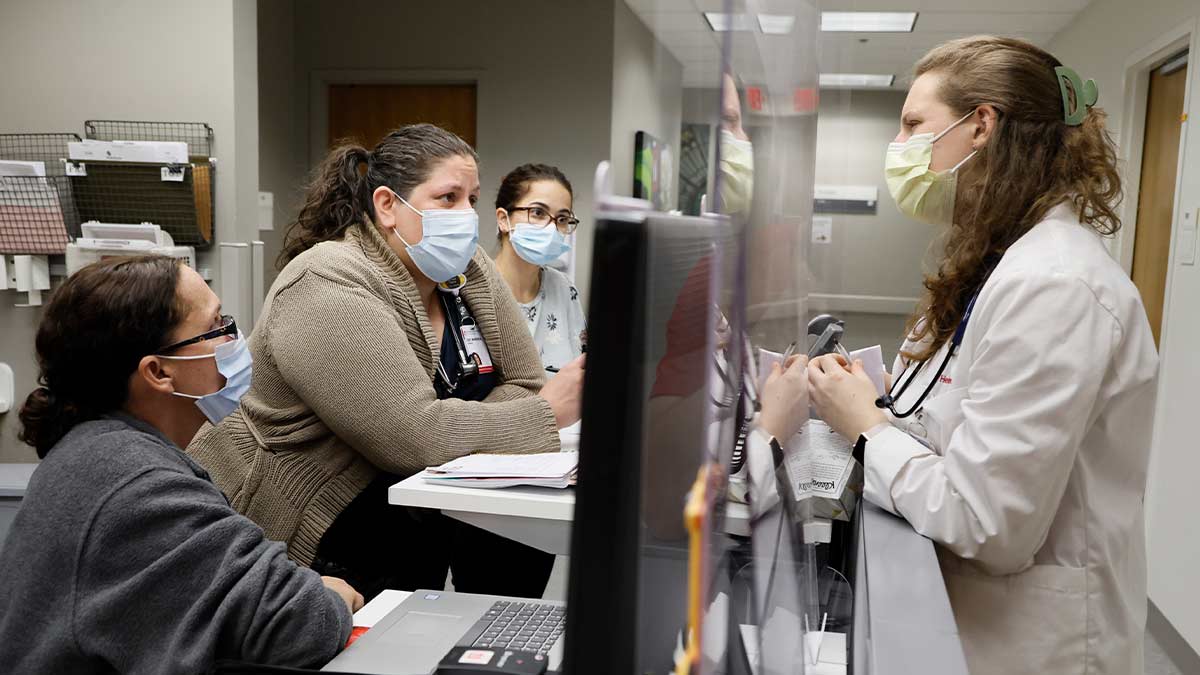 It's 6 p.m. on a Thursday night in April at The Ohio State University College of Medicine student-run free clinic (SRFC). Patients line the waiting room. Medical students sit in exam rooms reviewing information and patient charts. Volunteer physicians, nurses and mentors take their places at stations throughout the clinic, settling in for an evening of caring for patients from all walks of life with a variety of medical and social needs.
Robert Cooper, MD
, associate professor of
Emergency Medicine
at the Ohio State College of Medicine, oversees the college's SRFC, which resides within the Columbus Free Clinic (CFC), a primary and urgent care walk-in clinic managed by Ohio State medical students. In addition to serving medically underserved and uninsured patient populations, specialty clinics in psychiatry, gynecology, law, LGBTQ patient care and others offer additional support. Every Thursday evening, under the supervision of volunteer physicians and nurse practitioners, students work alongside social workers, pharmacists, lab technicians, nurses and faculty mentors in a collaborative setting to care for between 40 and 50 patients.
"Primary care has expanded to also focus on patients' housing, mental health, food and social needs as much as on their medical needs," Dr. Cooper says. "This gives students a deeper understanding of the many social contexts of health and well-being."
During a shift at the clinic, while third-year medical student Helen Hines consults with mentors on medication options to treat her patient's high blood pressure, a social worker joins the conversation. She brings up the need to discuss less expensive options or co-pay assistance resources so the patient will be able to afford to refill the medication.
"I learn as much from the social workers as I do from my patients," Hines says. "The team-based approach makes access to care so much easier for patients, and our individual contributions much more effective."
Tricia Keller is a second-year medical student who serves as president of CFC's steering committee, which oversees the logistics for the clinic. In 2021 alone, volunteer health care professionals and students managed 2,132 free patient visits and dispensed 1,500 free prescriptions. Keller says it's helpful to learn how students and professionals in different disciplines, such as social work and pharmacy, determine patient goals and how their communication styles influence care.
"They get to know patients and see the difficult choices patients have to make in order to choose between food and medicine," Keller says. "They also see first-hand how cultural beliefs and attitudes play into health."
Courtney Shihabuddin, DNP
, assistant professor of Clinical Nursing and advanced practice nurse at
the Ohio State College of Nursing
, says everyone at the free clinic wants to be there and patients are so grateful for the progressive, patient-centered care they receive. Patients, not just their medical problems, are the focus and colleagues lean on each other to provide holistic care. Dr. Shihabuddin played a large role in establishing the Rainbow Clinic, which exclusively serves LGBTQIA+ patients, to provide safe, gender-affirming care to patients in a diverse, supportive and safe setting. Everyone who works in the clinic completes online learning modules through the National LGBTQIA+ Health Education Center.
"We set the bar for students," Dr. Shihabuddin says. "We show them how to talk to patients, how to get a history, including a sexual history, and make sure they understand the importance of asking all patients for their preferred pronouns."
Dr. Cooper says the CFC is a community of learners and professionals, which reflects the diversity of its patient population and each other. "Here, we all learn to better advocate for patients and amplify their voices."