Interdisciplinary service learning in a student-run free gynecology clinic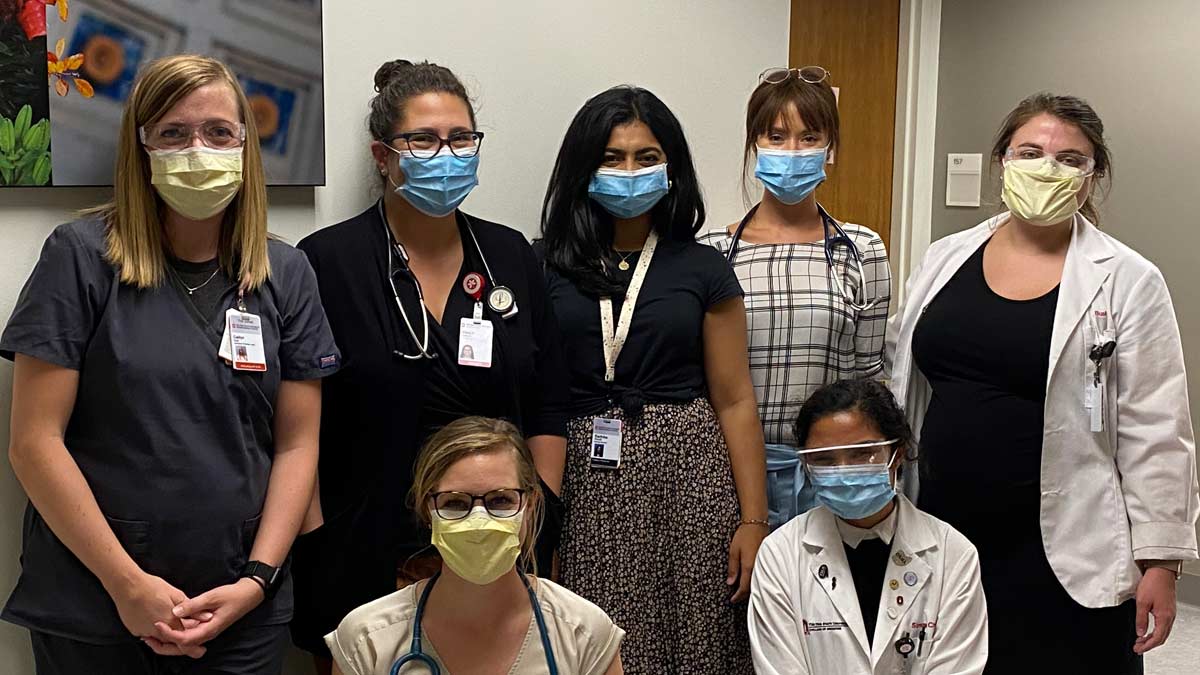 Shannon Webber, fourth-year medical student at The Ohio State University College of Medicine, started caring for underserved communities during her undergraduate summers. This volunteer work gave her an up-close look at the many adversities this demographic faces, with many struggling to find fresh food, gain access to transportation to medical services and afford necessary medications. This observation galvanized Shannon to pursue a solution during medical school as she searched for opportunities to provide quality health care to these communities.
"I was motivated to join the Columbus Free Clinic executive board during my first year of medical school. I noticed many clinic patients asking about sexually transmitted infection (STI) screening services and routine gynecologic care," Shannon says. "At that time, our clinic did''t have the resources or structure to provide those services. I reached out to Dr. Robert Cooper, Caitlyn Hull, Julie Stuart and a few executive board peers to recruit volunteers and pilot an interdisciplinary clinic in June 2018."
It would be the first student-run free women's clinic in the state of Ohio.
While other organizations were offering rapid on-site testing, treatment, prescriptions and sliding-scale payment options, these providers had limited office hours. To address this, Shannon seeks to provide free services during evening hours.
Primarily serving Columbus' uninsured patient population, the clinic provides a mix of urgent care and primary care, including STI testing and treatment, referrals to the Ohio State Wexner Medical Center obstetric and gynecologic specialties, resource bags, breast and cervical cancer screenings, oral contraceptives from in-house formularies and prenatal telehealth counseling. The clinic is working to provide telehealth follow-up services for prescription refills, free on-site STI treatment and more streamlined referrals for additional testing and advanced care.
Since its implementation, the clinic has cared for up to 18 patients each evening, with 306 patient requests for services since May 2020. COVID-19 has only increased this number, as the integration of telehealth has provided patients with more flexibility. In addition, an increase in unemployment during the pandemic has caused many to lose their employment-based health insurance, expanding the pool of uninsured patients.
The clinic is run by an interdisciplinary team of volunteer providers and student physicians, nurse practitioners, nurses, pharmacists, social workers, physician assistants and undergraduates. Shannon finds that social workers are essential to the well-being of the clinic's patients, as they aid patients in the process for insurance, food stamps, counseling and psychiatry. Together, this interdisciplinary team provides a comprehensive treatment approach for underserved patients.
Teaming up with the community
To expand its perspective and scope of action, the student-run free women's clinic nurtures a number of community partnerships. Currently the clinic is working with The Ohio State University Comprehensive Cancer Center – Arthur G. James Cancer Hospital and Richard J. Solove Research Institute's mobile mammography unit, a bus that provides communities with breast cancer screenings by providing free on-site mammograms. It's also teaming up with the Ohio Breast and Cervical Cancer Project (BCCP), a program designed to provide high-quality screenings, diagnostic testing and case management services to women at no cost.
"The advantage of the mobile mammogram bus is that we can bring the breast screening to the patient. This convenience helps eliminate many of the barriers to care that our patients may encounter," Shannon says. "The partnership with BCCP ensures that both the mammogram screening services offered through the OSUCCC – James mobile unit and the cervical cancer screenings performed in clinic remain free of charge to the patient. Enrollment in this prior to screening can continue to help patients with financial resources should they need subsequent diagnostic care."
Shannon attributes these resources to the aid of Caitlyn Hull, an advanced practice provider in the Division of Surgical Oncology at the OSUCCC – James.
"(Caitlyn) Hull helped create the gynecology clinic with me from the very beginning," Shannon says. "Her expertise and knowledge of resources like the mobile mammography unit and BCCP resources have been critical to our ability to provide quality follow-up care to our patients."
Looking to the future, Columbus Free Clinic student leaders hope to collaborate with La Clinica Latina, a student-run free clinic that cares for underserved Hispanic and Latina populations and Noor Community Clinic, the first student-run free clinic established by Muslim providers.
Redefining primary care for future Ob/Gyn physicians
In staffing her clinic with an interdisciplinary team, Shannon finds that participating health care providers can expand their perspective and redefine their view of health care. In addition, the student-run free clinic encourages students to continue serving underserved patients in different care settings.
"This program can inspire students to not only serve those in need, but to recognize discrimination in health care and fix a broken system," Shannon says. "We want student providers to recognize that medicine can serve as an art form, leaving much room for empathy and compassion."
The benefits of free clinics may even benefit health care workers directly.
"Though research suggests that medical students experience declining empathy over the course of their schooling, programs such as ours are finding that student-run free clinics may mitigate empathy deterioration and physician burnout," Shannon says. "Medical education may greatly benefit by incorporating student-run free clinics into formal medical education."
The student-run free gynecology clinic volunteers thank the many stakeholders for funding and support: The Ohio State University College of Medicine, the Ohio State Martha Morehouse Outpatient Care Center, the Women's Fund of Central Ohio, the Medical Student Alumni Association, The Ohio State University Department of Family and Community Medicine, the OSUCCC – James and the Stefanie Spielman Comprehensive Breast Center.