Celebrating 10 years of excellence in genetic counseling education, research and patient care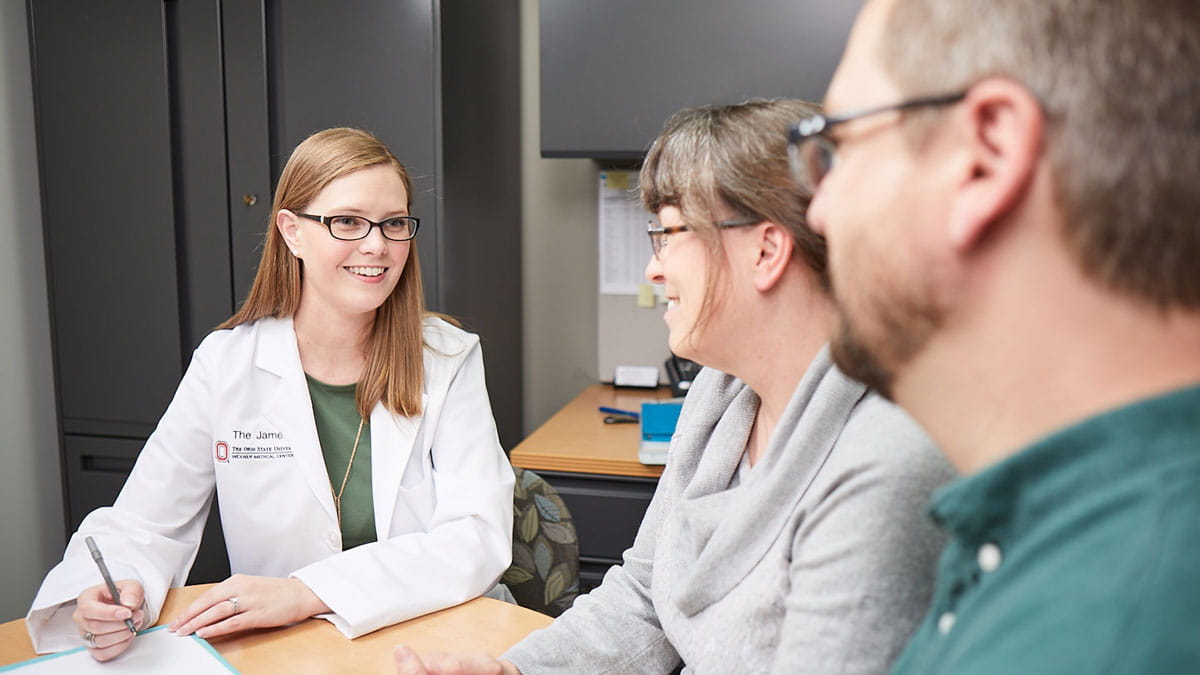 The field of genetic counseling is expanding rapidly, with job growth projected to increase 18% between 2021-2031, according to the U.S. Bureau of Labor Statistics. This growth isn't surprising, given the ever-increasing impact genetic and genomic technologies have on patient treatment and outcomes. The rapidly growing private industry offers direct-to-consumer genetic testing services.
The demand for genetic counselors has led The Ohio State University College of Medicine Genetic Counseling Graduate Program (OSU GCGP) to welcome its 10th class to campus in August 2023. Like all nine classes before them, the Class of 2025 will bring their own unique perspectives, interests, and strengths to the field with the shared goal of increasing awareness of, and access to, genetic counseling services.
Amber Aeilts, MS, is an OSU GCGP graduate. She says the program prepared her for a life as a genetic counselor and gave her a strong community to lean on, both in her cohort and in her teachers-turned-colleagues.
"Being a Buckeye genetic counselor allows me to guide patients with cancer and their families through the genetic testing process, including the emotions that come with being at hereditary risk for cancer," Aeilts says. "I am also able to teach the next generation of genetic counselors and give back to the program."
A top genetic counseling graduate program
The two-year master's degree program teaches genetic counselors to be knowledgeable, compassionate and scholarly. And it trains them to be future thought-leaders in genetics, genomics, and genetic counseling.
GCGP students benefit from a combination of didactic learning; clinical rotations, which begin in the student's first semester; and research-driven thesis projects. Students' clinical placements occur in health systems in Columbus, central Ohio and across the country, allowing learners to gain robust and diverse experiences in clinical, industry and laboratory settings. Supported and guided by faculty, program leadership, thesis advisors, program coaches, alumni and fieldwork supervisors, graduates go on to work in a wide variety of settings.
Since matriculating the first class in 2014, the GCGP has become one of the top genetic counseling graduate programs in the country, boasting a 100% job placement rate and a 96% overall pass rate on the American Board of Genetic Counseling Certification Genetic Counselor Examination. Our alumni's reach is vast, spanning the country from Hawaii to New York and working in academic medical centers, community healthcare systems, commercial laboratories, and other industry settings.
To date, more than 80% of graduates have submitted and had their thesis work accepted as abstracts at national professional education meetings. Additionally, more than 30% of learners receive national and university awards to subsidize their thesis work. More than a third of graduates have had their research accepted for publication.
Aeilts, who's now a faculty member at Ohio State, received the Journal of Genetic Counseling Best Trainee Paper Award in 2021 and Wiley Publishing Top Cited Article recognition in 2022.
Ava Willoughby, MS, GCGP class of 2023, works as a research genetic counselor at Nationwide Children's Hospital. She's also been accepted into the 2022-2024 Class of Scholars for the Inter-Society
Coordinating Committee for Practitioner Education in Genomics (ISCC-PEG), where she's exposed to the broader genomics community and experts in the field.
"During my time in the ISCC-PEG scholars program, I've been conducting a survey-based study that aims to investigate both genetic and non-genetic providers' current practices of, and barriers to, counseling on different reproductive options, in the setting of high-risk current or future pregnancies," Willoughby says. "This may illuminate additional roles for reproductive options; options and training Ohio State regularly assess to respond to the rapidly changing profession"
Explore more stories of innovation, clinical care, education and community outreach at The Ohio State University College of Medicine.