Two College of Medicine students among Ohio State sesquicentennial scholars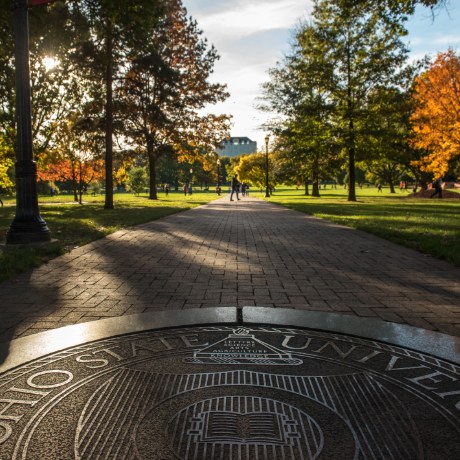 Two Ohio State University College of Medicine students are among 150 students across the university to receive sesquicentennial scholarships that honor the university's 150th birthday, being celebrated during the 2019-2020 academic year. Melanie Russell, a second-year medical student, and Andrew Branstetter, a fourth-year student specializing in emergency medicine, were selected based on an application process subjected to review by selection committees from both College of Medicine and the university.
The Sesquicentennial Student Scholar Leadership Program is one part of the university's sesquicentennial celebration and demonstrates a commitment to increasing educational access and affordability while recognizing students' academic and non-academic accomplishments and their diverse interests.
Buckeye pride
Both Russell and Branstetter say they're honored by the recognition, which resulted from self-submitted applications. Applicants were asked to explain why they chose to become a Buckeye.
"Becoming a Buckeye was one of the best decisions I've made, as I have found a home that expands far greater than the Columbus community," says Russell, who holds an undergraduate degree from Ohio State and started in the university's Young Scholars Program in middle school. "I take pride in being a part of an ethnically and culturally diverse community where members see value in celebrating differences."
"Becoming a Buckeye meant the chance to integrate myself in a diverse student population and to network with hundreds of students with whom I could share life experiences," explains Branstetter, who began his Ohio State career in 2012 as a presidential scholar.
Our sesquicentennial scholars
Scholars receive $2,500 for the first year of the program, and the scholarships are renewable for up to six additional semesters or until completion of their current degree program, whichever comes first.
"The university's sesquicentennial symbolizes Ohio State's commitment to developing engaged citizens, involvement with both the local and global community and respect for the leaders who paved the way for Buckeyes' success around the world," Branstetter says.
Branstetter, who describes himself as dependable, passionate and inquisitive, is his class vice president and serves on the College of Medicine's Admissions Committee. He volunteers at the medical student-run free clinic.
"It allows me the opportunity to help break down barriers to affordable health care in our own backyard," he says.
Beyond financial support, sesquicentennial scholars will receive leadership training and professional development, and serve as sesquicentennial ambassadors at programs and events. Scholarship recipients represent all campuses, colleges and undergraduate, graduate and professional student populations.
"I believe that as an ambassador you need to have a high level of integrity as you are a reflection of Ohio State," says Russell, a liaison for minority affairs on the Student National Medical Association and director of the MD Camp.
Learn more about The Ohio State University Sesquicentennial Student Scholar Leadership Program and see the full list of student scholars.