"Joy subsumes happiness. Joy is the far greater thing." – Desmond Tutu, South African human rights activist
Happy Spring! Spring really does make me feel happy. Have you ever noticed, though, that feeling happy is similar to the seasons — a passing moment in time? We feel happy to receive a birthday gift. To eat our favorite food. To win football tickets.
What we should really strive for then — or even choose — is joy, that constant inner feeling of peace and contentment. Joy connects with meaning and purpose. It's deeply embedded in us.
I am reminded of a particular segment of the Hippocratic Oath: "May I always act so as to preserve the finest traditions of my calling and may I long experience the joy of healing those who seek my help." But here's the thing: You don't have to be a doctor to experience the joy of helping others.
There are abundant sources of joy at The Ohio State University College of Medicine. Our faculty, staff and learners experience great joy in serving our tripartite mission of educating the health care professionals and scientists of the future, supporting lines of scientific inquiry that one day will yield world-changing discoveries and healing tens of thousands of patients every year.
We are forever connected to the patients, families, faculty, staff, learners and communities we serve. We have the privilege and honor of transforming lives and entire communities. This powerful connection can bring us personal joy and feelings of deep meaning and purpose. For many, this is the reason we get out of bed early in the morning…or work late into the night. To help others.
I do understand that not everyone feels joyful, and that meaning and purpose can be elusive at times. Throughout our careers and the many rigors of our profession, we sometimes need to remember to reengage and rediscover joy. If this is you, I urge you to reflect on the meaning of your work and the positive impact it has on others. You are touching more lives than you will ever know, and it fills me with great joy to witness your work. I do hope it can bring you joy as well.
Because when joy enters your life, it washes over you and begins to radiate from you. Others will notice that you're smiling behind your mask, and it's a wonderful kind of contagious. I wish you happiness-subsuming joy, and I truly hope you find meaning in all you do.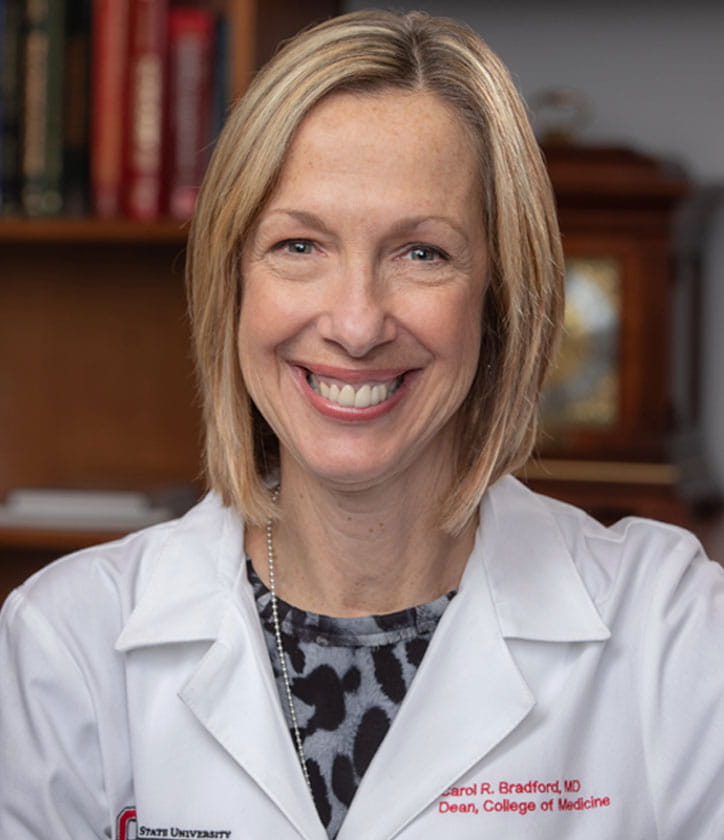 Carol Bradford, MD, MS
Dean, College of Medicine
Leslie H. and Abigail S. Wexner Dean's Chair in Medicine
Vice President for Health Sciences, Wexner Medical Center