"Giving encouragement to others is a most welcome gift, for the results of it are lifted spirits, increased self-worth and a hopeful future."
– Florence Littauer, American author and public speaker
As I was enjoying a walk in the park the other day, I was excited to see the Ohio State women's crew team on the river. I watched in wonder as the athletes rowed in perfect synchrony, deftly pulling their oars through the cold water. I was close enough to hear the booming voice of the coxswain, whose role is to strategically steer the boat while shouting words of encouragement to the crew. Row. Only 100 meters to go.
We're passing our opponent. You're doing great!
Have you ever considered the power of encouragement? In the case of the coxswain, her motivational words help the team finish races. She reminds them they are strong. She helps them feel valued. And she inspires them to pull together to victory.
Academic health care also requires teamwork, and our teams need people who, like coxswains, provide encouragement. Encouragement helps people know they matter and that we believe in them. It shows people we care and that we have confidence in their skills. It stimulates productivity. It fosters trust and grows loyalty, leading to strong relationships. It can create a momentary lift and even long-term confidence. It helps people feel valued and appreciated. It makes them smile. It leads to a positive culture. It can help others achieve great things.
There's a nearly endless list of the positive impacts of encouragement.
We should, then, regularly provide meaningful and genuine encouragement to our friends, family, colleagues and learners. We can do this in many ways. We can tell others verbally how much we appreciate them, how well they are doing and how grateful we are for their contributions. We can write notes of support. Listen with empathy. Mentor. Encourage others to take on new challenges.
I believe in you and know that the encouragement you spread will "lift spirits, increase self-worth and [create] a hopeful future." Through your uplifting words, you are leaving a legacy of caring for others and transforming the health of our communities.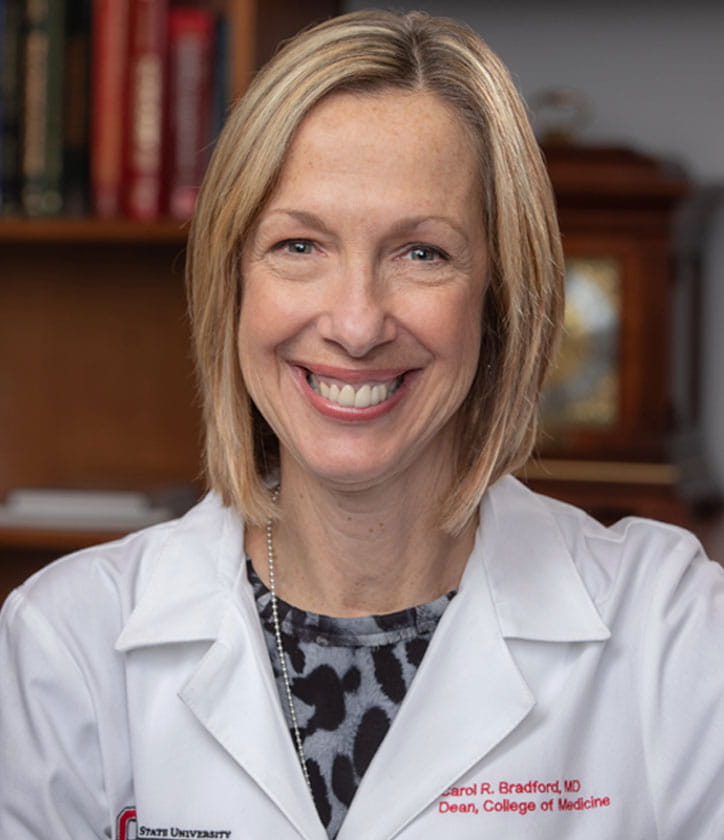 Carol Bradford, MD, MS
Dean, College of Medicine
Leslie H. and Abigail S. Wexner Dean's Chair in Medicine
Vice President for Health Sciences, Wexner Medical Center