"Education breeds confidence. Confidence breeds hope. Hope breeds peace."
– Confucius
Each fall, I am filled with anticipation and excitement as our learners begin to return to campus. Last week, I had the privilege of celebrating our first-year medical students at our formal White Coat ceremony at The Ohio State University College of Medicine. This week, I look forward to meeting our incoming health science students and to participating in rigorous didactic and bedside instruction for both our new and more-seasoned learners. Quite simply, I can't wait to teach!
What I really love about teaching is witnessing our learners' uncontainable excitement and striking passion. Their overwhelming desire to learn everything they possibly can about anatomy, biomedical science and patient care inspires me. Their curiosity and thoughtful questions remind me how important it is for me — for all of us — to always be at the top of our game, to regularly engage with the most current biomedical literature, to be true lifelong learners.
I enjoy learning something new every day, and I confess that most days our learners teach me something. Similar to the way children keep parents informed about current trends, our learners frequently make astute observations or comments that lead to a learning moment for everyone present.
Those moments are the magic sauce in academic medicine.
Those moments shine a beacon of light on the power of education. There is enormous strength in having a diverse team of providers, researchers, learners and staff at all levels of education and experience working collaboratively to diagnose disease and solve unrelenting health problems.
So as you move through the coming weeks and months sharing knowledge, I truly hope you will feel the sense of hope and peace that education brings. Hope in knowing our learners will pioneer biomedical discoveries and cure disease. And peace in knowing that the knowledge you impart ensures a bright future for health care and science.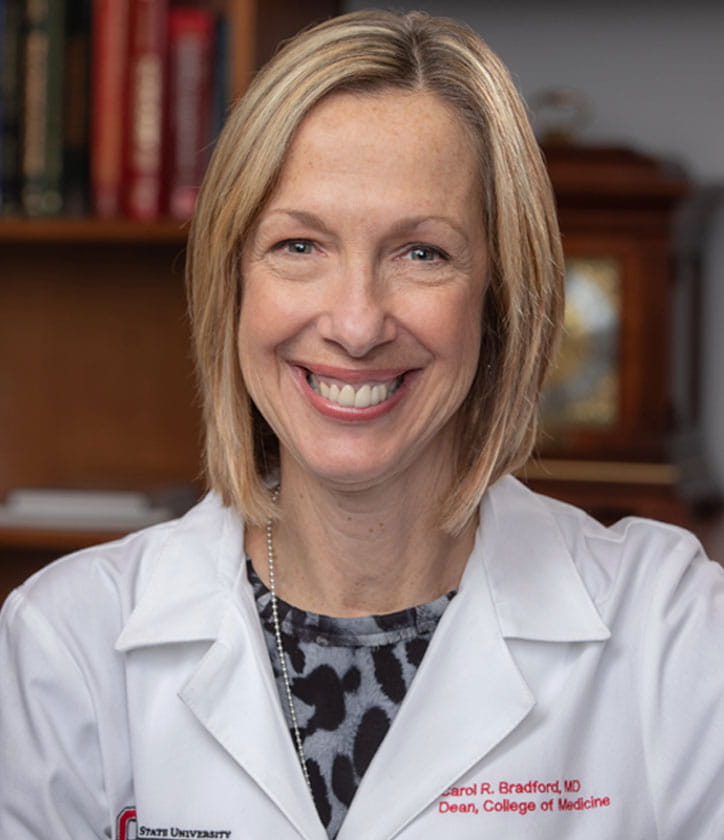 Carol Bradford, MD, MS
Dean, College of Medicine
Leslie H. and Abigail S. Wexner Dean's Chair in Medicine
Vice President for Health Sciences, Wexner Medical Center