"Love the moment and the energy of that moment will spread beyond all boundaries."
– Corita Kent, American artist, designer, educator and nun
Is it just me, or does academic medicine sometimes feel like a marathon? Our days are full of running from one important thing to the next. And while it's easy to focus intently on completing items on our to-do lists, do you ever stop to think what a privilege it is to do what we do?
In health care, we have the honor of witnessing — and participating in — some of life's most precious moments.
We celebrate graduations of health care professionals we have educated. We share difficult health news and offer words of hope and healing to our patients. We deliver someone's first baby. We make significant biomedical discoveries and find cures for diseases. We administer the first COVID vaccine to help bring an end to a pandemic.
Each day also offers smaller moments. A greeting from a co-worker. A text of good news from a friend. A ray of warm sunshine on our face. A hug or kiss from a loved one. A smile from a patient or a learner.
I saw such smiles earlier this month, when we welcomed 209 medical students into the College of Medicine at our White Coat Ceremony. As the students crossed the stage one at a time, each paused to push their arms into the sleeves of their first white coat. Each paused to look into the camera lens to mark this first step of their journey to becoming a doctor. Each paused to beam at the audience with faces of pride, joy, wonderment, relief and happiness. Each had a moment.
During that celebration, it struck me how important it is to fully appreciate each moment — big and small. To be present. To be observant. To be grateful.
Academic health care really is a marathon of innumerable, wonderful moments. If you stop and "love the moment," you are certain to enjoy "the energy of that moment spread[ing] beyond all boundaries." And when discovery, care and education have no boundaries, our future accomplishments are limitless.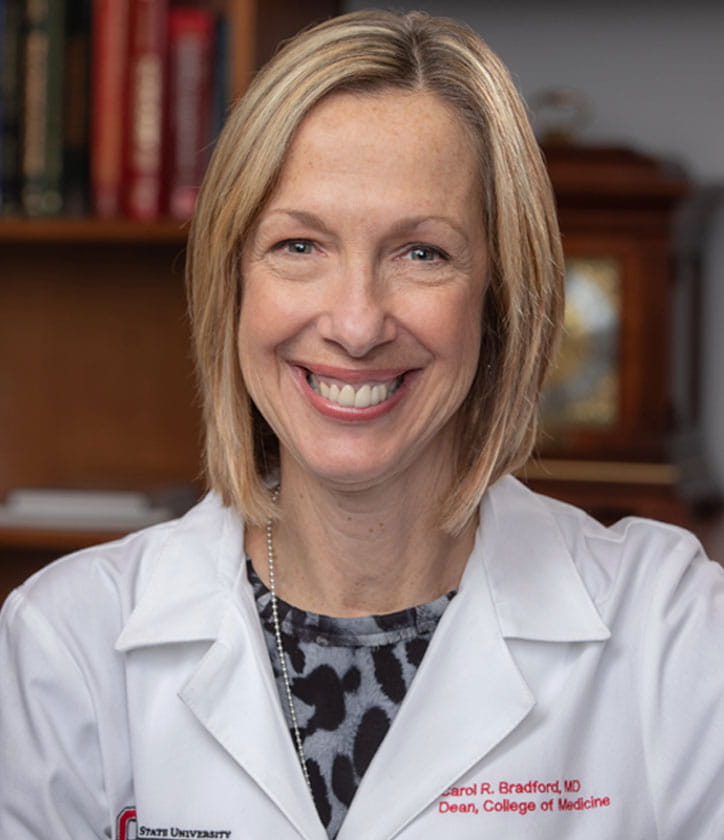 Carol Bradford, MD, MS
Dean, College of Medicine
Leslie H. and Abigail S. Wexner Dean's Chair in Medicine
Vice President for Health Sciences, Wexner Medical Center