I believe in the power of hope. It is the optimism that your patient will be healed or that your research will yield a discovery that transforms care. It is the joy that comes from educating learners and then watching them serve, lead, inspire and transform health and care. And it is the light at the end of the proverbial tunnel.
Because 2020 has challenged us in ways we never predicted, hope has never been more important. As caregivers, we excel at giving our patients hope—hope that they will receive the very best compassionate care, hope for a healthy future.
"Hope is being able to see that there is light despite all of the darkness." – Desmond Tutu, 1984 Nobel Peace Prize winner
But we also need hope, for we have made tremendous sacrifices this year, giving up precious time with our families for the betterment of our community. So on difficult days, I find myself leaning into hope to find happiness in both the little and the big things. The sunrise. The snowfall. The kind note from a patient. The gratitude of a learner. The commitment of our community to do whatever we can to save every life we can.
With improving lives at the very core of our mission—and for many of us, our being—the news of an effective vaccine is certainly hope on the horizon. It is a miracle, really, in terms of how quickly novel COVID-19 vaccines were developed. It is the light at the end of the tunnel we all need.
I encourage you to reflect on the things that bring you hope and light. Whether it's healing and cures, normalcy and peace or simply a cozy blanket by the fireplace, my wish for each of you this holiday season is that you find hope that translates to abundant joy. Happy holidays!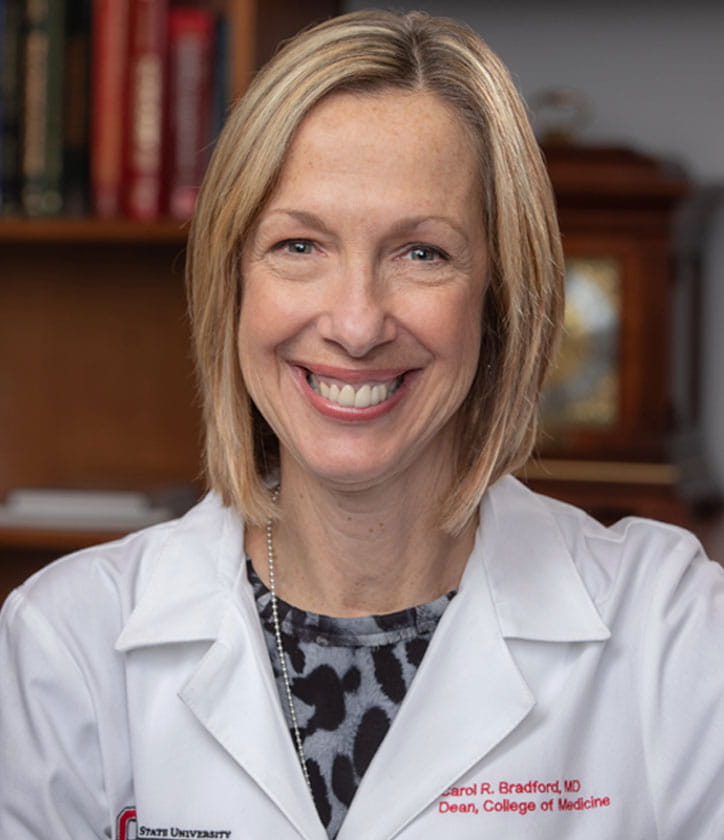 Carol Bradford, MD, MS
Dean, College of Medicine
Leslie H. and Abigail S. Wexner Dean's Chair in Medicine
Vice President for Health Sciences, Wexner Medical Center