"To be a leading college of medicine that transforms the health of our communities through inclusive and innovative education, discovery and care."
– The Ohio State University College of Medicine ambition statement
The discovery of penicillin in the early 20th century transformed modern medicine. Antibiotics now control diseases and bacteria that once killed millions of people. And at The Ohio State University College of Medicine, a leading physician-scientist in translational gene therapy has pioneered the delivery of gene therapeutics directly to the brain. This innovation may lead to treatments for a host of neurological disorders, including Parkinson's disease, Alzheimer's disease and Huntington's disease.
Throughout history, the global pandemic and beyond, you — physicians, nurses, researchers, educators and learners who work in academic medicine — engage in the innovative work of identifying problems at the patient bedside. You take these problems to the lab to solve them.
The result: Patients have better access to the latest medical breakthroughs and clinical trials.
Nothing has contributed more to world health than academic health care. Nearly every new medicine, treatment and cure was discovered by physicians and researchers working collaboratively and tirelessly to push the boundaries of knowledge and innovation.
As part of one of the most comprehensive academic health science campuses in the country, the Ohio State College of Medicine is at the forefront of scientific discovery, pursuing novel research and developing unique, effective therapies months — and even years — before other hospitals. Our tripartite mission of education, clinical care and research work hand in hand to further science and health care.
You are educating the next generation of physicians and biomedical researchers while performing cutting-edge research and delivering extraordinary patient care. The collision of these two worlds drives innovation. You are making an enormous impact on the lives of others for generations to come. Your work may be cited years from now as an innovation that changed the lives of millions.
Thank you for everything you do to reach our ambition of "transforming the health of our communities through inclusion and innovative education, discovery and care." It is my privilege to work by your side and to serve as your dean.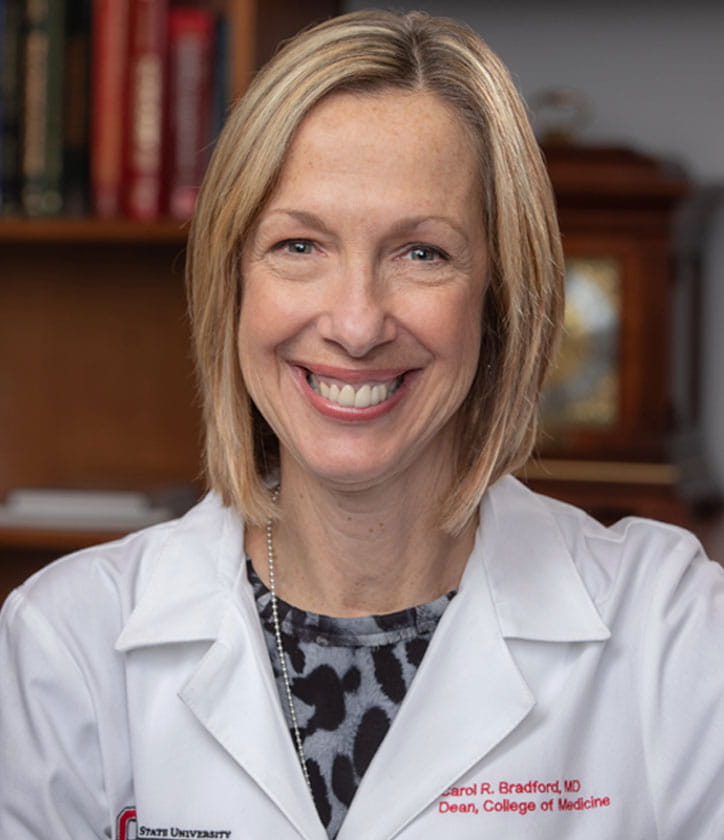 Carol Bradford, MD, MS
Dean, College of Medicine
Leslie H. and Abigail S. Wexner Dean's Chair in Medicine
Vice President for Health Sciences, Wexner Medical Center