I am a fierce advocate of equity for all people—for individual successes, for civil liberties and, perhaps most importantly, for access to health care.
At The Ohio State University Wexner Medical Center and College of Medicine, we aim to be a positive example of inclusive excellence, where all staff, faculty and learners have an opportunity to thrive in service to our patients and to the community. We strive for a diverse workforce that learns from each other and applies those learnings to provide unparalleled care equally to all of our patients and our community.That's our goal, our dream.
"In diversity there is beauty and there is strength."
– Maya Angelou, poet, author and civil rights activist
But around the world and right here in our own community, health disparities persist. We know that the work ahead of us matters and will require us to devote our talents and creativity to make a meaningful difference.
Many scholarly articles have been written about the benefit of a diverse health care workforce to reduce these disparities. Our Diversity, Equity and Inclusion webpage sums it up very nicely: "A diversity of cultures and life experiences strengthens our mission to provide evidence-based health care. It gives us a greater understanding and appreciation for each patient's unique genetic makeup, behavior, experiences and beliefs."
I am really proud of the progress Ohio State Wexner Medical Center has made in this area over the years. For example, our medical student body is now ranked fourth in the nation (excluding Historically Black Colleges and Universities) for our number of African American students. Our general surgery residents are 46% female (compared to 6.3% female in 2002). The Ohio State College of Medicine holds a 2020 Health Professions Higher Education Excellence in Diversity Award, and the Ohio State Wexner Medical Center has an LGBTQ Health Care Equality Leader designation from the Human Rights Campaign Foundation.
These are certainly points of pride, but we cannot stop there. We must continue to push forward, to teach people about inclusion, to remove barriers, to eliminate racism and to fully embrace diversity to advance equity in health care.
As we strive for this imperative goal, please take a few moments to commemorate the legacy of Martin Luther King Jr., celebrate the beautiful diversity that is Ohio State and recognize the incredible strength that inclusion brings to the community we call home.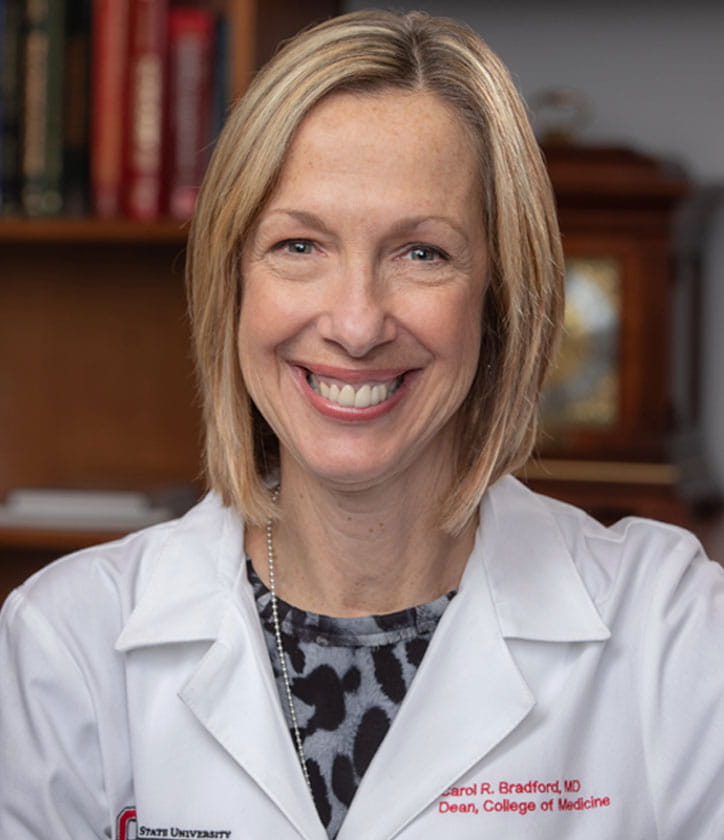 Carol Bradford, MD, MS
Dean, College of Medicine
Leslie H. and Abigail S. Wexner Dean's Chair in Medicine
Vice President for Health Sciences, Wexner Medical Center