"When it rains, look for rainbows; when it's dark, look for stars."
–Oscar Wilde, Irish author and poet
Happy New Year! As we enter 2022, I am filled with optimism for the year ahead. Given the current pandemic surge, I am guessing my positivity might surprise you a little bit, right?
But here's the thing: I truly believe that a positive attitude leads to positive outcomes.
Throughout each day, I intentionally flip negative thoughts or conversations into something positive. If I notice something is not working quite right, I begin to brainstorm potential improvements. If I find myself worrying, I focus on finding solutions.
We, as human beings, are quite skilled at turning negativity to positivity. In fact, adverse situations can inspire us to do some of our very best work. For almost two years now, we have witnessed this in countless ways when this pandemic led to novel tests, treatments, vaccines and cures as well as innovative ways of cleaning spaces, holding meetings, conducting research and teaching the next generation of health care providers.
Working in health care, education and biomedical research, we are trained to notice problems and create positive solutions. If someone is sick, we open our arms to welcome and heal. If we notice an issue at a patient's bedside, we take it to the research bench to discover a cure. If we see someone doesn't have access to necessary health care, we open our hearts to find ways to provide equitable care to everyone. If a learner is struggling, we come alongside the learner to provide strategies for success.
When I witness your incredible work, your drive and your dedication, I am filled with amazing optimism about the year ahead. You are rainbows when it rains. You are stars in the dark. You are transforming the health of our communities. And I could not be more excited or more proud.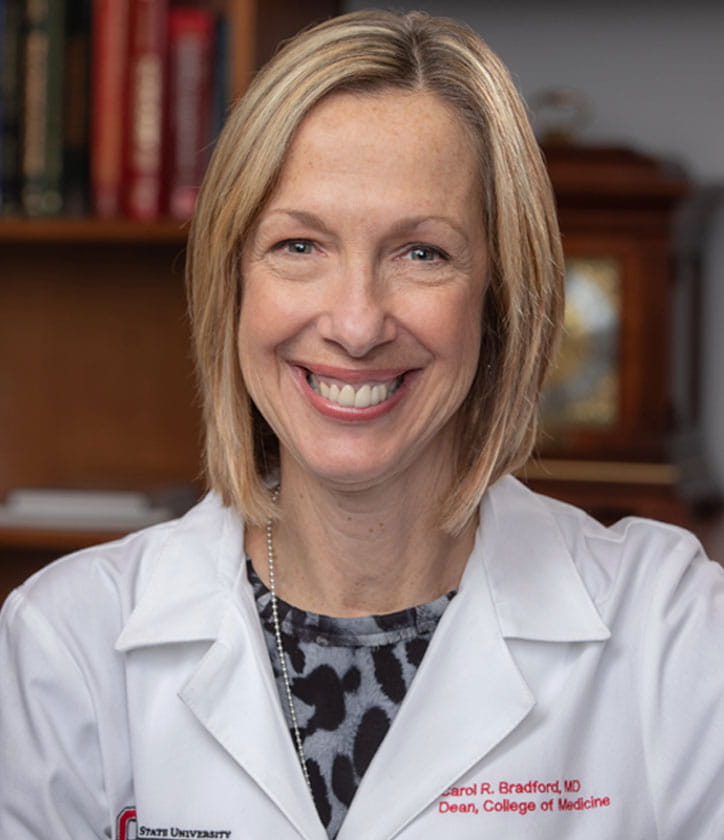 Carol Bradford, MD, MS
Dean, College of Medicine
Leslie H. and Abigail S. Wexner Dean's Chair in Medicine
Vice President for Health Sciences, Wexner Medical Center