"Taking a break can lead to breakthroughs."
– Russell Eric Dobda, American software engineer, traveler and writer
Happy New Year! Many of you have told me that you make New Year's resolutions that include planning a summer getaway. Perhaps you plan to sit on a warm beach with crashing waves, hike a beautiful mountain trail, read a terrific book in a hammock, dine at new restaurants or explore new places.
Regardless of where we go, our trips typically have one thing in common: We are temporarily disconnecting. Escaping life's pressures. Unplugging.
It's not as easy to unplug as it used to be. For many of us, there were years of our lives when we could leave the house without a phone (we didn't have cellphones) and no one could reach us. Before the widespread use of answering machines (now voicemail) and caller ID, we could return home and not even know who had tried to reach us while we were away. We could attend movies and sporting events without the distraction of text messages. And we could participate in meetings without receiving pages or emails.
Today, I can be sitting in my office with my desk phone ringing, someone leaving voicemail, my cell phone notifying me of 20 unread text messages, my email inbox overflowing and Teams pinging me that I am late for a meeting — all while participating in a Zoom meeting. I am sure you have all been there. It can be overwhelming.
That is why I recommend — and even urge — you to actively seek ways to regularly unplug. Take a break from email on your day off. Make the dining room a phone-free space. Consider turning off social media notifications. Take a daily walk without your device.
These technology breaks allow us to recharge and feel refreshed, which is critical to our overall well-being. Russell Eric Dobda aptly stated, "Taking a break can lead to breakthroughs." With our goal of leading breakthrough discoveries, perhaps a small technology break is just what the doctor ordered.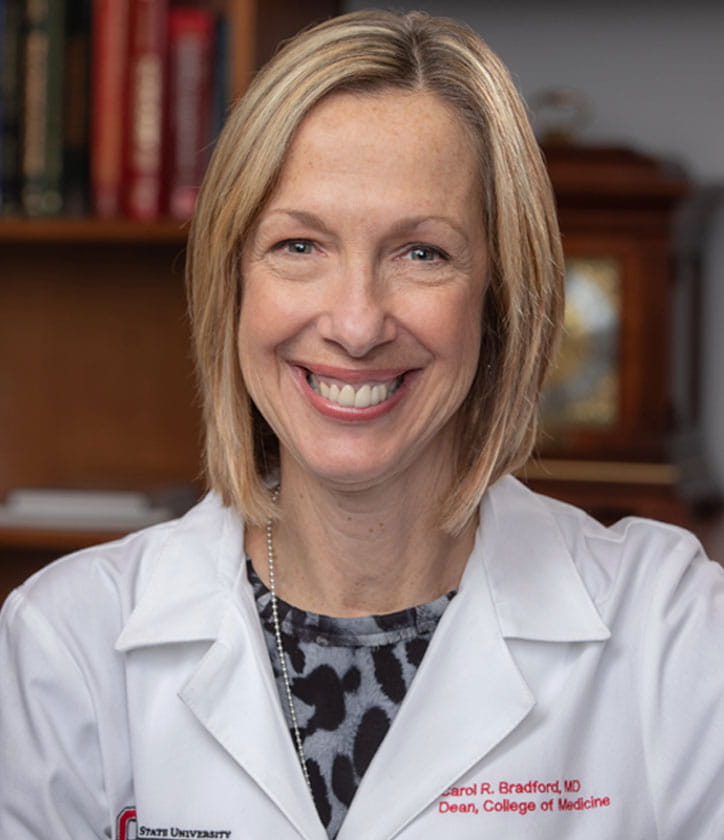 Carol Bradford, MD, MS
Dean, College of Medicine
Leslie H. and Abigail S. Wexner Dean's Chair in Medicine
Vice President for Health Sciences, Wexner Medical Center