"The best way to find yourself is to lose yourself in the service of others."
– Mahatma Ganhi, Indian leader
This month, I will have the honor of attending the Faculty Affairs Service Reception to recognize and express gratitude to faculty members who serve on key college committees. These dedicated faculty members provide guidance on issues ranging from policy, curriculum, leadership and professional development to promotion, tenure and the faculty experience. They represent our entire faculty to ensure fair governance, an equitable and inclusive culture and professional development for all faculty.

Service is at the front of my mind as I write this month's blog.

The Ohio State University College of Medicine is inherently a service organization. All three prongs of our mission — education, discovery and care — have service at their very core. You — our faculty, health care providers and staff — educate future health professionals. You make biomedical discoveries to improve lives. And you take care of patients and their families. All of these things are acts of service for the betterment of our communities.

As learners, you serve too! Each year, you work thousands of hours in our free clinics, at charitable organizations, at health fairs and on service projects as part of the curriculum. You are making an enormous difference in our communities.

Service extends beyond traditional notions of its definition. You are serving when you help your neighbor mow the lawn. When you assist a visitor in the hospital hallways. When you help a colleague with a project. When you prepare a meal for a friend. When you mentor someone. When you ride or volunteer for Pelotonia.

Many of you have received notable awards for your generous service. Others prefer to serve more anonymously.

But whether you work behind the scenes or at the forefront, I want you to know that I notice your contributions and rich service to the Ohio State College of Medicine and to our communities. Every day, I see you out there "finding yourself [by] losing yourself in the service of others," and I could not be more impressed or more grateful. Thank you for your service!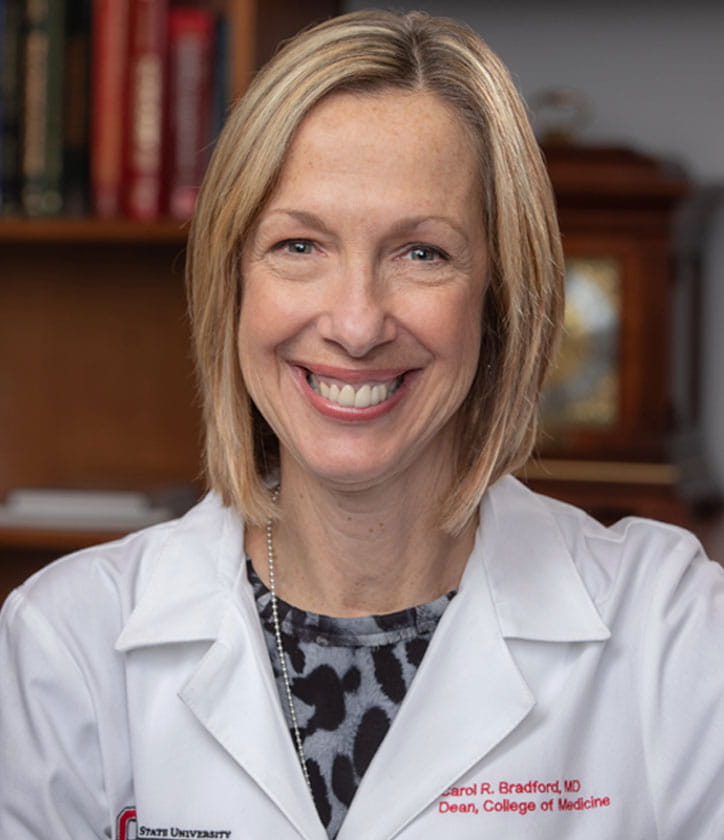 Carol Bradford, MD, MS
Dean, College of Medicine
Leslie H. and Abigail S. Wexner Dean's Chair in Medicine
Vice President for Health Sciences, Wexner Medical Center