"All that is valuable in human society depends upon the opportunity for development accorded the individual."
– Albert Einstein, German-born theoretical physicist and Nobel Prize winner
Have you ever had a dream? A desire to achieve something specific and meaningful to you? Maybe you have always wanted to climb Mount Everest. Or learn to play a musical instrument. Or write a best-selling book. Or travel to outer space. Even the sky is not the limit when it comes to dreams.
But what does it take to turn a dream into reality?
From an early age, my dream was to become a doctor. Though I did not grow up in a family of physicians, I still felt called as a child to pursue medicine to help people. While I worked hard to achieve that dream, there were multiple factors that contributed to my success, including my wonderful family and mentors who encouraged me along the way. The most important piece of this equation, however, was the opportunity I had to attend a series of stellar educational programs that set me on the path to realize my ambition.
Every summer, I am reminded of my childhood dream when The Ohio State University College of Medicine opens its classrooms and laboratories to high school students who flock to campus from communities big and small, urban and rural, to explore their dreams of becoming tomorrow's health care leaders.
Our annual MD Camp and Neuroscience Summer Camp are just two of our programs that offer these young learners the opportunity of a lifetime to experience what it is like to pursue a career in medicine. They shadow physicians in our hospitals, participate in hands-on anatomy sessions, attend faculty lectures, assist with medical research, and even learn some common medical procedures, like phlebotomy and suturing.
I always look forward to giving an official welcome to these budding health care professionals and researchers during their first day of camp. It is evident, just by looking at the excitement and anticipation on their faces, how much they value these opportunities. It fills me with pride to know that our College of Medicine offers a variety of programs to open doors that may otherwise have remained closed for many learners in Ohio and beyond. And by impacting the lives of these future leaders, we are helping to make the world a better place, which is truly the transformative power of opportunity in action.
So I encourage each of you to be like our young learners. Seek out opportunities that will move you closer to achieving your dreams. This could mean volunteering to serve in a local or national organization or signing up for a course to develop a new skill set. And while you are at it, always keep your mind open to ways you might pay it forward by providing opportunities for others as well.
Dreams may drive us, and mentors may guide us, but it is opportunity that serves as the critical catalyst to realizing the full potential of every individual.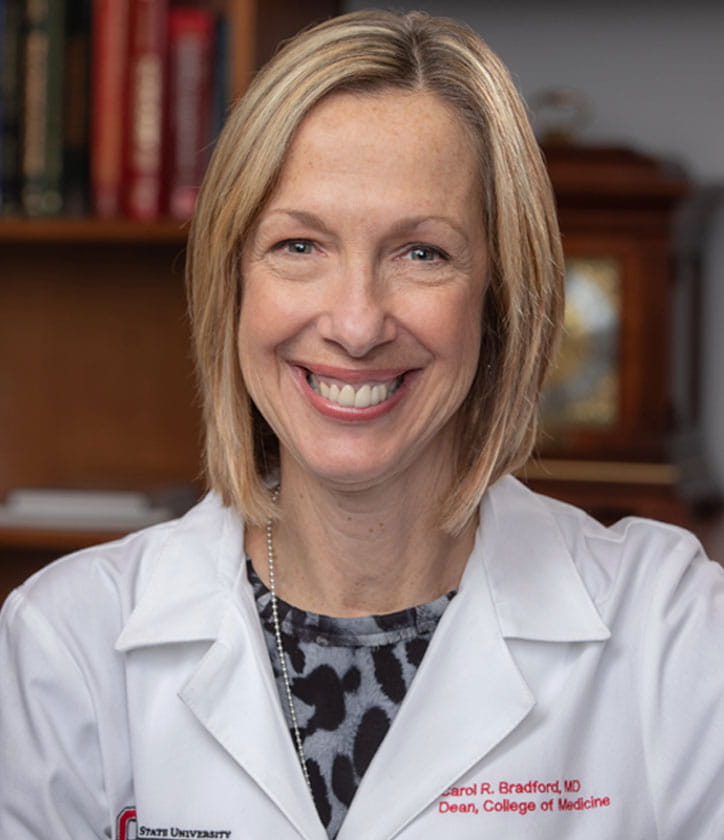 Carol Bradford, MD, MS
Dean, College of Medicine
Leslie H. and Abigail S. Wexner Dean's Chair in Medicine
Vice President for Health Sciences, Wexner Medical Center