"Laughter is the sun that drives winter from the human face."
– Victor Hugo, French Romantic writer
When was the last time you enjoyed a belly laugh that makes your ribs ache and sends tears down your cheeks? I hope it was very recent — this morning or yesterday — because studies show that a good chuckle can help you manage stress. And the work we do in academic health care and biomedical research can certainly be stressful.
One study found that laughing decreases our stress hormones and increases our endorphins. It soothes tension by stimulating circulation and helping our muscles relax. It enhances our mood and helps us cope.
In addition to stress relief, laughter has other positive impacts on the body. It decreases inflammation and improves blood flow. There's evidence showing that a giggle can lower bad cholesterol and blood pressure. It improves our immune system and even relieves pain by producing natural painkillers.
Perhaps most importantly, laughing together helps us make human connections. It can defuse tense moments and conversations. It can help us build relationships with each other.
I encourage you to find ways to chuckle more often. Spend time with people who share your sense of humor. Watch funny TV shows, movies or videos. Read fun books. Keep silly items like a cartoon, a meme or a funny photo near your desk. Learn to smile at yourself from time to time. And tell jokes to bring humor to others.
Here's a little ENT joke for you. Q: Why can't a nose be 12 inches long? A: Because then it would be a foot. In all seriousness, this month while winter seems to linger longer than expected, I hope you will enjoy some good belly laughs. To quote Victor Hugo, allow your laughter to be "the sun that drives winter from the human face."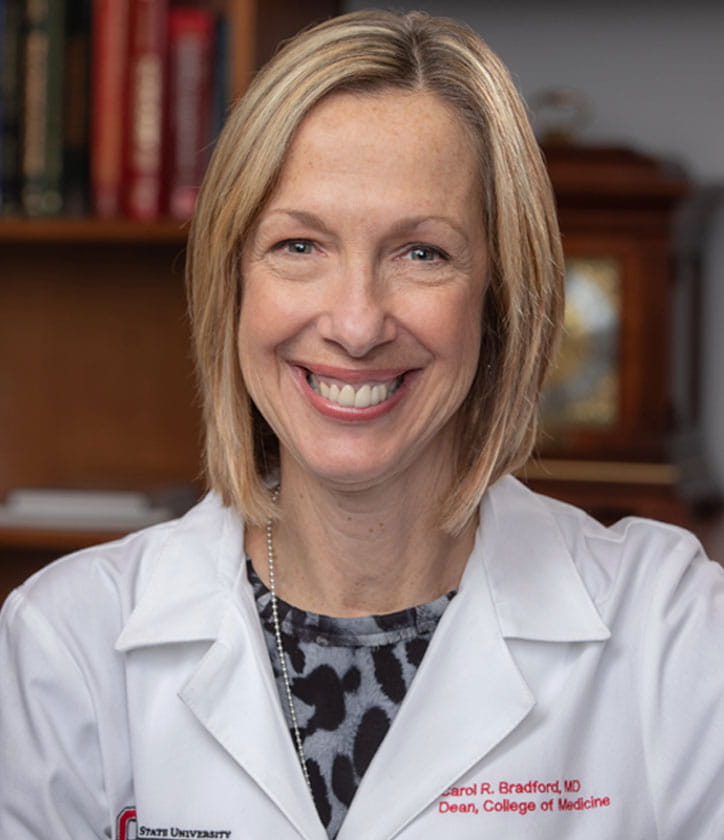 Carol Bradford, MD, MS
Dean, College of Medicine
Leslie H. and Abigail S. Wexner Dean's Chair in Medicine
Vice President for Health Sciences, Wexner Medical Center