"Never yet was a springtime, when the buds forgot to bloom."
– Margaret Elizabeth Sangster, American poet, author and editor
Spring is a time of growth and progress. From my office window, I enjoy seeing the trees and flowers blooming on the grassy courtyard of Graves Hall. At the end of the block, the new anatomy wing of Hamilton Hall is peeking through budding treetops. And I am proudly envisioning our nearly 800 recent graduates — including 201 medical students, 153 biomedical and health sciences graduate students and 445 undergraduate students — blossoming in their careers and residency programs with their degrees from The Ohio State University College of Medicine in hand.
The College of Medicine itself is in its spring season too. We recently launched a new strategic planning process that will help us focus on our aspirational goal of becoming a top 20 medical school and improve the health and wellness of our communities. The renewed plan will help our discovery, education and clinical care blossom.
This spring, our clinical care teams are busy vaccinating Ohioans and caring for our patients and communities. Our education team is excitedly preparing for in-person instruction for our new class of more than 200 new medical students and hundreds of other health science graduate and undergraduate students, and our third-year medical students are flourishing as they embark on their much-anticipated clinical rotations. In our busy labs, our researchers are discovering new things every day, including a cure for pediatric Parkinson's disease, preventive drugs for certain skin cancers and biomarkers to test for chronic fatigue syndrome.
With all of the activity and excitement of spring, I want to be sure you are also taking time to bloom. How will you grow your career? Do you have a mentor or a coach? Are you finding time to spend with family and friends? Are you planning a vacation? With the wonderful spring weather, I hope you will enjoy some outdoor activities, deeply breathe the fresh air, admire the blooming buds and truly rejoice in the season. Happy spring!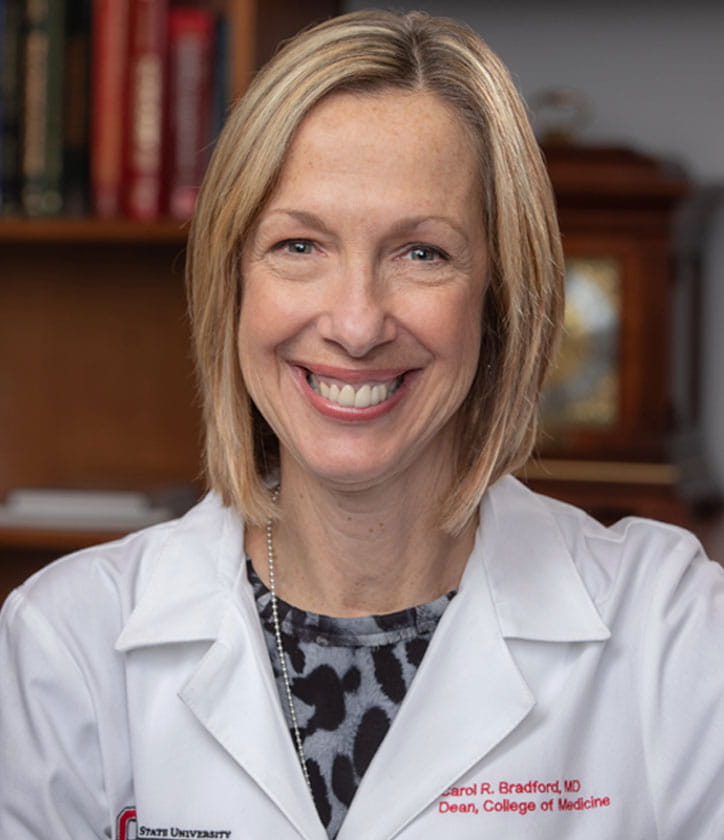 Carol Bradford, MD, MS
Dean, College of Medicine
Leslie H. and Abigail S. Wexner Dean's Chair in Medicine
Vice President for Health Sciences, Wexner Medical Center