With the Thanksgiving holiday upon us, I find myself reflecting on the power of gratitude. It helps others understand their value. It is critical to building community. And, for me, it's a crucial piece of my leadership style.
As a servant leader, one of my top priorities is to help our faculty, staff and learners grow professionally, so they can learn to leverage their strengths and advance their careers in meaningful ways. Expressions of gratitude can help our team members know what those strengths are and how their contributions enrich our organization and the communities we serve.
The other day, I received a lovely handwritten note from a medical student I had advised and mentored. I was deeply touched by her words: "Your unwavering support has certainly helped me to get to where I am today." Her gratitude made me feel excited that what I view as "doing my job" might have made a positive difference in her life.
"Gratitude is a powerful catalyst for happiness. It's the spark that lights a fire of joy in your soul." – Amy Collette, author
Now it's my turn to express thanks. The resilience, determination and hard work I have witnessed in Columbus and at Ohio State is so incredible. From our front-line heroes who go above and beyond every day and our scientists who are advancing life-altering biomedical discoveries to our flexible learners and our talented and committed staff members, I am deeply grateful for all the measures you have taken—and continue to take—to keep yourselves, our patients and our community safe during this pandemic.
As 2020 draws to a close and we find ourselves in the peak of the pandemic, in the midst of what can certainly feel like dark times, I encourage you to reflect on all of the people you appreciate. Take the time to write notes, send text messages or make phone calls to let them know how much you value their contributions. Your kind words of thankfulness have the power to bring happiness and light to your co-workers, patients, friends, family and community—during a time when they may need it most.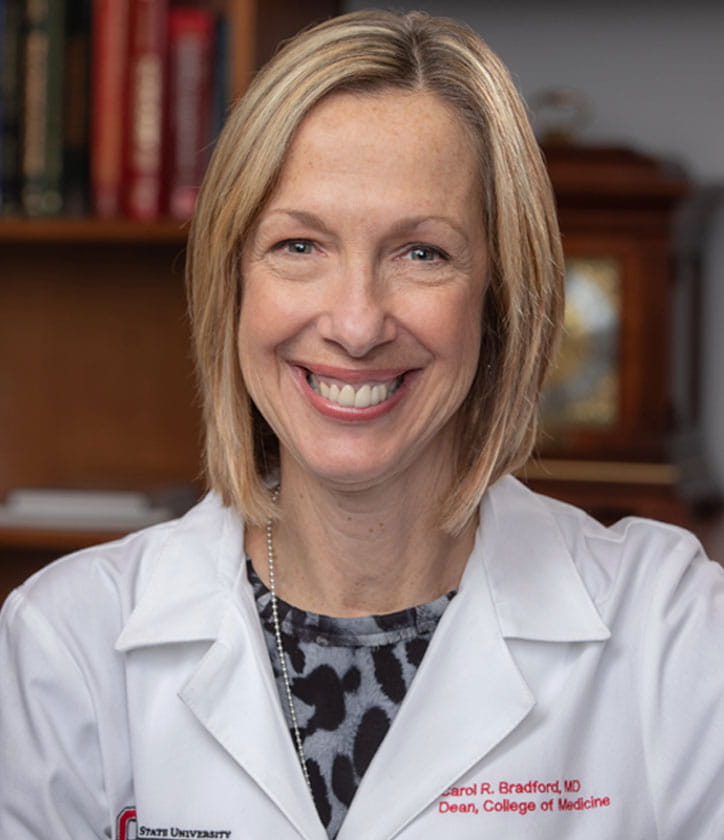 I am so proud to work at Ohio State, to live in this diverse city and to be a member of a caring community. Your dedication to improving lives "lights a fire of joy in my soul," and for that I am truly grateful.
Carol Bradford, MD, MS
Dean, College of Medicine
Leslie H. and Abigail S. Wexner Dean's Chair in Medicine
Vice President for Health Sciences, Wexner Medical Center