"You win with people."
– Woody Hayes, Former Buckeye football coach
With Thanksgiving right around the corner, my thoughts are focused on gratitude. Gratitude for our harvest, for our homes, for our jobs, and, most importantly, for our families, friends and colleagues who enrich our lives as well as the patients and families we collectively serve.
As I look around the physical campus at The Ohio State University Wexner Medical Center and College of Medicine, I feel gratitude for the research labs, the hospitals, the clinics, the classrooms and the many capital projects that are underway. These are important spaces for caring, for curing and for learning, but the critical element that makes our buildings special is the people who work here.
People power this place.
Every day, you — our compassionate caregivers, remarkable researchers, extraordinary educators, steadfast staff and lofty learners — work together, striving for our organizational ambition of improving lives and transforming the health of our communities. For many of you, this goal is also personal; your drive to help others is one of your core values.
One of the College of Medicine's strategic goals toward achieving our ambition is to attract, develop, value and retain a diverse and inclusive team of talented people committed to innovation, collaboration and impact. I am delighted and grateful that you are that talent!
I truly value you. I value your work, your dedication and your Buckeye Spirit. Every day we're working to build a culture where everyone has the opportunity to thrive and excel — and I know we can do that together!
This month, I hope you will take a moment to thank your colleagues, who have given so much in the last 20 months. You rose together as a large team to tackle an extraordinary challenge, to help our community during a global pandemic. Whether you are on the front lines or work at a desk or from home, you are making a positive impact that won't be forgotten. For that, there are not enough words to properly express my gratitude.
When Woody Hayes said, "You win with people," I think he really meant, "You win with Buckeyes." Thank you, dear Buckeye family, and Happy Thanksgiving!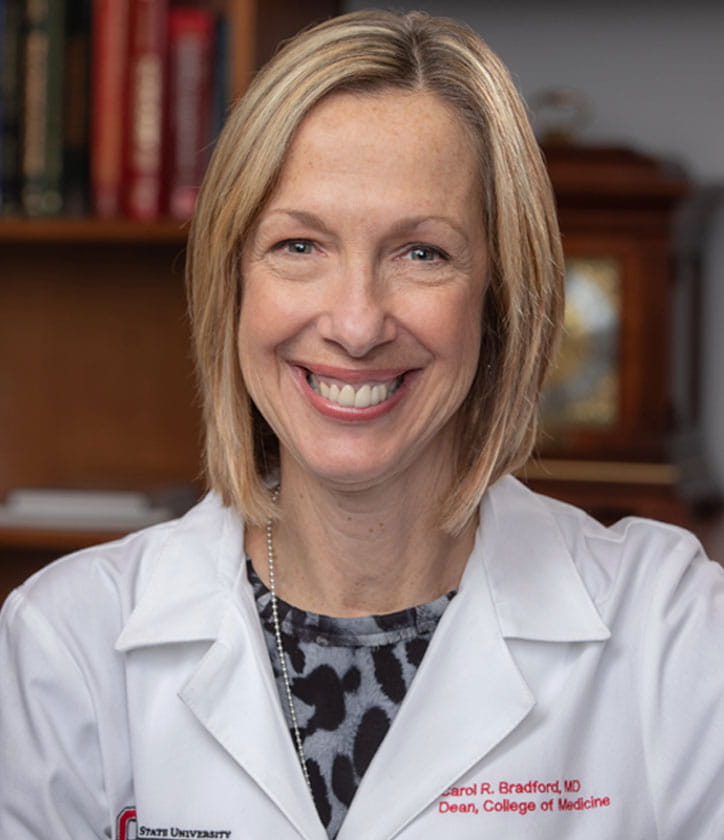 Carol Bradford, MD, MS
Dean, College of Medicine
Leslie H. and Abigail S. Wexner Dean's Chair in Medicine
Vice President for Health Sciences, Wexner Medical Center