"Summer's heat or winter's cold
The seasons pass the years will roll
Time and change will surely (truly) show
How firm thy friendship ... OHIO!"
– Carmen Ohio
As I celebrated my two-year Buckeye anniversary during a football game this fall, I was particularly struck by our rich Carmen Ohio tradition. Seeing competitive football players standing arm in arm serenading the band is inspiring. And hearing the beautiful lyrics is powerful.
Those lyrics remind us of delightful days spent on campus, of the quiet passage of time and of the inevitable way life changes.
Here on campus and at the medical center, change is constant. Every fall we welcome new learners. Every month new faculty and staff join our growing team of care providers, researchers, educators and support staff. Buildings are renovated and new facilities are constructed to care for our expanding patient population and incorporate state-of-the-art technology. Curricula are regularly updated to ensure that our teaching is modern, inclusive and interdisciplinary.
In the midst of our vibrant renewal remains one constant: Our staff, faculty and learners strive to ensure that we realize our ambition of improving people's lives and transforming the health of our communities. Did you notice that our ambition itself emphasizes the power of change? Our job is to transform — or change — our communities for the better.
I am incredibly proud that this fall the Association of American Medical Colleges recognized our outstanding community engagement efforts by bestowing the prestigious Spencer Foreman Award on us. It's confirmation that we understand the power of change and transformation. That we are truly making a difference in our communities.
Thank you for the role you play in embracing change and making that difference. Carmen Ohio's lyrics promise that "time and change will surely show" that the university's friendship with you is firm. I am grateful that you choose to reciprocate that friendship.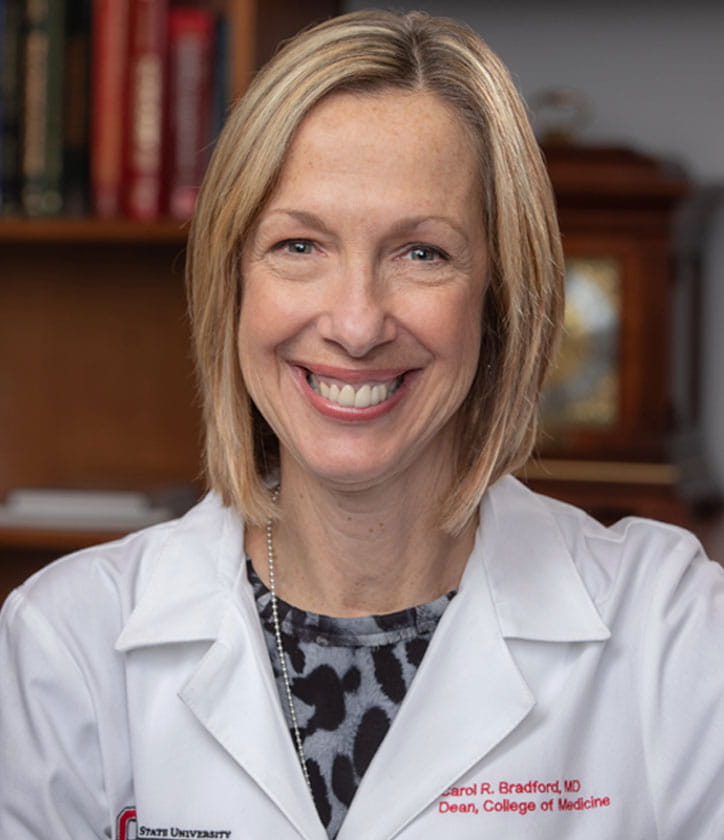 Carol Bradford, MD, MS
Dean, College of Medicine
Leslie H. and Abigail S. Wexner Dean's Chair in Medicine
Vice President for Health Sciences, Wexner Medical Center