"You can pay back only seldom, but you can always pay forward."
– Coach Woody Hayes
As a member of our Buckeye community, you probably know at least one Woody Hayes quote. The legendary Ohio State football coach was famous for his pithy sayings, from "You win with people!" to the much-loved "Because I couldn't go for three." During his commencement address to Ohio State graduates in 1986, one year before his passing, Coach Hayes delivered one of his most popular turns of phrase: "You can pay back only seldom, but you can always pay forward."
In our modern society, the general consensus is that author Lily Hardy Hammond coined the term "pay it forward" in her 1916 novel, In the Garden of Delight. But the concept itself – repaying a kindness you received to someone other than your original benefactor – has been around for centuries. And it is particularly relevant to our work.
Academic medicine is the epitome of paying forward.
Through our dedication to transforming the health of our communities, we are paying forward the incredible investments others have made in us. Countless alumni, employees and grateful patients have invested their time, talent and treasure into our education, discovery and patient care mission. In recognition of their support, we have a profound responsibility to shape the future of health care and build up the next generation of physicians, scientists and leaders who will keep this virtuous cycle going.
Throughout the upcoming holiday season, I hope you will consider the power of paying forward in your daily life. In addition to the meaningful impact you will have on others, giving is also good for your health! A growing body of research links generosity to greater quality of life.
When you volunteer for an organization, help a loved one or donate to a cause that is close to your heart, studies suggest that your brain releases "happy hormones" that improve your mood and make you feel good. These chemicals can boost your self-esteem, combat depressive symptoms and help create a sense of purpose for your life. Giving can also protect your heart by lowering your blood pressure and reducing your stress. Just what the doctor ordered!
Now more than ever, we need the kindness that paying forward brings to our lives. You may never know what a smile or a helping hand will mean to someone else. It could make all the difference in the world – which is exactly what our work is all about.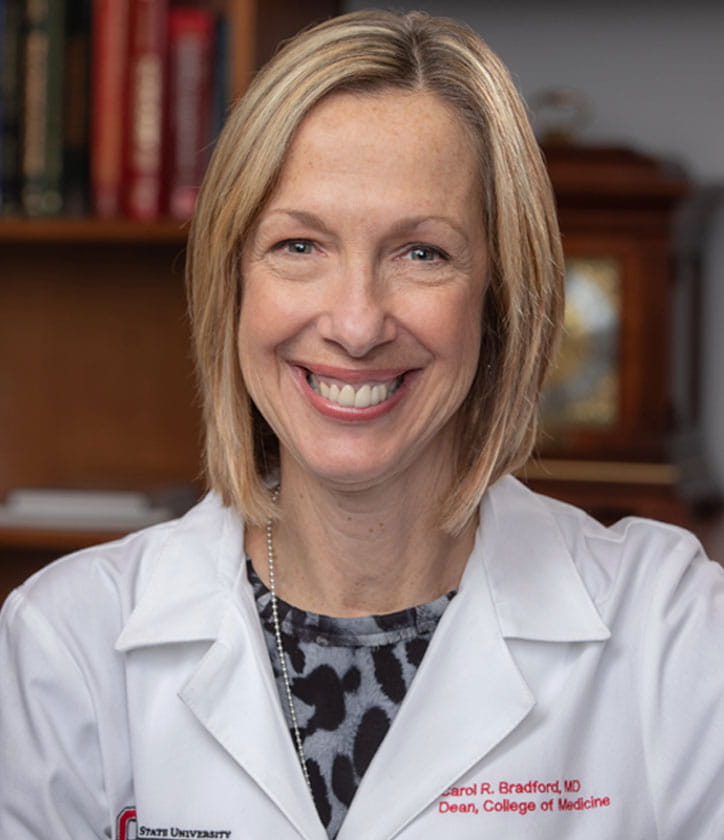 Carol Bradford, MD, MS
Dean, College of Medicine
Leslie H. and Abigail S. Wexner Dean's Chair in Medicine
Vice President for Health Sciences, Wexner Medical Center