"You win with people." – Woody Hayes
There's nothing better than a Buckeye football game. The excitement begins to build before kick-off as The Best Damn Band in the Land performs Script Ohio and the boisterous cheers of more than 100,000 dedicated fans fill the 'Shoe. Buckeye football unites people with a common goal of rallying our beloved team to victory.

That victory is achieved by the entire football team. While we likely have a favorite player or two, it takes careful coordination and collaboration of the whole team to win. No individual player is above the team.

Teamwork also is a hallmark of academic health care — physicians, nurses, advanced practice providers, researchers, teachers, learners and staff all work together in multidisciplinary teams in pursuit of excellence in education, research and patient care. Educators collaborate with learners to pass along their knowledge to future clinicians and scientists. Researchers carefully construct labs of teammates who together produce the next breakthroughs. Physicians work alongside nurses, medical assistants, schedulers, residents, students, staff and interprofessional health care professionals to care for patients and families.

I witness your collaborative teamwork every day. You are inclusive, respectful and approachable. You foster an environment of psychological safety, where all team members can share their ideas candidly and feel valued. You ask important questions. And you communicate thoughtfully, helping the team understand that their work makes an impressive impact and is an important piece of our ambition. These traits make us a powerful team.

Our steadfast dedication to teamwork allows us to make a tremendous difference in the lives of patients, families, learners and the communities we serve. In academic health care, our team victories impact millions.

Thank you for being great teammates and for pulling together for the greater good — no matter what your role is in academic health care. Remember, "you win with people." Go Buckeyes!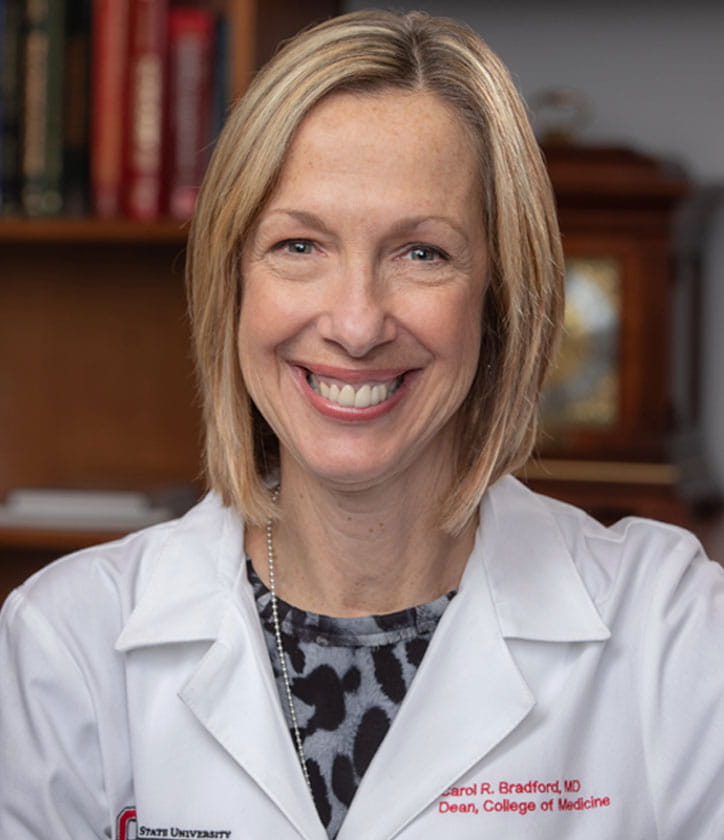 Carol Bradford, MD, MS
Dean, College of Medicine
Leslie H. and Abigail S. Wexner Dean's Chair in Medicine
Vice President for Health Sciences, Wexner Medical Center