"When I was young, my ambition was to be one of the people who made a difference in this world. My hope is to leave the world a little better for having been there."
– Jim Henson, American puppeteer and animator
Earlier this month, I celebrated my three-year anniversary as dean of The Ohio State University College of Medicine. After more than 1,000 days as a Buckeye, I am still in awe of the brilliance and passion of our faculty, staff and learners. I have spent my entire career at public, fully integrated academic medical centers, and I am delighted to say that Ohio State is truly one of the very best in the nation.
One of my first goals as dean was to develop a clear, compelling ambition for the college. My team and I sought input from our community as we developed a statement that encompasses our vision, mission and purpose, and serves as the North Star when making decisions and planning for our future. I am grateful for the many voices who chimed in to inspire this work.
I hope you have read our ambition statement. Personally, I like to start many of my meetings by sharing the statement as a framework for our conversations. It is simple yet significant: "To be a leading college of medicine that transforms the health of our communities through inclusive and innovative education, discovery and care."
Our ambition speaks to who we are now by identifying who we want to become.
We are already an outstanding medical school. By manifesting our ambition — through each learner we educate, through each dynamic discovery we make and through each patient's life we save — we are surely and steadily becoming a leading college of medicine.
Ambition is a powerful tool for progress and change. I hope it is easy for you — our people, our greatest resource — to see how your incredible work each and every day ladders up to our ambition. No matter your role, you play a part in transforming the health of our communities for the better.
When thinking about the concept of ambition, I am reminded of the above quote by the late Jim Henson, who left an indelible mark on society when he created the beloved Muppets. (Can you imagine a world without Kermit the Frog? I would rather not!) Through these legendary puppets, he dedicated his life's work to showing others how laughter, friendship and empathy can overcome any challenge.
His ambition was to leave the world a little better than he found it. He ended up changing the lives of generations of children for the better.
Our ambition matters. What we do here — what you do here — matters. And you are, without a doubt, making the world a better place by being here.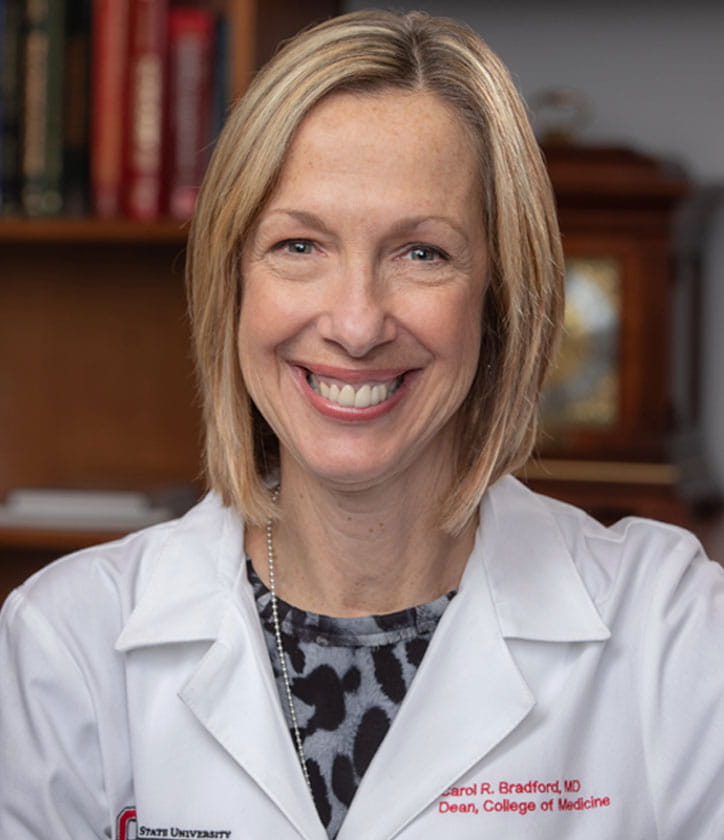 Carol Bradford, MD, MS
Dean, College of Medicine
Leslie H. and Abigail S. Wexner Dean's Chair in Medicine
Vice President for Health Sciences, Wexner Medical Center