"Back to campus. Back to tradition."
– The Ohio State University campaign for fall semester 2021
I really enjoy the fall season at The Ohio State University College of Medicine. As students return to campus, I am excited to participate in our much-anticipated Buckeye traditions. The Ohio State University College of Medicine just enjoyed its first in-person White Coat ceremony since 2019, and Alumni Weekend and the "big game" are right around the corner. I am excited to see your Buckeye Spirit.
But what exactly is Buckeye Spirit and what does it mean to you? It is definitely more than pride in our great university. Is it advancing biomedical research? Top-notch, compassionate patient care? Football tailgate parties? Special campus traditions?
Each day, I see the College of Medicine abounding in Buckeye Spirit. Whether it's teams of providers delivering compassionate care to our patients in their greatest hour of need, multidisciplinary groups of students learning together, faculty and staff working collaboratively to realize the college's ambition or our alumni pouring their hearts and talent into their alma mater, the place is absolutely buzzing with excitement.
It's that buzz that is my Buckeye Spirit. It truly inspires me. I hear it on Zoom calls and in Teams meetings and in our hospitals, clinics, classrooms and research laboratories. It's the sparkle in your eyes and the delight in your voices when you describe your amazing work. It's what wakes us up in the morning to tackle another day of work with passion and compassion. It's what drives us to lead life-altering biomedical discoveries to transform the health of our communities.
And that buzz has just become a little louder with all of our learners here. Back to campus. Back to tradition. I can't wait to hear about your Buckeye Spirit.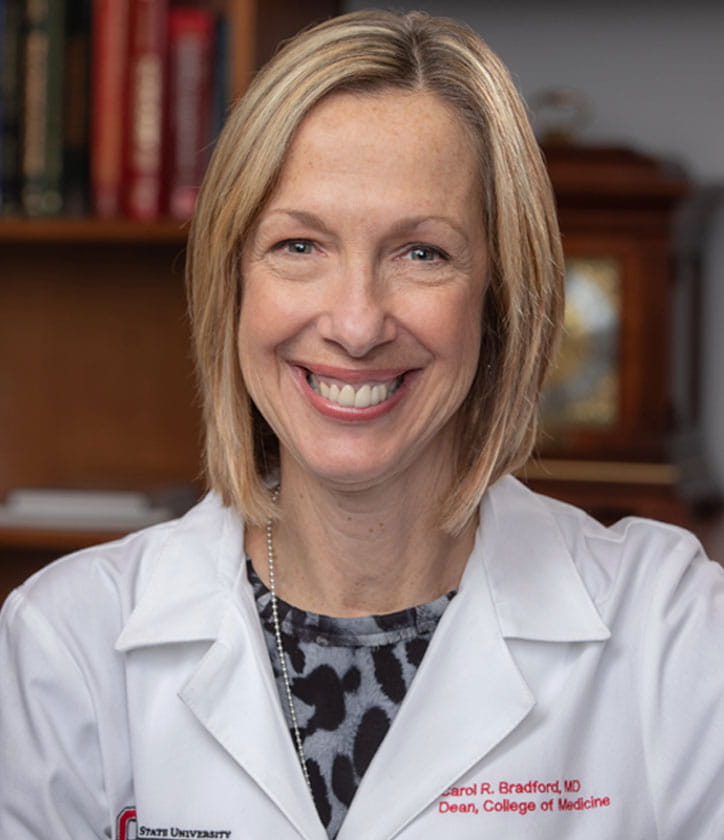 Carol Bradford, MD, MS
Dean, College of Medicine
Leslie H. and Abigail S. Wexner Dean's Chair in Medicine
Vice President for Health Sciences, Wexner Medical Center