"When words are both true and kind,
they can change the world."
– Buddha
As the days grow shorter and the chill in the air signals colder months ahead, I lean into human connections to bring extra light and warmth into my days. Family, friends and colleagues possess the unique ability to provide wonderful support, comfort and cheer — even on our gloomiest days.
How do they do this? Through kindness.
In academic health care, we are very good at showing kindness. In fact, we do it in numerous ways. We provide high-quality, compassionate care. We seek breakthrough solutions in the lab. We nurture the next generation of clinicians and scientists. We support the operations of our bustling academic medical center.
But the days can be challenging. Health care teams face difficult decisions on every shift. Researchers encounter stumbling blocks while pursuing promising lines of scientific inquiry. Educators must develop ways to adapt to different learning styles. We are all adjusting to the post-pandemic work environment and all the issues it brings. Staff support us through all of this.
To counter the difficult moments, I encourage you to treat one another with genuine kindness. A smile of cheer. A word of support. A congratulatory email for successfully completing a difficult project or procedure. An offer to read a draft of a journal article to help a colleague. A word of praise for explaining a complex topic. A compliment for a job well done.
One simple act of kindness can truly turn someone's day around. It can also be contagious and impact numerous others. Your kindness has the potential to benefit more people than you will ever know.
As we strive to achieve tremendous things in academic health care, remember that you have the power to make our professional journey to discovery, education and care joyful. Through your brilliant work and your kind words, you will "change the world."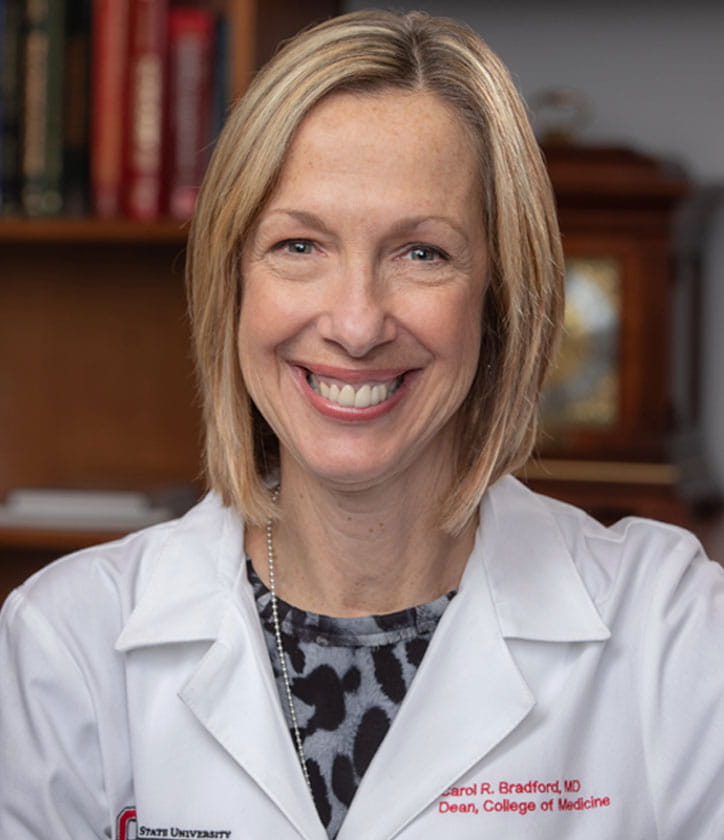 Carol Bradford, MD, MS
Dean, College of Medicine
Leslie H. and Abigail S. Wexner Dean's Chair in Medicine
Vice President for Health Sciences, Wexner Medical Center