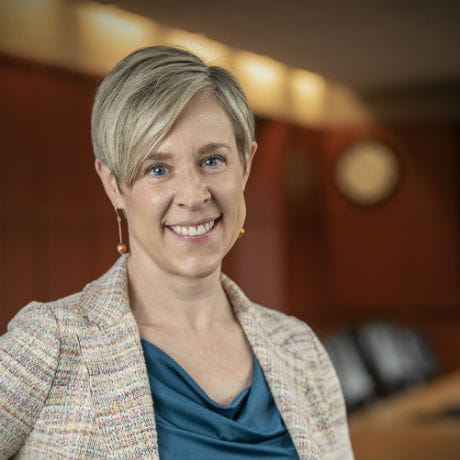 The Ohio State University and The Women's Place have named Heather Brod a 2019 Glass Breaker. The annual Ohio State award recognizes women who open the doors of opportunity for other women.
Brod has risen steadily through the ranks over the past decade to an important leadership role in the College of Medicine. She began her Ohio State career in 2009 as a program manager and was promoted to program director after establishing the college's Center for Faculty Advancement, Mentoring and Engagement (FAME). Then in 2014, she was promoted to executive director of both Faculty Affairs and the Center for FAME.
The Glass Breaker award shines a light on women faculty and staff who've used their extraordinary career accomplishments and leadership to inspire other women to embrace their power and achieve their career dreams.
"It means a lot honestly," says Brod of the recognition. "Of anything I could be nominated for, this is really meaningful because it's a core value of mine, enabling and empowering others to succeed."
Brod is well known as a leader in the advancement of women inside and outside Ohio State. She's published six peer-reviewed journal articles and 17 abstracts, and presented on a variety of faculty development topics, including analyzing trends relative to retention and attrition, mentorship, promotion and leadership competencies.
Brod served as president of the Healthcare Businesswomen's Association Columbus Chapter in 2018, and founded the Women in Healthcare Symposium, an event presented by Columbus Business First and the Healthcare Business Women's Association of Columbus that explores the idea of gender parity in the healthcare workplace.
"How Heather evolved is a reflection of her own innovation and personal qualities," says Robert Bornstein, PhD, former vice dean of Academic Affairs. "It's not that she broke through the glass ceiling; she moved forward without any thought that there would be any limitation. This is exactly as it should be."
Amy Lahmers, program director of the Biomedical Sciences Graduate Program, nominated Brod for the Glass Breaker award. She said one of Brod's greatest qualities is helping to shape and develop the careers of others.
"She values a diverse university campus and has been instrumental in supporting the career progression of women and underrepresented individuals in the College of Medicine," Lahmers shares.
Brod also participated in the Higher Education Leadership Development Program, Wexner Medical Center's Outstanding Leader Program and the Ohio State Women's Place Staff Leadership Series. Brod completed her master's degree in art history at Ohio State and her bachelor's degree in art history at the University of Minnesota.
***
We recently spoke with Brod about her roles at the College of Medicine and how she is blazing trails for others. Following are highlights from that interview.
Where are opportunities for women in academic medicine?
There's a significant gap of women in leadership roles. That's not just academic medicine, that's in all industries, though the statistics for women faculty in leadership are rather sobering.
As people progress in their careers, a delta widens between men and women in leadership. Entry level, we see it now, we have 50/50 women and men coming into our system as faculty. Then you look at full professors and, of those, only 21 percent are women. And this is important because rank often precedes leadership roles. If we're not advancing women in rank, then by de facto, we're limiting who can go into leadership roles.
I don't think people intend inequality. If I see things that don't seem to be fair or see opportunities for women and they're not taking advantage of those opportunities, I try to point them out and raise awareness. I work to bring that consciousness to what we do across the board.
Why is it important to increase the percentage of women in leadership positions?
There's some really compelling data that shows that until you have 30 percent of any population represented in a pool, population doesn't have a strong voice and are viewed as token. So, 30 percent becomes a tipping point. If we have 30 percent anything – women professors, women leaders – then real change begins to occur and women are no longer viewed as tokens, or different.
You've said in some cases the environment and culture need to change. Can you explain that?
That's one of the things we talk a lot about in Women in Medicine and Science (WIMS), one of the focus areas of FAME and that Dr. Joanne Turner, the former WIMS leader, helped to shape my thinking about. There are many specific leadership programs for women, which are valuable, but there are also environmental factors and implicit biases. If we don't work to address those, then no amount of leadership training is ever going to impact the number of women in leadership roles.
If we continue to solely focus on what the women's issues are and what women need to do to develop, then we're tacitly implying that there's something wrong with the women. I've been really cognizant of how we message programs for women, and how we can influence the overall environment and structure and the culture so that skilled women have the same access to leadership opportunities.
Is part of your job motivating women to go for these positions? If so, how are you doing that?
I'm a strategic thinker and an organizationally minded person, and I'm good at navigating systems. I try to project confidence and dispel self-limiting thinking or behavior in myself and other women. I also am a keen observer of what others have done to get where they wanted to be.
I like to think that I encourage, empower and assist and clarify what might not be transparent or what the hidden or tacit messages may be. If someone tells me what they do, I can help them understand how it matters within the big picture, and how to get where they want to go. I often ask, 'Where do you want to make a difference?' Then we can figure out the 'how' from there.
How do you help others reach their goals?
It isn't alone. I'm very fortunate to have a wonderful mentor and sponsor in Dr. Bornstein, who's provided me with numerous opportunities to grow and develop. He's always said that it's his job to open doors, but it's my job to walk through them. This is an important leadership lesson that I try to emulate – to lead by example and use my influence to create opportunities for others.
Congratulations, Heather, on being named a 2019 Glass Breaker!