Grant funds research on microbes underlying rheumatoid arthritis in American Indians
American Indians experience a higher rate of some rheumatic diseases, including rheumatoid arthritis (RA), which researchers attribute to a combination of genetics, environmental factors, and immune dysregulation.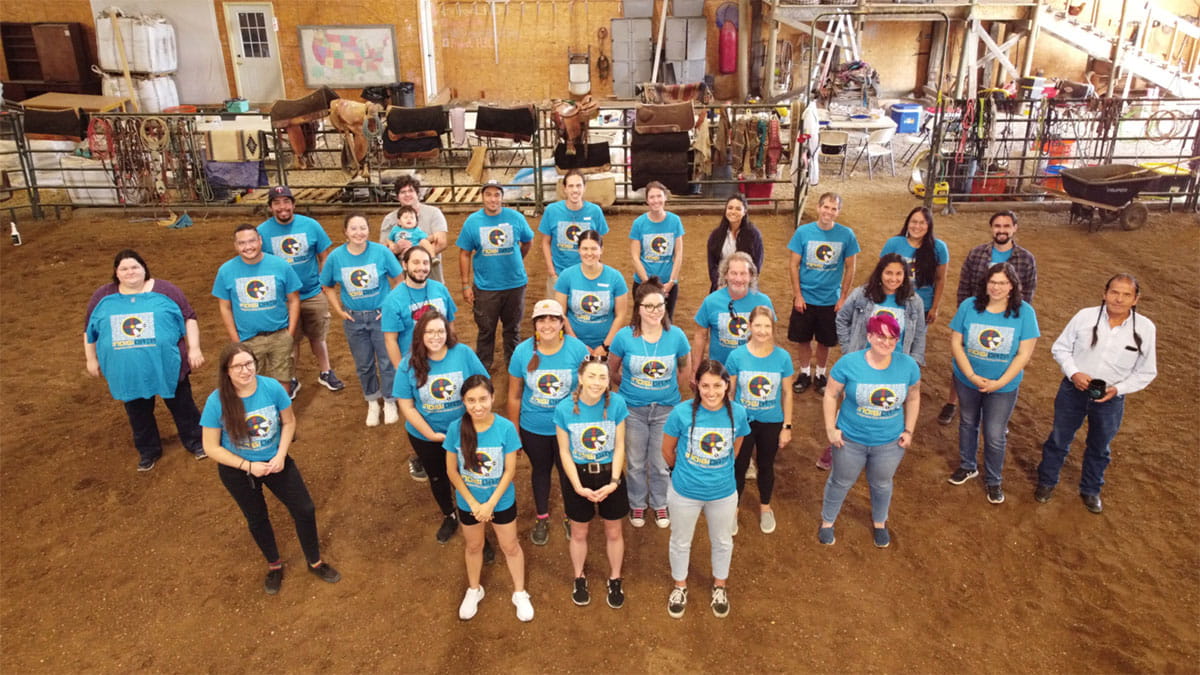 Matthew Anderson, PhD, associate professor of microbiology at The Ohio State University College of Arts and Sciences and microbial infection and immunity at the Ohio State College of Medicine, studies microbes' influences on health and disease, often in the context of Indigenous populations. Dr. Anderson notes that, in general, Indigenous people are underrepresented in genetic and clinical health research.
A recent grant from the Chan Zuckerberg Initiative for "Defining microbes underlying rheumatoid arthritis in American Indians" will allow Dr. Anderson and his team to examine microbial eukaryotes, cells that contain a distinct nucleus with deoxyribonucleic acid or DNA, in the human microbiome to determine if they contribute to RA incidence in Lakota populations, which have 5x greater incidence of disease cmpared to the national average. The study will also provide insight into the role of the environment in shaping the microbiome as land-based Tribes in the United States face a unique combination of environmental features, which are thought to induce a shift in the microbiome.
"Through this grant, we will work to build an unbiased catalogue of microbial eukaryotes associated with humans and more specifically, with Indigenous people in the Northern Plains," says Dr. Anderson. "Lending the power and resources I hold as a faculty member to Indigenous communities is exactly why I exist in academia."
Dr. Anderson is of Eastern Band of Cherokee Indians descent and his research is tied to his culture and the relationships he has established across Indigenous communities and organizations. Dr. Anderson has worked on previous research projects with the Native BioData Consortium (NBDC), an Indigenous-owned and operated non-profit biobank and research facility on the Cheyenne River reservation and with members of the Cheyenne River Sioux Tribe (CRST) who will be partners on this study.
Once the researchers have defined microbial taxa associated with RA in this population, they will then look to Joyce Wu, PhD, professor of Internal Medicine at the College of Medicine, who is a mucosal immunologist, to test these microbes in RA animal models.
The RA mice will be monitored twice weekly over 12 weeks for RA phenotypes after colonization, including joint swelling, periocular changes, tail abnormalities, microbiome composition, and weight change. At 12 weeks, mice will undergo micro-CT scans to look for joint degradation.
"The imbalance of gut microbiota, or dysbiosis, leads to many systemic diseases located outside of the gut," says Dr. Wu. "Shifts in the gut microbiota of RA patients can occur up to six months prior to diagnosis, suggesting that the microbiome itself may influence disease progression."
In addition to increasing access of Indigenous people to solve biomedical problems affecting their communities, this grant will allow Dr. Anderson to expand the scope of microbiome analysis at Ohio State. This could lead to the development of targeted interventions to reduce RA's impact in Lakota people and even reduce the incidence of RA in other populations. The project will also support the NBDC in pursuing additional microbiome research in agriculture, land remediation, and human health.
"Building the research capacity of Tribal nations removes their reliance on government or academic researchers, allowing tribes to decide what research to carry out and how. This shifts power balances to those affected by these decisions."