The Ohio State University College of Medicine Masters in Applied Neuroscience program prepares you for an exciting career in the field of neuroscience. Here, you will be part of a community that's passionate about the impact of their work and will inspire you to help create a more vibrant future. Completion of this post-graduate neuroscience program will expand your employment opportunities well beyond what's available to individuals with a bachelor's degree, allowing you to build confidence and advance your career.
What Makes Ohio State's Masters in Applied Neuroscience Unique?
In this one year, intensive master's degree program, you receive state-of-the-art research training in nationally and internationally renowned research labs. You work alongside renowned faculty daily, allowing you to learn from and build professional relationships with accomplished scholars and researchers.
In the Master of Applied Neuroscience program, you are able to choose between two tracks, research or teaching, to best suit your future career goals. Whichever track you choose, you will be encouraged, empowered and supported along the way.
At Ohio State, you work with people with diverse experiences and perspectives that will help you to enhance your leadership skills and learn more about yourself and what you care for.
Through real-world learning experiences, you develop applicable skills and techniques that enable you to immediately put your knowledge into practice.
Preprofessional Training
In the masters program you will take courses and work in the lab alongside first-year graduate students in our neuroscience PhD program
Many of our graduates continue their research and teaching training in PhD programs, or attend medical or dental school
Alternative Career Outcomes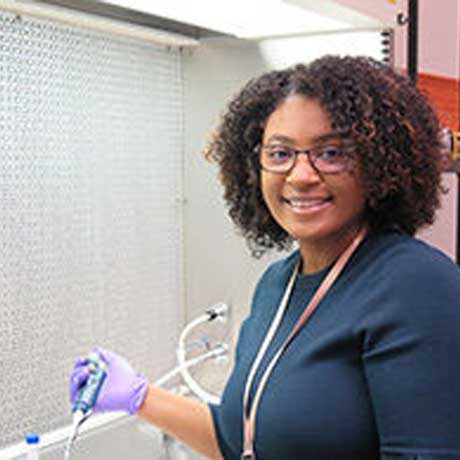 The field of neuroscience is rapidly growing. Students with a Masters in Applied Neuroscience are trained for alternative (non-PhD) careers including, but not limited to:
Research: research assistant or research associate in a scientific or clinical research laboratory, senior scientist in Pharmacology, research scientist in Human-Machine Interactions, Neuroscience Genomics research associate, Medical Science liaison
Teaching: science teacher, research and teaching administrator
Other-industries: marketing assistants, computer lab and/or sales assistants for biotechnical or pharmaceutical companies, neuroimaging technicians, adviser in public and government Institutions, academic journalist, medical writer, clinical data manager and patent agent
Our graduates are also well prepared to pursue advanced professional degrees in PhD programs, dental or medical school.
Learn about the Masters in Applied Neuroscience curriculum