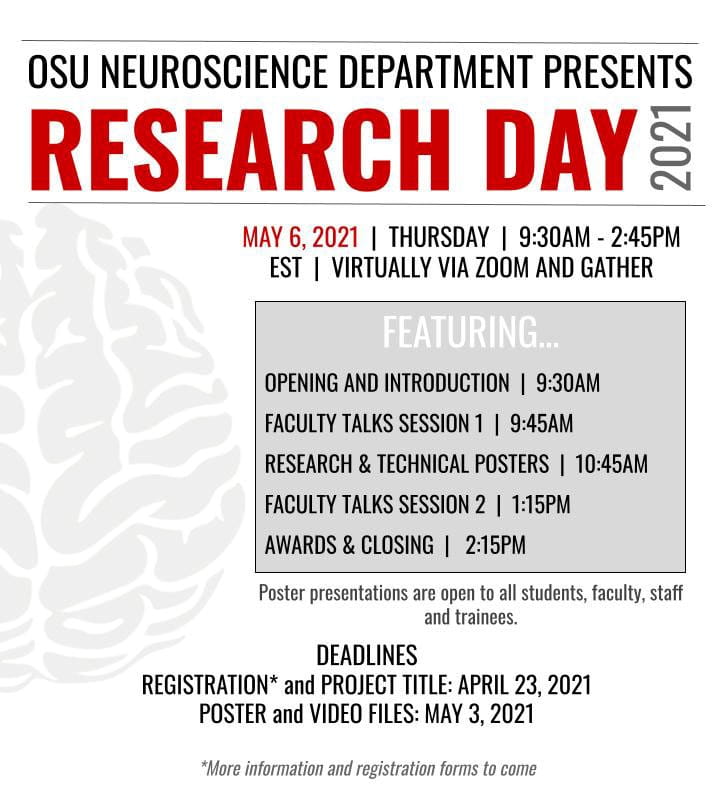 Hosted by the Culture Committee, The Department of Neuroscience kicked off Research Day on Thursday, May 6, 2021. Although held virtually, it was a great success and a fun time getting together as a whole department for the first time in a while! A huge thanks to the Culture Committee for organizing the event and to faculty, students, and staff for participating. We are looking forward to holding more Research Days in the future!
The winners of the 2021 DNS Research Day include:
Best Technical Poster
Yixing Du: 'Syncytial isopotentiality recording: the technique to study astrocyte function at the network level'
Best Research Poster
Faith Brennan: 'Microglia control spinal cord injury repair by instructing astrocyte and monocyte-derived macrophage transcriptional fate and function'
Top 3 Best Student Research Posters
Nick Deems: 'Morphine prolongs postoperative memory impairments in aged rats'
Damon DiSabato: 'Neuronal IL-1 receptor in the hippocampus drives social stress sensitization and leads to inflammation-dependent recapitulation of chronic stress behaviors after acute defeat'
Nicki Pukos: 'Chronic demyelination and remyelination of spared axons after spinal cord injury'
Congratulations!!