The Department of Neuroscience recognizes faculty and staff each month whose hard work and dedication contributes to our mission and whom we're proud to have on our team. Find out more about the spotlight of the month below!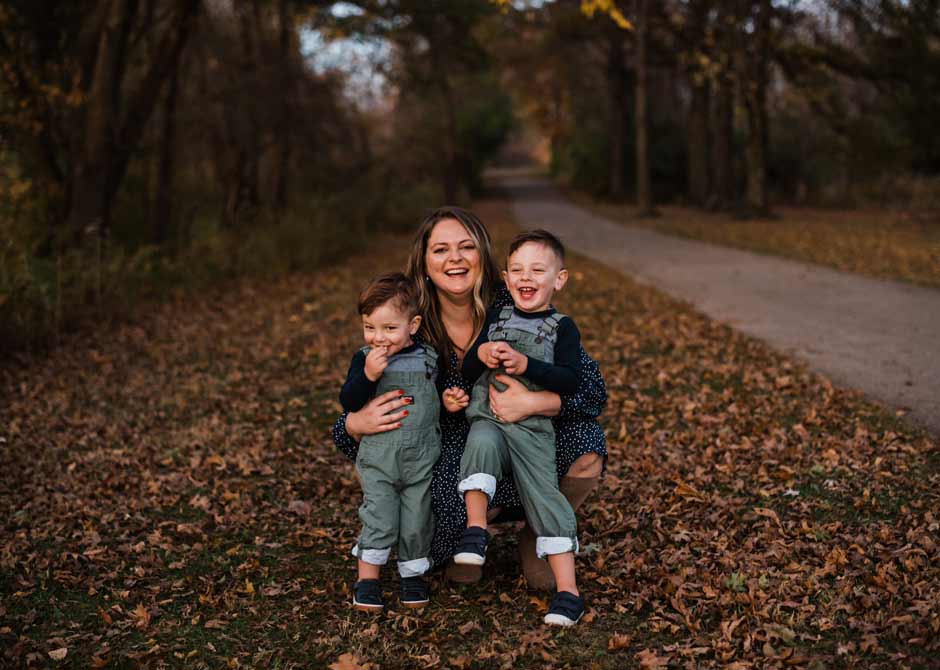 September 2021 - Sara Gombash Lampe, PhD
Where are you from originally and what led you to Ohio State?
I completed two postdoctoral fellowships in the Neuroscience and Microbial Infection and Immunity departments at OSU before becoming full-time teaching faculty at Ohio Wesleyan University. After a year as an assistant professor there, I returned to OSU for my current position.
What lab do you work in and what type of research to do facilitate?
My previous research experiences encompassed work in gene therapy, neurodegenerative disease, neuromuscular disease, neurogastroenterology and neuroimmunology. I really loved those experiences and they have changed who I am as an individual. My current position doesn't have a research component, but because I enjoy research so much, I'm looking into educational research opportunities for the future.
What do enjoy doing in your free time, outside of work?
Running after two toddlers and carrying an infant, swimming and spending time with family.
What drew you to the field and the role you play in the Department of Neuroscience?
I really love research and I really love teaching. I know that The Department of Neuroscience here has a strong, enthusiastic team that is really pushing the boundaries of neuroscience. I wanted to be around those people again. I also know that OSU has strong undergraduate, masters and graduate programs in the field. I wanted to be part of a group that not only was moving neuroscience forward through research, but teaching younger generations of scientists and physicians to do so as well. Also, my current position offers really exciting opportunities for curriculum development and work outside of the classroom.
Who is your biggest role model and why?
Flower Darby. Flower is an expert online educator who works to empower students in her classes by encouraging interaction, supporting diversity, and demonstrating an empathy for her students not usually supported in a classroom. Flower humanizes herself and eliminates the power hierarchy between herself and her students in order that they can work together to increase knowledge. She is especially great at creating an atmosphere of hope for students who might otherwise be left behind. I admire her pedagogical techniques, the immense success she has with her learning outcomes, and the welcoming atmosphere she presents to students.
What is your favorite movie, book, or band/singer/songwriter and why?
The Odd Couple II. I love anything with Walter Matthau in it.
What is the most rewarding part of your job?
The most rewarding part of my job is one-on-one interaction with the students. Getting to know these individuals as actual people, understanding their lives and what they enjoy outside of school is really wonderful. Additionally, these students are very, very intelligent and have a lot of great ideas. I most enjoy when I get to hear what they each have to say and learning from them.
Do you have any insights or advice to those who are just starting out or are interested in Neuroscience research?
I think most researchers would tell people to be prepared to fail because so much of experimentation works out that way. It's about perseverance and developing the ability to reframe and rethink what you are doing. Something will come out of the work you are doing, you may just need to think about it differently than you originally expected. I always tell my students that researchers write the information found in their textbooks, our job is to create new knowledge, but it may take some time to actually produce that knowledge.
What are some hidden talents of yours?
I really enjoying sewing and embroidering. I particularly like to make stuffed children's toys and decorations. I enjoy working with my hand to create detailed pieces.
What else should we know about you?
If I wasn't a neuroscientist, I would either be a botanist or a woodworker.