We're leading the way in musculoskeletal health.
The Department of Orthopaedics mission is to be the musculoskeletal provider and partner of choice in the state, employing an integrated, multidisciplinary approach that is unique to Ohio State, while simultaneously driving programs and discovery that have global impact through research and education. Whether you work at Ohio State, are looking to join us, or refer to us, you can feel confident that:
We are at forefront of advances in surgical techniques, including many minimally invasive procedures, which offer patients faster recoveries and less postoperative pain.

We mentor our future surgeon-scientists to think critically and problem solve while addressing the most pressing issues in orthopaedics.

As medicine continues to evolve, we constantly seek ways to keep pace and anticipate how we will address future challenges.

We attract talented people because of our commitment to diversity, equity and inclusion. This enables us provide excellent care for our own team, our patients and our community at large.
Our fellowship-trained orthopedic team at The Ohio State University Wexner Medical Center delivers personalized care focused on the entire individual. We offer a multidisciplinary approach to patient care that utilizes the full academic health center resources of Ohio State - including the latest in research and evidence-based medicine. Our orthopaedic faculty conduct both clinical and basic science research focused on the prevention and treatment of musculoskeletal injuries as well as investigations into new antibiotics, new implants designed to facilitate healing, treatments for osteoarthritis, biomechanical testing and more.
From performing joint replacement surgery to highly sub-specialized procedures such as reverse total shoulder surgery and complex cervical and lumbar spine procedures, we are home to a distinct team of orthopedic experts. Our department is comprised of several subspecialty divisions, including foot and ankle, general orthopedics, hand and upper extremity, joint reconstruction, musculoskeletal oncology, orthopedic trauma, spine surgery and sports medicine.
Our Commitment to Diversity, Equity, and Inclusion
The Orthopaedic Surgery Department cares for patients of various racial and ethnic backgrounds. We also care for patients of various gender identifications and sexual orientations. Evidence supports that patients are more likely to trust their medical provider if they have a similar racial/ethnic background. By improving diversity in our department, it will also help all of us shed our implicit biases. Finally, on a larger level, by promoting diversity, equity and inclusion amongst our providers, we are promoting anti-racism by fighting the structures that have oppressed underrepresented minorities. For these reasons, we are truly committed to DEI and a positive culture in our department and have taken several steps to advance ourselves and our care of patients.
We have a Vice Chair of DEI who helps lead these efforts in the department and represents the department on COM and OSUMC committees. We continuously assess our workforce and leadership to make sure we are aware of any imbalances that may exist and may need to be evaluated or rectified. We are constantly educating ourselves on being better stewards of DEI via articles at our monthly resident journal clubs, grand rounds focusing on DEI, and various other resources that may be circulated/administered to the department at large.
From a recruitment standpoint (of learners, APPs, and faculty), those involved are asked to review articles on implicit bias as well as take implicit association tests to help mitigate their own biases. We've created a DEI Scholarship to subsidize a 4th year medical student's expenses during a visiting sub-internship. We have also made funding available for those interested in pursuing a research or quality improvement project relevant to DEI in our department. We even do outreach events in our Columbus community to improve the pipeline of URMs into the medical field.
In the end, we believe one of the reasons we attract talented people is because of our commitment to DEI and our acknowledgement that these efforts improve ourselves, our patients, and our community at large.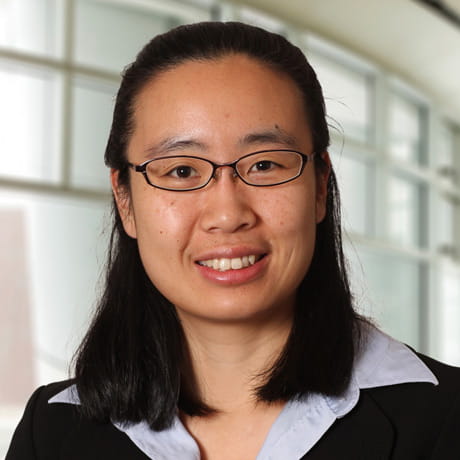 Dr. Yu
Vice-Chair for Diversity, Equity and Inclusion
Orthopaedic clinical subspecialites
Orthopaedic clinical subspecialites
More about the Department of Orthopaedics
More about the Department of Orthopaedics