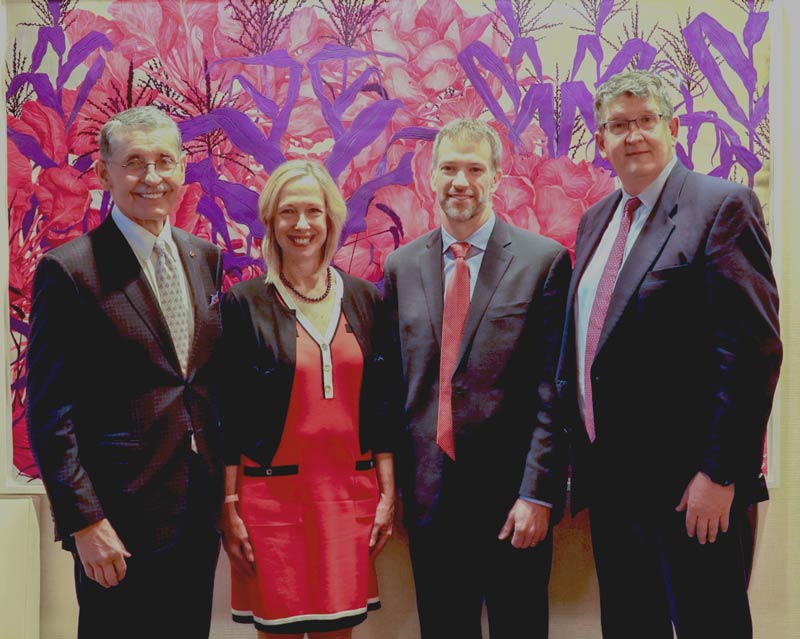 Being named the David E. Schuller, MD, and Carole Schuller Chair in Otolaryngology in July 2022 raised the bar for Matthew Old, MD.
"I don't take this honor as a pat on the back," Dr. Old says. "I see this as a challenge of something for me to live up to."
Dr. Schuller, who retired in 2015 from The Ohio State University Wexner Medical Center, is confident Dr. Old is the real deal. Dr. Schuller says Dr. Old is academically productive, a superb educator and a skilled surgeon with an impressive fount of knowledge.
"It's a challenging task to be academically productive and involved in the care of people who are desperately ill with a serious illness," Dr. Schuller says. "Matt has all of those attributes, and he's an empathic person."
In addition to being a professor in the Department of Otolaryngology – Head and Neck Surgery at The Ohio State University College of Medicine, Dr. Old also serves as the director of the Division of Head and Neck Cancer and the medical director of Head and Neck Oncology at The Ohio State University Comprehensive Cancer Center – Arthur G. James Cancer Hospital and Richard J. Solove Research Institute (OSUCCC – James). He manages large teams across multiple departments to provide an array of care and treatments for patients with head and neck malignancies.
Invaluable compassion and insight
Dr. Schuller's 44 years of service and more than 20 years of leadership made an integral impact on Ohio State and the Department of Otolaryngology – Head and Neck Surgery. He previously served as chair of the department for 21 years, director of the Comprehensive Cancer Center for 10 years and CEO of The James for 20 years before being named vice president of medical center expansion and outreach at the Ohio State Wexner Medical Center.
When the new cancer hospital opened in 2014, Dr. Schuller led a team that was awarded a $100 million grant for the hospital's Radiation Oncology Center.
Dr. Schuller's compassion for others is legendary. He continues to mentor Dr. Old and many others and stays connected to the department. Dr. Schuller remains thankful to Richard and LaDonna Solove for their "total commitment to our cancer program." The Soloves funded the Schuller Chair and set a dynamic example of how to deploy resources and wisdom to make a difference in health care.
"Now that I am in retirement, it is personally gratifying to see how the department continues to charge forward in all areas of our specialty," Dr. Schuller says.
Leading by example
The appointment reminds Dr. Old of the many ways Dr. Schuller supported his mentees and the others he surrounded himself with.
"One of the most important things about the chair is that Dr. Schuller really led by example," Dr. Old says. "His biggest attribute was elevating everyone around him and helping them achieve greater things."
Dr. Old hopes to continue doing the same and assist all around him to navigate current and future challenges and develop into the future leaders of the profession.
"I am very fortunate to be surrounded by amazing and talented individuals who are constantly elevating each other to provide the best and latest cutting-edge care and support for the patients and team," Dr. Old says.
The chair is named for Dr. Schuller and his wife because "it wasn't only the clinical team, but his family and friends and particularly Carole who supported Dr. Schuller in his work," Dr. Old says. "We can't forget that the family and friends around us are all part of this team."
He adds that he strives to live up to the expectations of his wife Molly and their four boys and to help them achieve their goals in life as much as they provide the support for him to do the same. Dr. Old says they all view each other as a close team in this journey together. Molly Old is a critical head and neck cancer team member, Dr. Schuller says. She leads the division's Pelotonia team and is heavily involved in the community as a volunteer and teacher.